News
HBO Expects Only One Game of Thrones Prequel Will Go to Series
HBO chief indicates that the reason to have four Game of Thrones prequels in development is to find just one with the original's quality.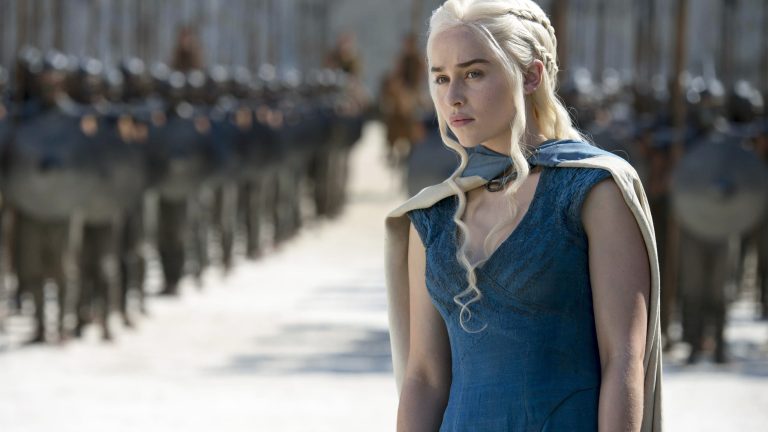 Excluding the occasional spinoff film to a long-defunct comedy series, HBO has never truly pursued continuing a saga or series past its original airdate. We never saw Tony Soprano or any of his associates again, nor did anyone ever really learn what Deadwood was all about. And as amusing as an Eric Northman series might've been, his tale ended with the rest of True Blood. Yet Game of Thrones is an obviously different beast. After all, it is arguably the most popular TV series of all-time, with over 170 countries simultaneously watching each hour live.
Indeed, in an era where television viewing habits become more niche and fractionalized with every passing season, Game of Thrones has risen to the top of television like a dragon spiriting his mama away from a particularly nasty fighting pit. Originally beginning as HBO's risky stab at the swords and sorcery section of the bookstore, this adaptation of George R.R. Martin's "A Song of Ice and Fire" has transcended culture in a way where it must be simulcast around the world so everyone can join in political intrigue instantly. Thus it makes sense that HBO isn't ready to let it all end in 2018 (or possibly 2019) when Game of Thrones season 8 concludes its six-episode run.
But the biggest shock about learning of HBO pursuing a Game of Thrones prequel (or as they and Martin prefer to call them, "successor shows") is that they're actually pursuing four of them. Potentially five according to Martin, albeit Casey Bloys, HBO president of programming, told The Hollywood Reporter that he only has contracts for four of the developing pilots.
Still in Bloys' sit down with the trade, the most telling revelation is that Bloys does not expect there to be more than one Game of Thrones spinoff to be headed toward series, if that. Further, he does not expect it to be until sometime well after Game of Thrones season 8 takes its final bow. Indicating he has no interest in seeing Thrones become a brand like AMC's The Walking Dead—one that the basic cable network has ensured to include in every fiscal quarter of its calendar year by splitting up seasons for both the flagship series and the Fear the Walking Dead spinoff—Bloys finds it unlikely more than one of the four spinoffs will make it to series, and that none of them has any chance of airing before Game of Thrones season 8, no matter how long the wait might be.
read more: Game of Thrones Season 8 Predictions and Theories
"The only thing that will be Game of Thrones related on the air will be season 7 and season 8, and then it will be a good long while if and before anything [new] gets on the air," Bloys said about the prospect of a spinoff coming up sooner rather than later. "Again, I say that only because I think when we confirmed the [prequels'] existence—that we were exploring this—that read to the general public that, 'Wow, these are far along.' We were just confirming it so people didn't speculate."
And while Bloys did not fully shut the door on the possibility of greenlighting more than one spinoff, he stated he doesn't foresee a scenario where there would be more than one to make it to air. The logic behind developing four series was to increase the odds of making one within the ballpark of the original series' quality.
"This show is very special," Bloys said. "I'm not looking to have as many as possible. My sense right now is we would be very lucky if one of the four rises to the level that we have set. Now theoretically, what if they're all great? That's a high-class problem that I'll solve when it comes to that. But knowing what we know about the development process, that's why we wanted to increase our odds. But I do not see a scenario where we have more than one. But again, high-class problem."
The first of the four series in development is being overseen by Jane Goldman of Kick-Ass and Kingsman fame, another by Brian Helgeland (Legend, LA Confidential), a third by Max Borenstein (Kong: Skull Island, Godzilla), and a fourth is in the works from Carly Wray (The Leftovers). We detailed what we know about each of those potential pilots here. We'll of course eventually see which, if any, flies onto HBO, apparently at least sometime after we know who gets the Iron Throne for good on the original classic.