News
Has WWE Solved the Roman Reigns Problem?
Roman Reigns has been WWE's most improved player since the Royal Rumble …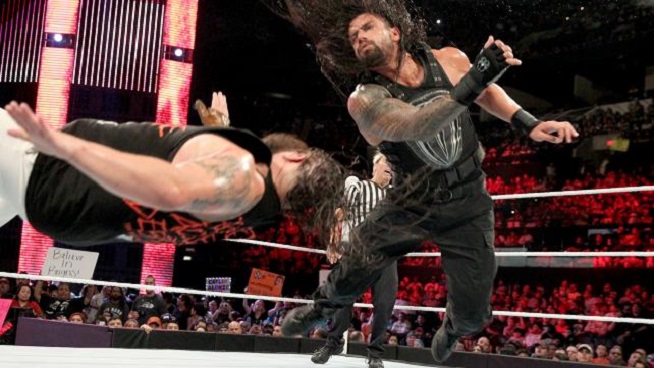 Roman Reigns had good reason to sulk. He was supposed to win the World Title at WrestleMania 32, but that plan was hijacked by an audience that was choking on what WWE was feeding them.
He had reason to sulk, and he had reason to be upset.
But instead, Reigns continued to plug away, and has been by far WWE's most improved talent for the first half of 2015. He hung with Brock Lesnar for a WrestleMania main event, earning a few million new fans in the process. On Monday Night Raw, Reigns wrestled three times. Just six months ago that would have been a daunting task given his limited moveset and experience as a singles wrestler. But Reigns shined in his wins over King Barrett, Mark Henry, and Bray Wyatt.
Reigns was also on-point in the opening segment of the show, cutting a promo opposite the entire Authority.
His failure to launch was more the fault of WWE's shoddy booking than it was of Reigns himself. He was the unfortunate target of an audience that needed to take its vengeance out on something, and Reigns just happened to be it.
He's still on the path to being a face of the company, but he's doing it on the audience's terms, not WWE's. I still think he would have been better served to start his career as a heel, but Reigns has fit nicely into the babyface role. He's showing he's not all about him by standing up for Dean Ambrose, like he's done for the past several weeks. It almost felt like they were prepping the crowd for a Reigns heel turn at Sunday's Elimination Chamber event, but it never came.
So what's the point? What does this all mean for Roman Reigns? It means that he's still on the road to be something special. Only he's earning it, he's not being handed it. The audience respects that more. In a lot of ways, it's the same thing that happened to one of Reigns' cousins, The Rock, only Rock went through a run as a heel before he was turned to a babyface in the second part of his career.
Hopefully WWE learns from this type of booking. If it weren't for Reigns' perseverance, this could have been a disaster. They could have rerailed what's going to become a very good WWE career.
I do think there are things changing, though. The booking seems to make more sense since Triple H has started to earn more influence, and that's a good sign. Vince McMahon was a revolutionary and a genius. But he's a 70-year-old man. He's losing his fastball and his finger just isn't on the pulse of the audience or pop culture.
Quick Strikes
– If you missed the promo between Kevin Owens and John Cena, go find it and watch it immediately. It was the best promo on WWE television since CM Punk's pipe bomb in 2011, and honestly, it might have been even better than that. Kevin Owens is the perfect heel, and he played into a lot of reality in why the fans — some of them — turn on Cena.
Meanwhile, Cena rebutted with real arguments about why he is who he is, and why he won't change. The promo felt real, with the smart fans speaking through Owens, and Cena shoving it back at them in his own words. It was as perfect a promo as there is, and should make for an excellent rematch in two weeks at Money in the Bank.
– The booking of WWE's Divas division is a total mess. It should be an embarrassment to the company, but they don't put enough of an emphasis on it to give a damn. Nikki and Brie Bella were heels, then just became babyfaces overnight for no apparent reason. That lasted for a few months, and last night, again with no explanation, they're heels again as Nikki defended the Divas Title against Paige.
They give that division no respect, and it's a disgrace. It's a damn shame they're wasting some of the talent they have there. With Raw at three hours, it should be easy to give the women the most time they've had ever on WWE TV, but it's not happening, and it's terrible.
Match Results
(1) Roman Reigns def. King Barrett
(2) Dolph Ziggler def. Kofi Kingston
(3) Dolph Ziggler & The Prime Time Players def. New Day
(4) Roman Reigns def. Mark Henry via count-out
(5) WWE Divas Title Match: Nikki Bella [c] def. Paige to retain
(6) Randy Orton def. Sheamus via DQ
(7) Neville def. Bo Dallas
(8) Roman Reigns def. Bray Wyatt
The Finish
This episode did a great job building up the areas it was focused on, mainly Cena-Owens, Reigns and Rollins-Ambrose. The rest of the night felt like a lot of filler, but that's what we're stuck with in the three-hour era.