News
Has 24 recaptured its form?
Season 7 of 24 could have just laid the ghosts of season 6 to rest. Has Jack Bauer really got his groove back?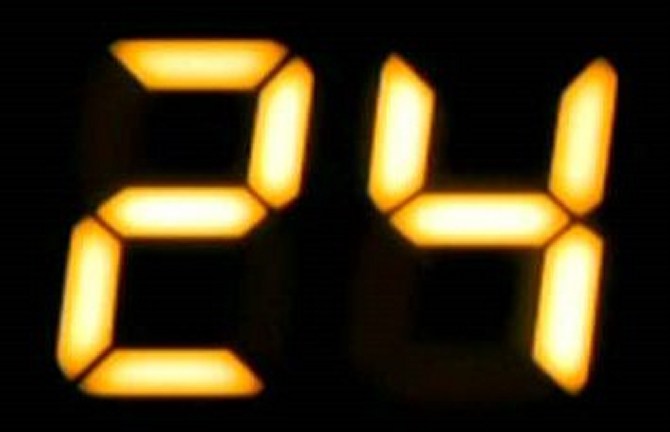 Over in the UK, we're now five episodes into the new series of 24, with US viewers one hour ahead of us. And given the cliffhangers that the show has been throwing up thus far this year, we can only gnash our teeth in frustration at the fact.
But in the five episodes we've thus far seen, there's a real sign that the promised reboot, and the promised getting back down to the basics of the show, is actually happening. Granted, it needed to do, but nonetheless, for long-time fans of the show, we've thus far had 24 doing what 24 does best.
Day seven shot out of the traps fairly quickly, and managed to dispense with anything initially superfluous to the action and tempo of the show. Jack Bauer and CTU on trial for their methods was always going to be an intriguing prospect, but the idea of Jack being holed up in a courtroom for many hours of the show's running time was always a long shot. True, it would have allowed time to be given to the supporting players, and 24 in recent years has been better when the focus is away from Bauer and his cloak of invincibility. But 24 is a mix of politics, action and thrills, and courtroom drama was never going to stay in the mix for long. When Kurtwood Smith announced that they'd be seeing Jack again in the morning, that – to 24 followers – was a simple way of potentially tidying all that away for another season.
What's also been interesting, though, is how well the new season is setting up a new cast of characters, after having pretty much decimated all of the old ones. That, however, hasn't stopped the return of Tony Almeida, in a Bobby Ewing moment that they had no choice but to play straight. He was dead for ten minutes, they explain, leaving viewers scratching their head and wondering if Kiefer had been showing off his DVD of Flatliners again. But heck, 24 doesn't stop and ask questions, and while we all know it's cheated, you almost end up admiring its sheer brass.
The latest crop of characters and cannon fodder are now to be found at the FBI rather than the disbanded CTU. And this has allowed the producers to bring in all new sets and surroundings, and staff the place up with entirely new people. Janeane Garofalo has yet to be fleshed out, but her casting has 'inspired' written right through it. Thus far, it's Agent Walker and her boss, Larry Moss, who have been shone the most light, and the show seems to be using these two to explore the debate over the tactics used in dealing with terrorist suspects.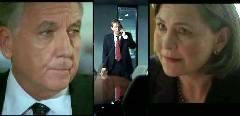 We're also slowing getting used to the new President, Allison Taylor, even if it's her husband Henry who's getting all the best material at the moment. The new President is finding herself surrounded by the usual cronies – and all hail the casting of
Shawshank Redemption
's Bob Gunton – and this part of the show is, you feel, going through the motions right now in advance of, no doubt, more fireworks later on.
In true 24 style, the real people behind the terrorist plot, hatched after watching Die Hard 2 and Die Hard 4.0 from what we can make out, won't become clear until around episode 16, we'd wager. But thus far, the show has simply felt far more exciting and, crucially, consistent than pretty much the whole of the sorry mess that was season six. This writer's favourite season of all was the fifth, with the mighty President Charles Logan proving that the show doesn't always have to be about Jack Bauer to succeed. But there's a lot of promise here so far, and we're keen to see more.
And what's particularly enthusing is what's around the corner. By the time the writers' strike kicked in at the back end of 2007, pretty much the first eight episodes of this season were reportedly all but ready. Thus, what we're seeing now isn't even the material that's felt the benefit of the year-long delay for season seven, with the break in production widely reported to have given the production team time to further tune the season.
We've also got the small matter of Jon Voight coming in, who we assume to be one of the main bad guys of the season. He's due to start appearing in a couple of weeks, and off the back of his couple of minutes in 24: Redemption (replete with hints of that face that he wore right the way through Anaconda), we simply can't wait.
Naturally, there's still space for all of this to go wrong, and just because the show has got off to a flier, it doesn't mean that the traditionally tricky middle of the season stuff will necessarily follow. But, after nearly throwing the towel in after season six, we'll gladly take the quality of what 24 is throwing at us right now.
Intriguingly too, in a Lost-a-like way, this could be the penultimate series of the show, although it's all but been confirmed that a movie will follow afterwards, so don't go buying an outfit for Jack Bauer's funeral just yet. Kiefer Sutherland did a three year deal that made him very rich a few years' back, and that comes to an end when the last episodes of season eight hit the can. It's, reportedly, unlikely that he'd want to carry on beyond that, and for the sake of the show, perhaps it's best that he shouldn't.
Were 24 to keep going to a ninth season, our preference would be to do it without the character of Jack Bauer in it anyway. Kiefer Sutherland was clearly born to play the role, and the man has never been better. But the problem with all those cliffhangers and key moments that involve Jack is that you know he won't die. You know it because he's died once and even that didn't kill him. In short, it's a show with an invincibility at the core of it, and taking a gamble and bringing in a fresh cast would throw everything up in the air once more.
For now, however, we'll gladly enjoy watching Jack do what nobody else can. And let's applaud the very welcome return to form of one of our very favourite shows…
27 January 2009