News
Harvey Birdman, Attorney at Law Returns To Adult Swim As Attorney General
Harvey Birdman, Attorney at Law is getting a new Adult Swim series and a big promotion in Harvey Birdman, Attorney General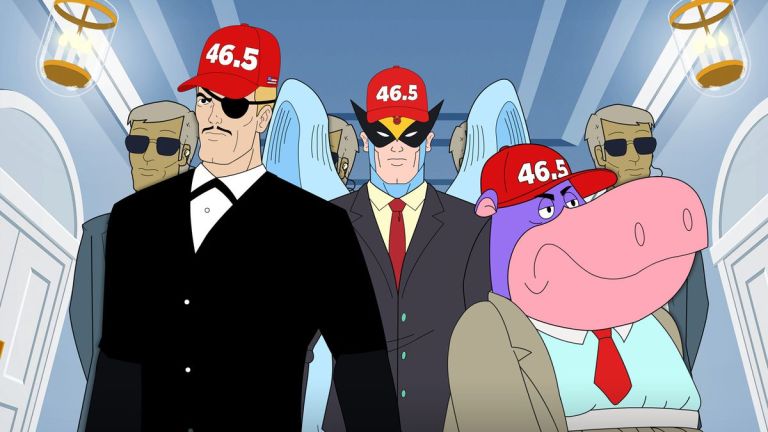 It's every young birdman attorney's dream to some day get the big job as the United States' Attorney General. Now Harvey Birdman of Harvey Birdman, Attorney at Law is going to realize that dream.
In one of the more logical and satisfying TV reboot attempts in recent years, Adult Swim is bringing back Harvey Birdman for a new series called Harvey Birdman, Attorney General.
Harvey Birdman, Attorney General will be a half- hour special feature and will bring back all of the beloved Harvey Birdman/Space Ghost/Hanna-Barbera characters with their original voice actors. Gary Cole will voice the titular birdman hero with Stephen Colbert voicing the now President Phil Ken Sebben.
John Michael Higgins (Mentok the Mindtaker), Paget Brewster (Birdgirl), Chris Edgerly (Peter Potamus), Peter MacNicol (X the Eliminator), and Phil LaMarr (Black Vulcan) all return in their respective roles as well.
Per a Deadline report Harvey Birdman, Attorney General will find Harvey appointed to the highest public legal office in the executive branch after Phil Ken Sebben is elected president. In his new role as AG, Harvey Birdman must find a way to get Sebben removed from office before he gets everyone killed. 
Harvey Birdman, Attorney at Law was one of young network Adult Swim's first original shows and helped establish its absurdist sense of humor.  Harvey is based on the character Birdman from the '60s Hanna-Barbera cartoon Birdman and the Galaxy Trio. He made his debut on the first Cartoon Network series ever, Space Ghost Coast to Coast before being spun off onto his own show. 
Now one of Adult Swim's premier characters has something in common with Jeff Sessions, Eric Holder, John Ashcroft, and Janet Reno. What a world.