News
Harley Quinn Season 1 Reviews and Episode Guide
The Harley Quinn animated series is now airing on the DC Universe streaming service. Check out the NSFW trailer.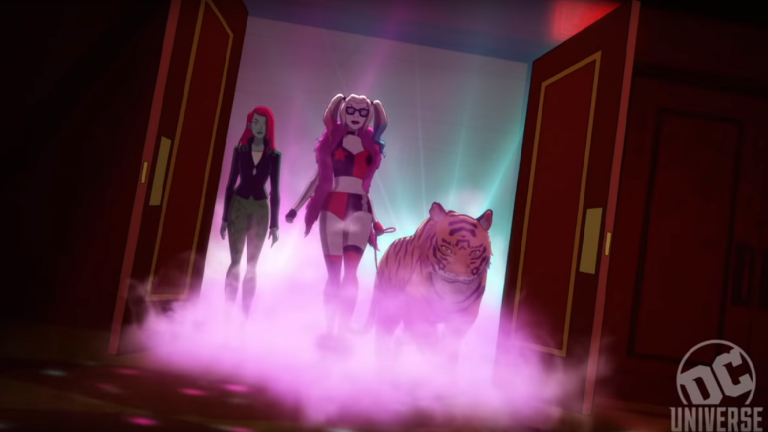 Warner Bros. has brough a Harley Quinn animated series to the DC Universe streaming service. Harley's star continues to rise as a character, and Margot Robbie's Harley Quinn was a major factor in the success of the Suicide Squad movie. The Big Bang Theory's Kaley Cuoco will voice Harley in the new series.
Harley Quinn is, of course, perfect for animation. She made her debut on Batman: The Animated Series, and her antics on the page and screen are akin to a supervillainous Bugs Bunny at times. The animated series comes from the executive producers behind NBC's short-lived DC superhero comedy, Powerless, Justin Halpern, Patrick Schumacker, and Dean Lorey.
Harley Quinn Episodes
Here's your complete guide to Harley Quinn episodes, with links to all our reviews underneath each.
Harley Quinn Episode 1: Til Death Do Us Part
In the series premiere, Harley Quinn strikes out on her own.
air date: 1/24/20
Harley Quinn Episode 10: Bensonhurst
Harley heads back to her parents' house in Bensonhurst.
air date: 1/31/20
read our review of "Bensonhurst" here.
Harley Quinn Episode 11: Harley Quinn Highway
Harley must rescue Ivy from the clutches of Scarecrow.
air date: 2/7/20
read our review of "The Final Joke" here.
Harley Quinn Review
"Getting to truly see Harley letting loose is a total joy and feels far more fitting than her often PG-13 representations. This is a full throttle, turn it up to 11, no-holds-barred version of the character and it honestly feels exciting—not only because it's so crass, rude, and ridiculous, but also because it's fun."
Read the rest of our spoiler free review by Rosie Knight right here!
Harley Quinn Cast
Here's the official synopsis and voice cast:
The adult animated comedy series follows Harley's adventures, where alongside ragtag crew of DC castoffs, she tries to earn a seat at the biggest table in villainy: the Legion of the Doom. The strong voice cast for Harley Quinn also includes comedic talents such as Lake Bell (In a World…, Wet Hot American Summer series, Childrens Hospital), Alan Tudyk (Rogue One: A Star Wars Story), Ron Funches (Powerless), JB Smoove (Curb Your Enthusiasm), Jason Alexander (Seinfeld), Wanda Sykes (Black-ish), Giancarlo Esposito (Breaking Bad), Natalie Morales (Bojack Horseman), Jim Rash (Mike Tyson Mysteries), Diedrich Bader (Veep), Tony Hale (Arrested Development, Veep), Chris Meloni (Happy!, Law & Order: Special Victims Unit).
It was revealed during Preview Night at SDCC 2019 (via Comics Beat) that both Clayface and the Joker will be voiced by Tudyk as well. Alexander lends his voice to Syd Borgman, "an octogenarian cyborg"; Hale is Doctor Psycho; Funches is King Shark; Sykes is Queen of Fables; Smoove voices Ivy's "chill, wise-cracking houseplant"; SpongeBob himself, Tom Kenny, voices Clayface's severed arm…this show is nuts.