News
Harlem Globetrotters' Meadowlark Lemon Dies at 83
The "Clown Prince of Basketball" makes his last basket.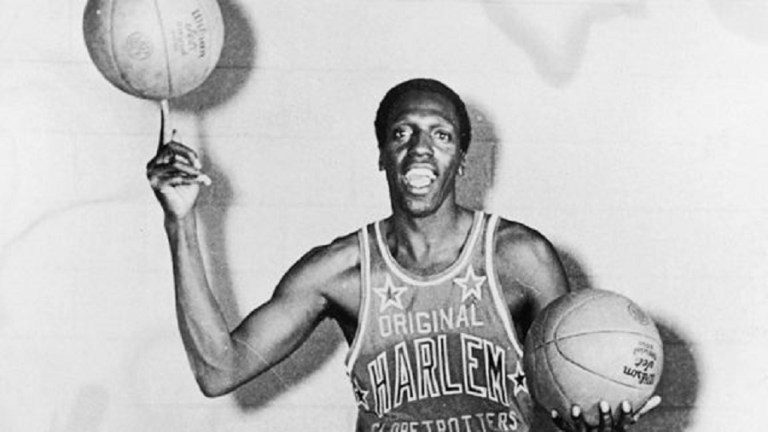 George "Meadowlark" Lemon, the iconic chief clown of the Harlem Globetrotters and basketball Hall Of Famer died on Dec. 27 in Scottsdale, Ariz., at the age of 83.
Lemon played in more than 7,500 consecutive games during his 24 seasons with the Globetrotters.  Lemon received a Globetrotters "Legends" Ring. Lemon's number 36 jersey was retired as part of a 75th anniversary black tie charity fund-raiser on Jan. 5, 2001, at Chicago's Fairmont Hotel. 
"For a generation of fans, the name Meadowlark Lemon was synonymous with the Harlem Globetrotters," Globetrotters CEO Kurt Schneider, said in a statement. "He was an incredible entertainer and brought happiness and lifelong memories to millions around the world. We have lost a great ambassador of the game." 
Meadowlark Lemon was known as the "Clown Prince of Basketball." Growing up, Lemon wanted to be either a comedian or play basketball, with the Harlem Globetrotters he go the chance to be both. Not only on the court, but also on TV and movies. Lemon appeared on "ABC's Wide World of Sports," "CBS Sports Spectacular," "The Ed Sullivan Show" and "The Harlem Globetrotters Popcorn Machine." He also appeared in numerous national TV commercials and was immortalized in animation on "The Harlem Globetrotters" cartoon series and on episodes of "Scooby Doo."
George Lemon was born in Wilmington, N.C. on April 25, 1932. He saw the Globetrotters play when he was in his early twenties. He wasn't drawn solely to the obvious athletic abilities of the players on the court, "It was the joy, the teamwork, the sense of family," that drew Lemon. "It was the most wonderful thing I had ever seen in my life."
The Globetrotters got a letter from Lemon requesting a tryout in April 1952.  Lemon was given a tryout by Globetrotters' owner Abe Saperstein after the basketball player played on an overseas tour with the trotters while he was in the Army. 
Lemon played his first season with one of the Globetrotter developmental teams, the Kansas City Stars, and played his first season full season with the Globetrotters in 1954.
Lemon was enshrined into the Naismith Memorial Basketball Hall of Fame in 2003, three years after receiving the John W. Bunn Award, named in honor of the Hall of Fame's first executive director, recognizing outstanding lifetime contributions to basketball.
Lemon spent the last several years of his life serving as an ordained minister and motivational speaker.
The Globetrotters are dedicating their 90th anniversary tour to Lemon and fellow Harlem Globetrotters legend and Hall of Famer Marques Haynes, who passed away in May.
The Harlem Globetrotters have been storming the courts for 90 years. The Original Harlem Globetrotters have played in 122 countries and territories on six continents, often breaking down cultural and societal barriers while providing fans with their first-ever basketball experience.