News
Happy! Season 2: Jeff Goldblum To Guest Star In Finale (Exclusive)
The veteran film and television actor pops up in the season finale of Syfy's strange show Happy!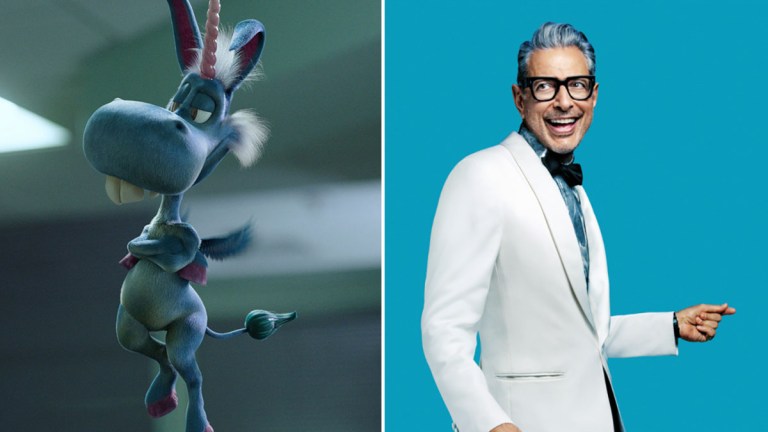 Toward the beginning of The Lost World: Jurassic Park, the 1997 sequel to the classic Steven Spielberg film Jurassic Park, Jeff Goldblum's character Ian Malcolm delivers one of the franchise's most iconic lines. "Yeah. 'Ooh, ah,' that's how it always starts," he tells his more novice companions as a herd of  Stegosauruses roams past. "But then later there's running and screaming."
Just over twenty years later, the sentiments behind this line could very well apply to Goldblum's latest role in the second season finale of Syfy's depraved action-comedy series Happy! 
"As an '80s sci-fi kid, Goldblum was pretty much god to me," Brian Taylor — writer, executive producer and occasional episode director of Happy! — tells Den of Geek. "So when it came time to cast this particular role, we had to shoot for the clouds to get him."
The specifics of the 66-year-old performer's role are still being kept under wraps, but two things are clear. First, all of the eclecticism and eccentricities of Goldblum's body of work will be on full display when the episode, "Resurrection," airs next Wednesday night. And second? True to Malcolm's classic line from The Lost World, and the seemingly endless torrent of shamelessly vile humor that Happy! routinely exhibits, there's going to be plenty of "running and screaming" when he shows up.
As much reality as star (and occasional episode director) Christopher Meloni tries to ground his performance as ex-cop turned hitman Nick Sax in, both the first and second seasons of Happy! have been anything but realistic. After all, it's a show about an uber-violent individual who tries to save his daughter, and himself, with the help of the latter's former imaginary friend, a small, blue unicorn with wings named "Happy" who's voiced by comedian Patton Oswalt.
read more: Happy! Season 2 Review
Despite this caveat, however, Happy! season 2 managed to overcome the slower pace of its first two episodes and plunge its viewers into a rather serious, life-or-death struggle. Readers who have been keeping up with the story this season know that Sax and his ex-wife Amanda (Medina Senghore) are hot on the trail of Smoothie (Patrick Fischler), a deranged sociopath who has kidnapped their daughter Hailey (Bryce Lorenzo).
To find out what happens to Hailey and with the villainous Sonny's (Christopher Fitzgerald) plans to "Make Easter Great Again," as well as how Goldblum fits into all of this, tune in next week for the second season finale of Happy!
The Happy! season 2 finale, "Resurrection," airs Wednesday, May 29th at 10 p.m. ET/PT on SYFY.