News
Happy! Season 2: Jeff Goldblum Is The Ultimate Imaginary Friend In Finale Clip (Exclusive)
Happy comes face to face with the almighty in this exclusive clip from the Happy! Season 2 finale.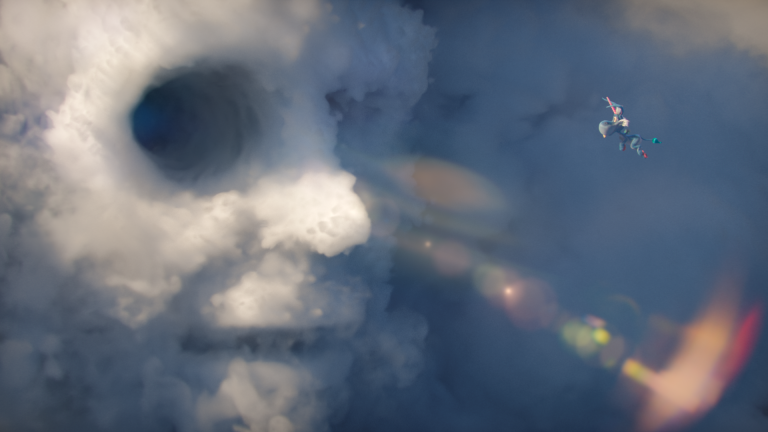 Last week, Den of Geek broke the news that Jeff Goldblum would be guest starring in the Season 2 finale of Happy! on Syfy. Well, that's happening tonight folks, and as you can see, the veteran actor has joined the series to play the role of the ultimate imaginary friend. Yes, that's right — Jeff Goldblum is God.
In an exclusive clip from the episode's final moments, Goldblum's cloudy deity reveals itself to Patton Oswalt's intangible blue unicorn.
"Let's call me an imaginary friend," he tells Happy. "Only my friend happens to be a whole civilization. At this point, thankfully, an ever-dwindling portion of a civilization. That's a funny name for it, isn't it? 'Civilization.' Geez, insects are more civilized."
The eccentric, verbose character has a point. Considering what Nick Sax (Christopher Meloni) and the other largely deranged persons who populate Happy!'s world have been up to this season, insects — and just about every other form of life on this planet — are closer to being civilized that everyday people are.
Grant Morrison and Brian Taylor's sick, twisted Syfy comedy has spent the past nine episodes expanding for the former's short-form graphic novel into an ever-widening world of insane hilarity. A Pulp Fiction's gimp-like Easter bunny, a crazed children's entertainment star wanting to "Make Easter Great Again," a mafia boss possessed by a demon, an ex-cop turned hit-man — this show is all kinds of uncivilized.
read more: Happy! and the Art of Adaptation
And that's where Goldblum's God enters the picture. You see, when he arrives on the scene in "Resurrection," all seems lost and Happy has no idea what to do next. The former imaginary friend of Sax's daughter Hailey (Bryce Lorenzo) has no idea what his purpose is. What's more, he feels like everything that he has tried to do has resulted in the death and destruction of so many innocent people — Sax and Hailey included.
Enter humanity's imaginary friend, who — despite having a little fun mocking the planet's haphazard and selfish approach to its relationship with him — endeavors to be there for them. And in explaining this to Happy, as well as giving him a little insider information on what's transpired, God manages to revitalize the blue unicorn's mission for what will hopefully be another season.
Happy! airs on SYFY.