News
Hap and Leonard Season 3 Exclusive Trailer
Watch an exclusive trailer for SundanceTV's Hap and Leonard season 3, The Two-Bear Mambo!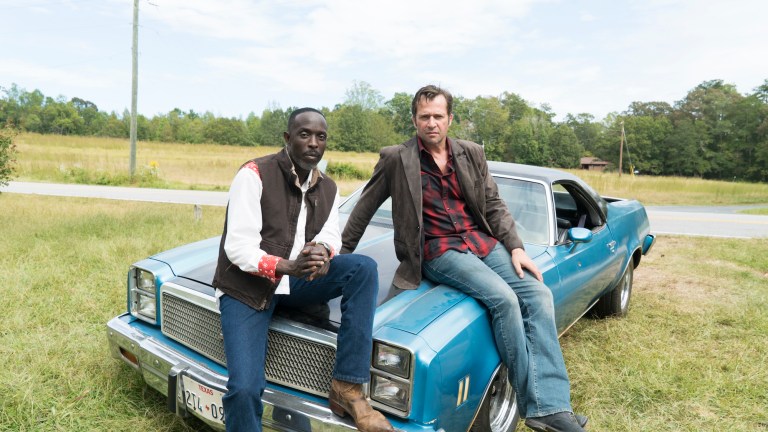 This article contains spoilers for Hap and Leonard. 
I guess it should be no surprise that an anything-goes show like SundanceTV's Hap and Leonard could cram so much peril and mayhem into a single one-minute trailer for its new season, The Two-Bear Mambo. Based on the book of the same name by bestselling author Joe R. Lansdale, season 3 looks to have all the hallmarks of what makes this show such a standout—namely quirky but dangerous characters, healthy doses of violence and dark humor, and the temerity to address racism in its ugliest forms. And all of this is seen through the lens of the lifelong friendship between Hap Collins (the excellent James Purefoy) and Leonard Pine (the equally excellent Michael Kenneth Williams). 
As for the season 3 trailer, well, there's an awful lot to unpack here. While this may seem like a simple case of tracking down missing lawyer Florida Grange (Tiffany Mack), it quickly becomes obvious that Hap and Leonard are heading straight into the dragon's den. Or perhaps the Grand Dragon's den, as it were. While Hap and Leonard have a much more enlightened view of race relations, vis-à-vis their own friendship, the residents of Grovetown, where Florida has gone missing, are not so open-minded or tolerant. There's a line in the trailer that seems to best encapsulate the problem with Grovetown: "It's a two-hour ride but a hundred years away." If there was ever a show for our time, it's this one. Were it not published in 1995, you'd be forgiven for thinking Lansdale wrote The Two-Bear Mambo only a year or even a month ago.
We also get quick glimpses of new cast members Corbin Bernsen, Louis Gossett, Jr, and perhaps most intriguingly, a very grizzled and dusty Andrew Dice Clay. If there's one thing Hap and Leonard doesn't suffer from, it's a dearth of standout talent. I can't wait to see what these three bring to the table for season 3.
I've been an advocate of this show from the very first episode so I'm definitely looking forward to this new season. If you haven't watched Hap and Leonard yet (and why haven't you?), the first two seasons are only six episodes each—making it easy to get caught up in time for The Two-Bear Mambo.
Hap and Leonard season 3 premieres on SundanceTV March 7th, 10pm EST. And be sure to join us here for our weekly reviews of season 3!