News
Hap and Leonard Season 2 Episode 3: Holy Mojo Exclusive Clip
Get your first look at this week's episode of Hap and Leonard right here!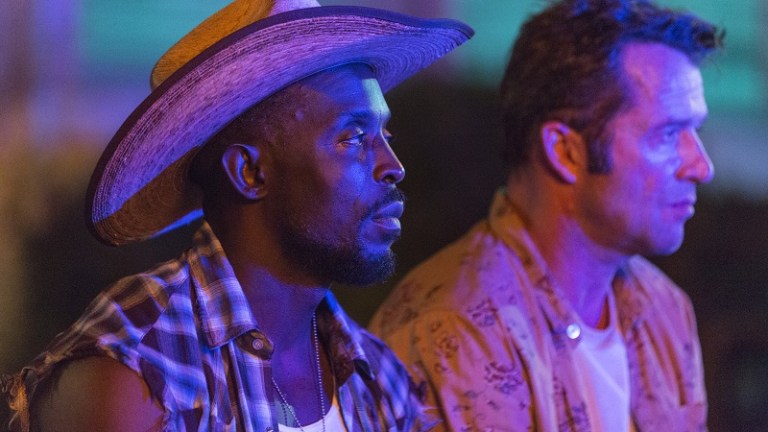 We've got an exclusive sneak peek at SundanceTV's new episode of Hap and Leonard, "Holy Mojo."
In the clip, Hap and Leonard find Illium Moon's partially submerged van in the pond behind his home. It's immediately obvious to the pair that Illium didn't survive the crash. What's less obvious is how to handle this unexpected development. Not surprisingly, Hap thinks the right thing to do is call the police. Also not surprisingly, calling the police is the last thing Leonard wants to do.
One could argue that both men's lives would be a lot less interesting if only they'd kept BB's body a secret, Leonard's especially. But that's not how these crime shows work, and it's definitely not the way Hap and Leonard works. 
By the end of the clip, it's unclear what they'll do, but my guess is that they'll report the accident, albeit anonymously. It doesn't take a genius to know that Leonard is already up to his eyeballs in trouble with local law enforcement. Barring that, there's a chance the pair might somehow endeavor to pull the van from the pond themselves.
It's this sort of moral quandary that makes this self-described "swamp noir" series work so well. Hap and Leonard are not bad people per se, they just find themselves in bad situations. But what always sees them through the difficult times are their unwavering loyalty and crusty sense of humor. We see a bit of this camaraderie in the "Holy Mojo" clip. Indeed, we see this same sort of give and take in every episode. Good or bad mojo aside, each will always have the other's back. Sure, conflict makes for great storytelling, but so do well-developed characters like Hap Collins and Leonard Pine.