News
Hap and Leonard: Exclusive Clip From New Episode, Mambo #5
Louis Gossett, Jr's Bacon takes the spotlight in this exclusive look at Hap and Leonard season 3 episode 5.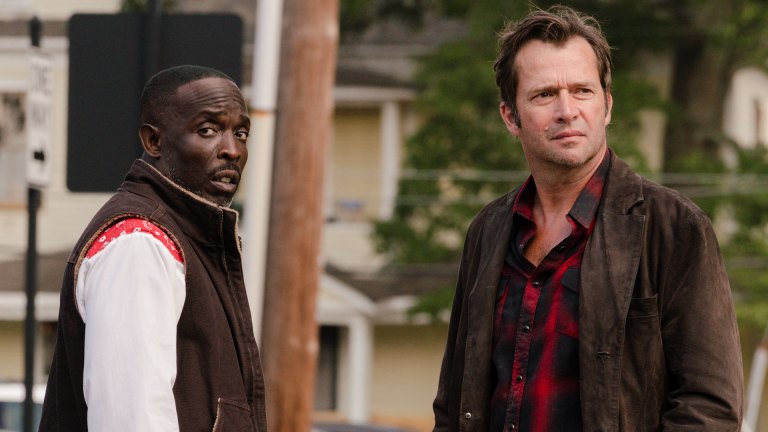 This article contains Hap and Leonard spoilers.
I have to say, this has been a great season so far—due in no small part to Hap and Leonard's outstanding supporting cast. Chief among these characters is Bacon, played with a subdued, gravel-voiced intensity by Oscar-winner Lou Gossett, Jr. Even after four episodes, we don't know a whole lot about Bacon. When he's not making killer huevos rancheros down at Maude's diner, he moonlights as a mortician. And when he's not down at the morgue, he plays guitar with the church band. He's a man of many talents but of few words. He's certainly a known quantity in Grovetown, to people from both sides of town.
And as we see in this exclusive clip for tonight's episode, "Mambo #5," Bacon's loyalties are being called into question by none other than Klan leader Truman Brown himself (played to chilly perfection by Pat Healy). What's most interesting about this moment is that Truman demands that Bacon sidle up to the Klansmen, "where you belong." Whatever is meant by this seems to be rendered moot as Bacon chooses trouble-making interlopers over his racist neighbors.
As for Hap and Leonard (James Purefoy and Michael Kenneth Williams), they look to be seriously outnumbered by those who would wish to do them harm. Not that they seem all that fazed by overwhelming odds. (I'm rooting for them to take down Truman and his men even as I secretly wish they'd both bite their tongues.) This showdown in the diner could very well be the defining moment that leaves both of them bloodied and battered. If so, they're going to need all the help they can get—and they could do a lot worse than Bacon. He's a man who's finally willing to throw his comfortable life away in the face of leering evil. I'm anxious to see how this moment plays out. No matter what, someone's going to suffer for speaking their mind. One could argue Bacon has managed to survive this long, a chameleon of sorts, doing what he must to fit in. But in standing up to the Klan, Bacon's days might very well be numbered. If so, let's hope he goes down swinging. In the meantime, kudos to Lou Gossett, Jr. for bringing so much gravitas to this small-town fry cook.
Hap and Leonard Mambo #5 airs tonight at 10pm EST on SundanceTV. And be sure to join us here for our ongoing coverage of season 3!