News
Hap and Leonard Cancelled by SundanceTV
Farewell, Hap and Leonard, we hardly knew you...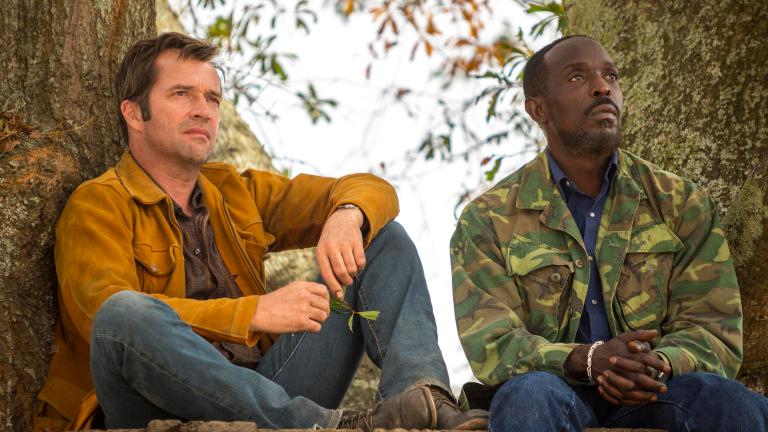 Well, all good things must come to an end. So too SundanceTV's Hap and Leonard, which has not been picked up for a fourth season. Which is a shame, really, for a host of reasons. Never mind that the show was beloved by critics (as evidenced by the 100% rating "The Two-Bear Mambo" received on Rotten Tomatoes, and by my glowing reviews on this very website). And never mind that the show had much left to mine from Joe R. Lansdale's novels. Hell, Lansdale just published a new book, Jackrabbit Smile, the eleventh in the series. That's right, eleventh. And never mind the fact that Hap and Leonard was the network's highest-rated hour of original programming.
And while we're at it, let's just ignore the fact that James Purefoy and Michael Kenneth Williams, as Hap Collins and Leonard Pine, respectively, were perfectly cast as our titular heroes, breathing life into working-class characters that embodied the sort of lifelong friendship that most people can only dream about.
I know, I sound bitter. But just indulge me for at least one more paragraph. (And by one more, I mean at least three more.)
Hap and Leonard was an unlikely antidote to these troubled times, bravely exploring matters of race and sexual identity in a way that was by turns incredibly funny and deeply, deeply moving.
In other words, the show was never just about capers or solving crimes. No, it was an unabashed study in unconditional love. I'm grateful for the three seasons we got, but I nonetheless long for what could have been.
We'll always have Nilla wafers, I suppose. We'll always have Lansdale's books, too. I'd put off reading them, not wanting to spoil the show. Now, that's no longer an issue.
My sincere thanks to everyone who endeavored to bring the books to life. Reviewing Hap and Leonard for this website has not only been a treat, it was a true privilege. I shall continue to evangelize on this show's behalf, as I have done so for all three seasons.
Hap, Leonard: you will be missed.