News
Handmaid's Tale Hulu: Trailer, Cast, Release Date
Here's everything you need to know about Hulu's adaptation of Margaret Atwood's The Handmaid's Tale.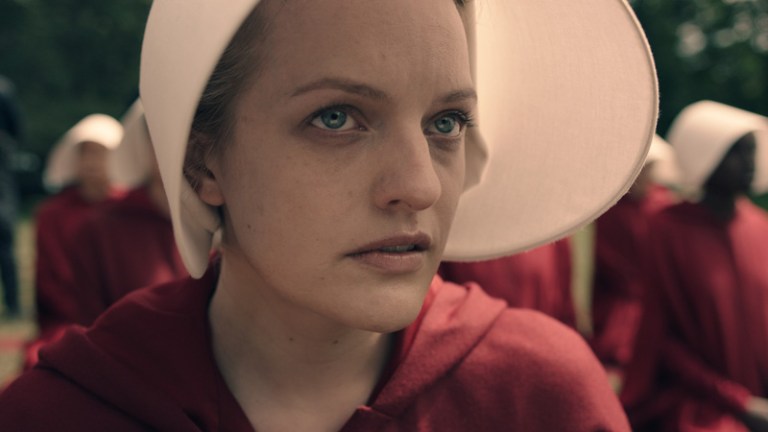 Hulu is adapting Margaret Atwood's feminist dystopia novel The Handmaid's Taleinto aTV adaptation, starring Elisabeth Moss and set to premiere on Hulu beginning on April 26th.
Here's everything we know about the upcoming series…
The Handmaid's Tale Hulu Trailer
"Now, I'm awake." The Handmaid's Talegets topical in its latest, most dire trailer. Guys, this show looks really, really good and really, really scary in the most politically relevant ways. Check it out… 
And here's the previous trailer for The Handmaid's Tale, which gives us Offred's tragic backstory. 
We have a new featurette playing up the hope inherent in The Handmaid's Tale,which, to be honest, is a pretty good marketing strategy. The dystopia in the Atwood tale is hitting a little too close to home these days. Check it out…
Hulu shelled out the big bucks to broadcast a Handmaid's Taletrailer during this year's Superbowl.
They released the short promo prior to the game, and it focuses on the action and intense drama of the story, giving us plenty of Offred as active protagonist, plenty of dystopian relevancy, and a dash of Alexis Bledel…
The first, full-length trailer for Hulu's The Handmaid's Tale TV series is also out, and it looks like it's going to get people talking…
The Handmaid's Tale Hulu Cast
Elisabeth Moss (Mad Men, Top of the Lake, West Wing) will lead the cast as Offred, a "handmaid" who is part of a class of women kept as concubines. Speaking about the role to Entertainment Weekly, Moss said:
We never wanted the show to be this relevant …This will go down as one of the hardest jobs I've ever had, but to be able to have a voice in this is an entirely different experience for me. It only makes me want to work harder.
Alexis Bledel, who is coming off of Netflix's four-part Gilmore Girls revival, will play the recurring role of Ofglen, the fellow Handmaid and companion of Offred, played by series star Elisabeth Moss. Ofglen appears to be a pious woman who follows the rules of the future society's Gilead system. But that is for show. She is a subversive and daring woman who happens to be an empowered lesbian.
Rounding out the rest of the all-star cast (seriously, this cast is so good) is: Joseph Fiennes, Yvonne Strahovski, Samira Wiley, Max Minghella, Madeline Brewer, Ann Dowd and O-T Fagbenle. 
The Handmaid's Tale Hulu Release Date
We've got an official release date for The Handmaid's Tale! The original series will be launching on Hulu on April 26, 2017.
The Handmaid's Tale Hulu Story
For those who haven't read this modern classic, The Handmaid's Taleis set in part of what was the United States. A harsh theocratic government has taken over following a staged terrorist attack blamed on Islamic terrorits. In this new state order, women's rights are stripped away by the totalitarian Christian government.
Our protagonist is Offred, a "handmaid" who is part of a class of women kept as concubines, valued for her fertility, but not her personhood in a dying world threatened with climate change, religious fundamentalism, and depopulation. So, yeah, pretty darn topical.
Previously, Offred has been played on-screen by Natasha Richardson in a 1990 feature based on the Atwood novel. Here's the trailer, if you want to check it out/appreciate how far the art of the trailer has come in the last few decades…
The Handmaid's Tale Hulu Synopsis
Here's the official synopsis for the series:
The drama series, based on the award-winning, best-selling novel by Margaret Atwood, is the story of life in the dystopia of Gilead, a totalitarian society in what was formerly part of the United States. Facing environmental disasters and a plunging birthrate, Gilead is ruled by a twisted fundamentalist regime that treats women as property of the state. As one of the few remaining fertile women, Offred (Elisabeth Moss) is a Handmaid in the Commander's household, one of the caste of women forced into sexual servitude as a last desperate attempt to repopulate a devastated world. In this terrifying society where one wrong word could end her life, Offred navigates between Commanders, their cruel Wives, domestic Marthas, and her fellow Handmaids – where anyone could be a spy for Gilead – all with one goal: to survive and find the daughter that was taken from her.
The Handmaid's Tale Hulu Writer & Director
The Handmaid's Tale comes to Hulu from MGM Television and is created, executive produced and written by Bruce Miller. Miller told Entertainment Weekly of the project:
If you've read the book, you know that this is an unbelievably rich world and story. I have no trouble coming up with what's going to happen in season 13. I'm chomping at the bit to tell more and more and more.
The show is being executive produced by Warren Littlefield, Daniel Wilson and Fran Sears, and Ilene Chaiken, with MGM serving as the international distributor for the series. MGM's Mark Burnett, president of television and digital, and Steve Stark, president of television development and production, said (apparently, in unison) of the project:
The Handmaid's Tale is a project that we have been committed to bringing to life as its story remains as powerful today as it did when Margaret first published her novel. The Handmaid's Tale has won multiple awards inspiring a film, a graphic novel, an opera, a ballet and finally, for the first time, a compellingly immersive drama series that has found the perfect home at Hulu and its star in Elisabeth Moss.