News
Handmaid's Tale's Elisabeth Moss to Play Typhoid Mary in BBC America Series Fever
Elisabeth Moss will parlay her Handmaid's Tale success to star in BBC America historical series Fever as Typhoid Mary.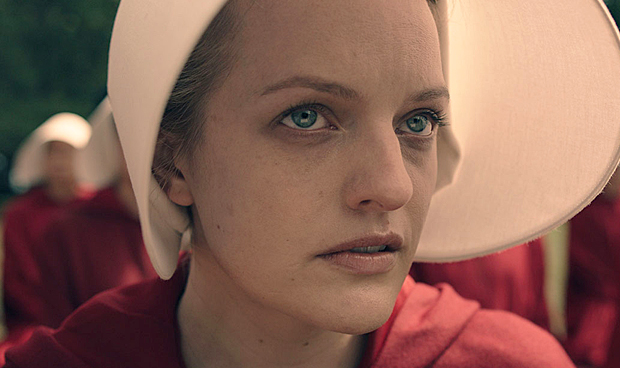 The Handmaid's Tale continues to be a buzz-heavy boon for streaming outlet Hulu and for its star Elisabeth Moss. Consequently, the former Mad Men standout will continue charting new dramatic waters with a project called Fever, a BBC America limited series in which she will play the famously scapegoated historical figure known as Typhoid Mary. – Relax, Daredevil fans, it's not that Typhoid Mary.
As Variety reports, Elisabeth Moss will serve as star and executive producer for the developing BBC America limited series Fever. The series, based on the 2014 biographically-based book of the same name by Mary Beth Keane, will have Moss playing the real-life tragedy-destined, infamy-imbued early 1900s figure Mary Mallon, a.k.a. Typhoid Mary.
An Irish-American immigrant, Mary worked her way up the culinary ladder to became a cook for rich families in the New York City area during the early 1900s. However, left in the wake of Mary's increasingly high profile jobs is a trail of bacterial outbreaks leaving several of the families hospitalized, with a fair number of fatalities to boot. Unbeknownst to Mary, who is completely healthy, she is the first identified asymptomatic carrier of Typhoid Fever. A subsequent investigation results in Mary becoming an ostracized figure and, after defiantly ignoring ultimatums to stop cooking, is eventually relegated to a lifelong quarantine on North Brother Island.
Directing and executive producing Fever is Phil Morrison, known from the 2013 Paul Giamatti/Paul Rudd-starring dramedy All is Bright, the 2005 comedy Junebug and Comedy Central's 1998-2000 sketch comedy troupe showcase Upright Citizen's Brigade. Morrison works off a script adapting Keane's book by Robin Veith, a scribe who's worked on television series such as The Expanse, Outcast, True Blood, Law & Order: SVU and, notably Elisabeth Moss's old small screen stomping ground Mad Men.
Fever represents quite the passion project for Elisabeth Moss, who essentially facilitated the adaptation, acquiring the rights to Keane's book and sending materials to Morrison. Moss, in the capacity of executive producer, is partnering with Annapurna Television to develop the series. As Moss states regarding the narrative of the Fever project:
"I'm so honored to be working with the incredible team of collaborators we have pulled together with Phil, Robin, BBC America and Annapurna. I look forward to telling this story about one of the most infamous women in America, 'Typhoid Mary,' a woman whose true tale has never been told. She was an immigrant in turn of the century New York, a time of huge change and progress in America. She was incredibly unique, stubborn, ambitious and in fierce denial of any wrongdoing until her death where she lived out her days imprisoned on an island just off of the Bronx in NY. She is incredibly complicated, something I seem to enjoy playing."
For now, Elisabeth Moss has plenty of indie movies set for imminent release, starting with dramas Mad to Be Normal, opposite former Doctor Who David Tennant, The Square, opposite Dominic West, The Seagull, opposite Saoirse Ronan and 2018's comedically-tinted drama Old Man and the Gun opposite Casey Affleck. Thus, Fever should serve as an intriguing thematic detour for Moss whenever it ultimately surfaces.