News
Gunpowder Trailer and Release Date for Kit Harington Guy Fawkes Series
Game of Thrones' Kit Harington stars miniseries Gunpowder, playing the mastermind behind Guy Fawkes.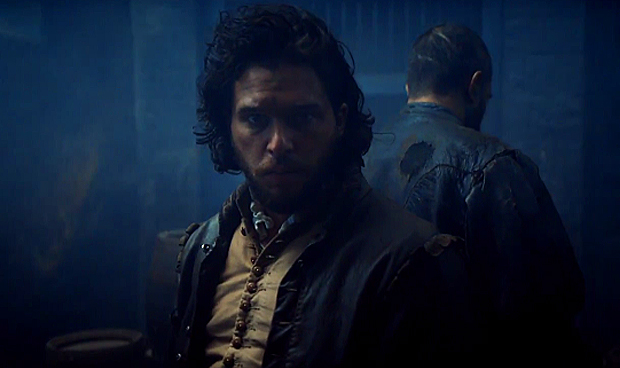 Game of Thrones' Jon Snow, Kit Harington, is rounding a new small screen showcase, revealing a more radical side, looking to prove that, in the very least, he knows something. While the star continues to thrive on the HBO juggernaut series, which just concluded its triumphant seventh season, it seems that Harington will get to display some non-Snow range in the BBC One historical three-part television miniseries called Gunpowder, playing the mastermind behind one of England's most infamous, mask-inspiring, would-be regicide plotters, Guy Fawkes.
Gunpowder Trailer
With HBO's acquisition of the BBC miniseries, comes a new Gunpowder trailer, this time tailored for its U.S. release. Perhaps acknowledging the futility of hyping a historical bombing plot that was famously thwarted, this trailer focuses more on the motivations of Kit Harington's Robert Catesby and the clarity of purpose that, for some reason, an ultimately-suicidal attempt at regicide can achieve.
While the Gunpowder teaser trailer doesn't provide a glimpse of scenes from the miniseries itself, it's more of an expositional meet-and-greet that starts by focusing on a trail of the titular substance, leading to a monologue from Kit Harington's Gunpowder Plot mastermind Robert Catesby; a man who's been driven to a point where he has nothing to lose. Clearly conveying his explosive intentions, Catesby is joined here by a silent, more famous co-conspirator in Guy Fawkes (Tom Cullen).  
Gunpowder Release Date
Gunpowder has found itself a home that's befitting of Kit Harington: HBO. While the series premiered on the BBC in the U.K. on October 21, Gunpowder will arrive stateside on the Game of Thrones-airing premium cable platform that made Harington famous, set to debut on December 18, airing across three consecutive nights.
Gunpowder Cast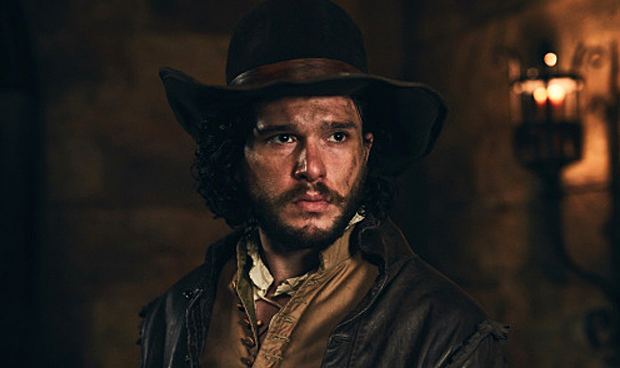 Kit Harington stars as Parliament bomb plot mastermind Robert Catesby, a 30-year-old Warwickshire gentleman motivated by the Protestant Crown's oppression of the Catholic church, destined to be remembered as an attempted 17th century terrorist. Gunpowder is an interesting test for Harington after attempts on the big screen to nab some non-Thrones success led him to headline underperforming blockbusters such 2014's Pompeii and 2015's MI-5. However, he'll still have the stable global platform of Game of Thrones and his role as the back-from-the-dead, caste-defying bastard King of the North with a secret royal parentage, Jon Snow, at least until 2018 (possibly 2019) when the show rounds its final season.
Tom Cullen co-stars as Guy Fawkes, the famous would-be perpetrator of the 17th century bomb plot whose very countenance became the source of a fire-prone effigy that's involved in firework displays each year on the holiday that carries his name. While Cullen's role here as Fawkes seems to be in a supporting capacity, he'll be more prominently seen when he stars in History Channel's upcoming Knights of Templar series Knightfall. He's previously fielded TV runs on The Five, Downton Abbey, miniseries World Without End and guest appearances in Orphan Black, Happily Ever After and Black Mirror.
The cast also consists of Mark Gatiss, Liv Tyler, Martin Lindley, Simon Kunz, Shelley Draper, Shaun Dooley, Kevin Eldon, Sean Rigby, Joseph Ringwood and Richard Douglas.
Gunpowder Crew
Gunpowder is directed by J Blakeson (The 5th Wave, The Disappearance of Alice Creed), who works off a script by the duo of Ronan Bennett (Public Enemies) and Daniel West (South Riding).
Interestingly, Kit Harington not only joined this project as its star, he's also attached as an executive producer by way of his Thriker Films banner, joined in that capacity by Laurie Borg, Daniel West and Stephen Wright. Harington – who has shown interest in transitioning to screenwriting – was even said to be contemplating writing the script in the very beginning, though that did not come to fruition.
Gunpowder Details
Set in 1605, Gunpowder will center on the historical Gunpowder Plot, in which thirteen conspirators attempted an explosive Catholic restoration against (what was perceived as) an oppressive Protestant Church of England by using barrels of gunpowder to blow up the Houses of Parliament, prospectively killing King James I in the process. Of course, while said plot was thwarted, it was the subsequently-hanged conspirator Guy Fawkes whose name became the synonymous with the plot and its caricature-inspiring face, traditionally burned in effigy amongst firework displays each year on the night of the plot's November 5 anniversary, known as Guy Fawkes Day.
By strange coincidence, in a talk show appearance, Harington revealed a personal familial connection to the Gunpowder Plot, since he is the direct maternal descendant of the mastermind (and his Gunpowder character,) Robert Catesby. Compounding the coincidences, one of Harington's paternal ancestors, John Harington, was in the Houses of Parliament when Fawkes's piked head (a very Game of Thrones fate,) was marched past the building and was even quoted as calling him "an ugly fellow."
Read the full Den of Geek NYCC Special Edition Magazine right here!