News
Guillermo del Toro on Frankenstein, Pinocchio, The Strain & More at Fantasia Fest
Guillermo del Toro talks about Frankenstein, At the Mountains of Madness, and more at Fantasia Fest!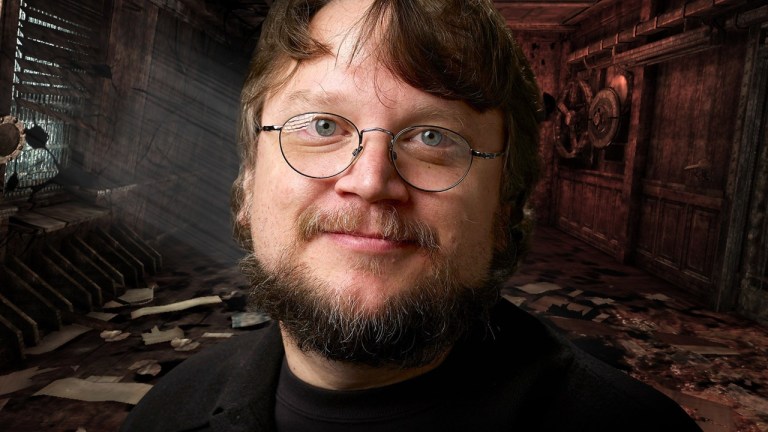 Filmmaker Guillermo del Toro made his first appearance at the 20th Fantasia Film Festival in Montreal on Friday to receive the Cheval Noir Lifetime Achievement award, as well as to present the documentary Creature Designers: The Frankenstein Complex. It's a movie in which he's interviewed, talking about one of the things he loves more than anything else: creatures and their creation.
Earlier in the day, he appeared at a press conference to field questions about all aspects of his life and career, which we'll share soon, but we'll begin with some of the projects he has upcoming, in the works or has talked about in previous interviews. As always, del Toro was full of anecdotes and quips, although at least the mention of one of his projects did receive a more poignant and sadder response.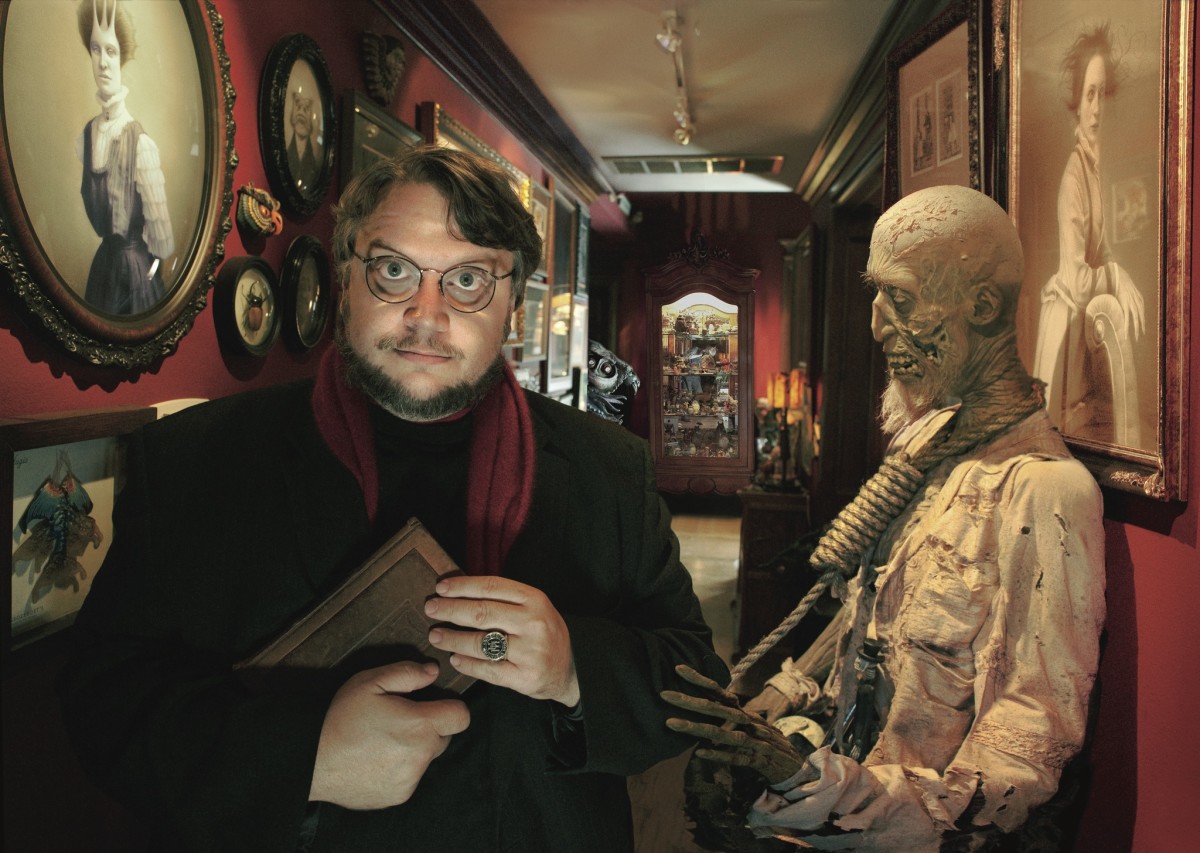 The Shape of Water
Guillermo del Toro's most immediate new project is one with a smaller budget called The Shape of Water. It's been described as "a magical love story set in 1963" and stars Sally Hawkins, Michael Shannon, Richard Jenkins, Michael Stuhlbarg and Octavia Spencer, and it's slated to start filming very soon. He evaded the question when asked about the theme of the movie or which part of his personality and tastes it might explore, but he did give us an idea that it will be his first English movie on the scale of one of his smaller Spanish films like The Devil's Backbone. (During a Q&A later that night, he mentioned that they've been spending months designing a creature for the movie, so it won't be completely out of his wheelhouse either.)
"I try to make movies that are different from each other, but I do want to stay the same guy who did The Devil's Backbone did Pacific Rim. I don't put on a cap and go work; it's the same guy. It's a smaller movie in the English language, which gives me a lot more freedom. I don't abide by intervention—but you do have to weigh the size of the audience you want. When you get more budget, you do change into part of you saying, 'I have to engage the resonance of the movie towards a wider audience.' When I say, 'Blade is a six-pack movie,' I mean it. It's a movie best appreciated with a six-pack and a pizza."
"Normally in English, I'm working with a certain budget. This is a much more constricted budget but it allows me to go into a more esoteric area. Not that anyone was clamoring for Gothic romance last year, but I gotta' tune into that. This is a very personal, smaller movie. I can't describe them as I go along. It's as personal as Devil's Backbone would be, in a way."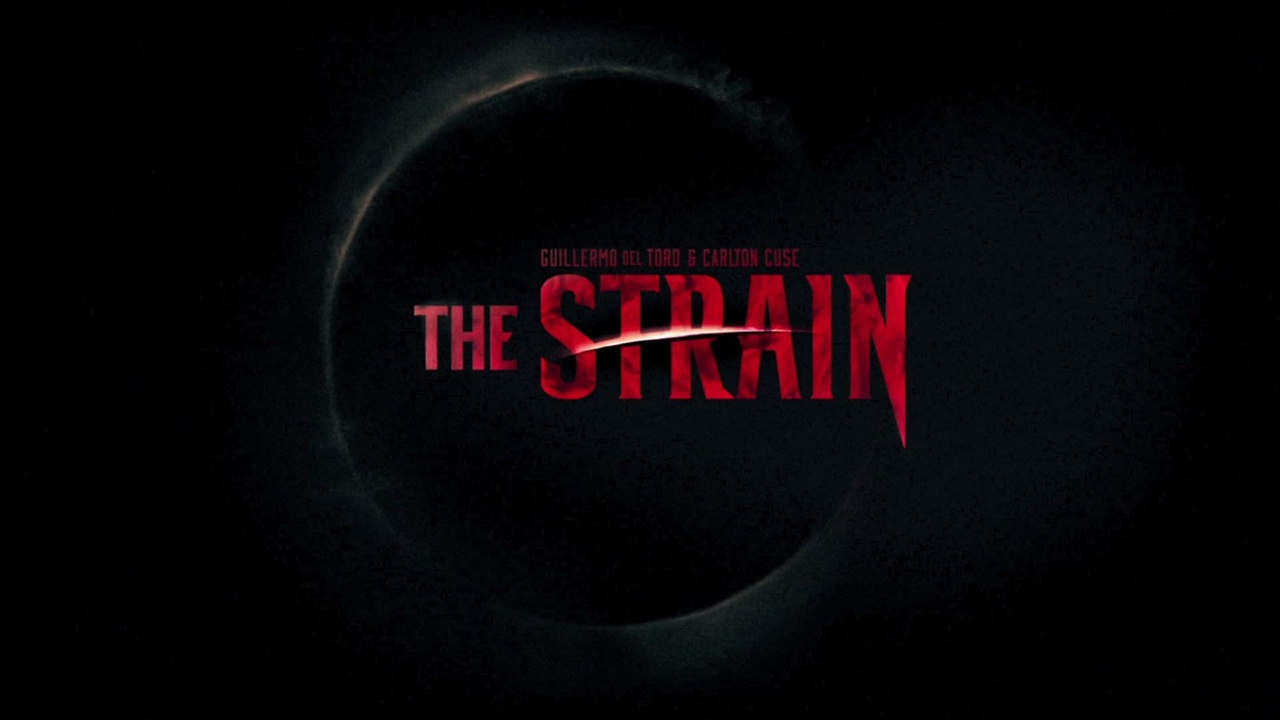 The Strain
On Aug. 28, the third season of del Toro's FX series The Strain (based on the books he co-wrote with Chuck Hogan) will begin. So, he talked about how the show has diverged from the books and how that might affect its impending finale:
"After the first season, it's really Carlton Cuse's baby. Having co-written the books with Chuck Hogan, I'm too close to the books. I suffer a lot if there's a change, and there's a lot of changes. They kill people that we don't kill in the book in the second season. People that we killed in the books live forever, so there are many changes. What I think is interesting is that we went into adapting it into comics for Dark Horse and it was a seamless experience. On TV, you learn pretty quick that the dynamics of a TV show are very different. Some characters that were meant to last had to end quickly.
"The TV show and the books diverted after the second season, and I think the series is going to have a different finale than the books. I wouldn't say we're going to veer that much but it's going to be a good ending, a brutal ending."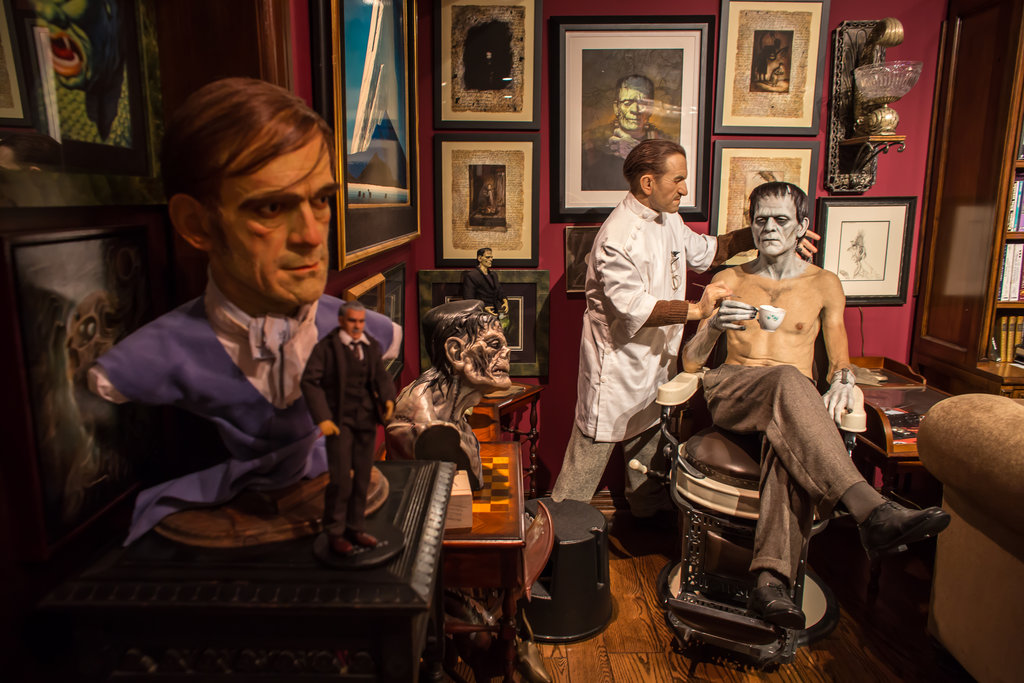 Frankenstein
One of Guillermo's long time dream projects he's mentioned over the years has been to bring his own version of Frankenstein to the screen, although that might not happen any time soon, if ever. He explained to the press why the Frankenstein monster is still his most beloved creature, one that captured his imagination from youth, and why that makes it harder for him to actually tackle it as a movie himself.
"The moment I saw the Frankenstein creature come into the light, I was blown away. I have a beautiful piece by Mike Hill, which is a seven-foot tall, hyper-realistic face of Boris [Karloff] as the monster that you see when you enter my house, hanging in the balcony. It recreates the awe. When I was a kid, I saw the movie, I was incredibly moved by the fact that the creature was an innocent. When I saw him, there was such a serene, innocent essential grays in the way Boris portrayed the creature. There was a beauty that was truly holy, truly transcendental in the way he portrayed it, and then I read the book and I realized the book has not been made.
"To this day, nobody has made the book, but the book became my bible, because what Mary Shelley wrote was the quintessential sense of isolation you have as a kid. It's the quintessential teenage book. 'You don't belong. You were brought to this world by people that don't care for you and you are thrown into a world of pain and suffering, and tears and hunger, and you learn to talk…' It's an amazing book written by a teenage girl. It's mind blowing.
"So, Frankenstein to me is the pinnacle of everything, and part of me wants to do a version of it, part of me has for more than 25 years chickened out of making it. I dream I can make the greatest Frankenstein ever, but then if you make it, you've made it. Whether it's great or not, it's done. You cannot dream about it anymore. That's the tragedy of a filmmaker. You can dream of something but once you've made it, you've made it. That's it. You landed a 10 or you landed a 6.5 but you were at the Olympics already, and you were judged."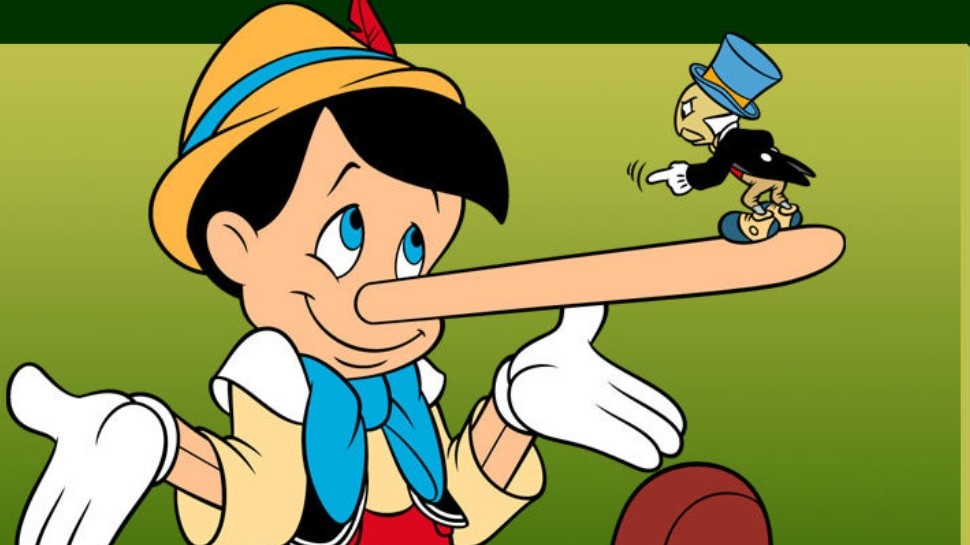 Pinocchio
Another project he's been developing for a while is a stop-motion animated movie he's been prepping with Mark Gustaffson to be co-produced by ShadowMachine and the Jim Henson Company that's based on Carlo Collodi's book Pinocchio that's been translated into a number of films, most famously, Walt Disney's animated version. Here's an update on that.
"We wrote a draft already, and now I'm writing a new draft of Pinocchio. Pinocchio and Frankenstein have similar strands. It's an innocent, a pure force, created and abandoned in the world, and learning to cope morally with the world. They have a lot of strands in common, and it's not a normal character, so he's viewed with suspicion, with wonderment. He's imprisoned, tortured. The thing I'm doing is I'm going back to the book by Collodi, so we have little things from the Collodi book that are not in the version most people know—burning his legs, getting hung, seeing the black bunnies, which are very scary, Pleasure Island is truly scary, etc., etc.
"But I set it at the time in between World War I and World War II in Italy when fascism is rising, so it's an interesting time for Pinocchio. It's a good time for a puppet to exist, so it's an interesting Pinocchio. It's animated, and I have hopes to get it made. We have all the art, we've designed everything, so we hope to get it made—I don't know when but it's there."
Pacific Rim: Maelstrom
As you probably know by now, del Toro decided not to direct the Kaiju sequel Pacific Rim: Maelstrom. He spoke about the reasons why he stepped aside and let a new director, Steven DeKnight (from Marvel and Netflix's Daredevil series) step in. As of now, they've been casting and working toward a Feb. 23, 2018 release date. Del Toro decided to begin production on The Shape of Water when production on the Pacific Rim sequel was pushed back nine months.
Says del Toro, "We needed to find somebody that had his Kaiju syllabus properly, that knew the Mecha, that really felt like a fan, that felt like a guy that understood all that, and Steven felt like that guy. It's his movie. I'm assisting in any way I can or that he needs, but it's his movie. But I think the ideas he has are great. I'm very happy with it, but I decided I was going to move on and keep going to new things."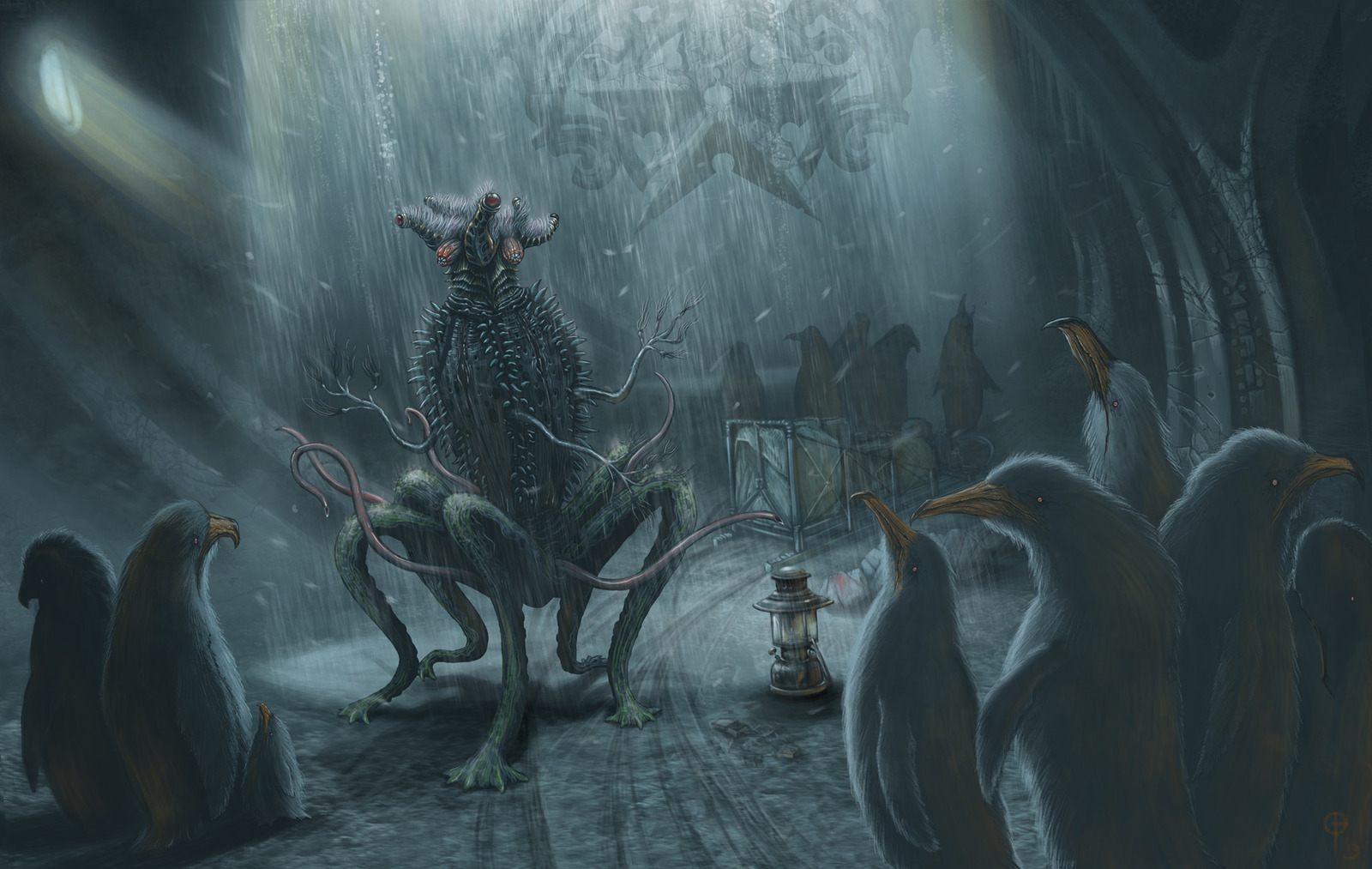 At the Mountains of Madness
As often happens at these press conferences, del Toro was asked about one of the projects he wasn't able to get off the ground, an adaptation of H.P. Lovecraft's At the Mountains of Madness, and he told us a sad story about how he learned this dream project might never happen.
"Imagine that you have a horrible miscarriage that left a lot of scars and you're still dangling a piece of placenta when I'm answering that," del Toro starts. "That thing really gutted me. Before I went into the preproduction process, I had put over a decade and a half into it, first getting the rights to the book, because it's one of the few books of H.P. Lovecraft that's not in the public domain—regardless of what people think. We had to track the chain of title, we got the rights, writing the screenplay and then we went and designed everything.
"I can show you an ILM test and about 200 pieces of design of the city and creatures, and everything and about 700 storyboards. We did all that, and it would break your heart. It really was a great monster movie and then we go to James Cameron to produce and Tom Cruise to star in it, and then they [the studio] say 'no.'"
He continued the story with even more details about how the cancellation of the movie affected him:"I was flying in a helicopter over Alaska, seeing a pack of wolves crossing a frozen lake beneath. I landed in a little refuge in the middle of nowhere—we were scouting for Antarctica—and I get a call that says I have to call the studio tomorrow. You never call the studio for good news, and I knew that we were screwed before I went back to civilization. And then I went back, and they cancelled the movie. It was very, very difficult.
"I would try to make it, but it needs to happen. I'm not being funny, I'm not making this up, it really takes a toll. It really destroys something in you when you have a miscarriage like that. It damaged me somehow, and a lot of this gray hair comes from there, because it really hurts you. You put a lot of effort—your body and soul—and then it doesn't happen. The ones that don't happen break your heart, that's for sure. But I'm going to keep trying."
Look for more with del Toro from his Fantasia press conference over the next few days, as well as more from the annual Montreal genre fest.