News
Grantchester Season 4: Tom Brittney to Replace Star James Norton
The upcoming fourth season of mystery series Grantchester will see Outlander's Tom Brittney replace star James Norton.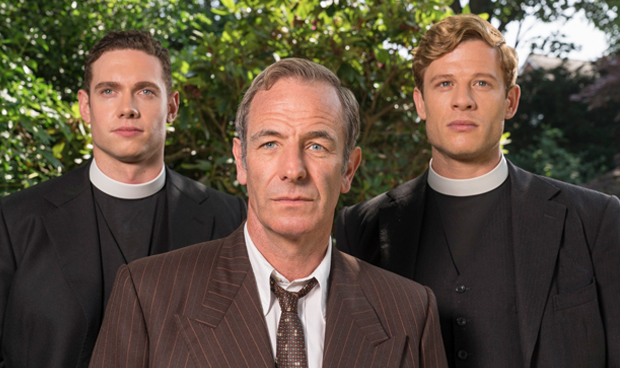 The ITV British mystery series, Grantchester, has been quietly gaining popularity, including in the U.S., where it currently streams on Amazon Prime Video and occasionally airs on PBS under the Masterpiece tentpole. However, with the fourth season of the priest detective show in production, Grantchester just dropped a bombshell: Its star, James Norton, is exiting the series and will be replaced by a new character, played by Tom Brittney.
The Grantchester star swap was officially revealed and even confirmed with a photo (seen in the main image,) depicting a proverbial passing of the protagonist baton, showing new star Tom Brittney as the show's new godly gumshoe, Reverend Will Davenport, joined by Robson Green's Police Inspector Geordie Keating and the imminently-exiting star, James Norton as Reverend Sidney Chambers.
New Grantchester star Tom Brittney comes into the series off runs on television shows such as Outlander, X Company, The Five, Humans and The Syndicate. An official statement describes Brittney's Will Davenport character as such:
"A man of the people, confident, caring and self-assured, Grantchester's young, new parish priest Will Davenport channels his boundless energy into a quest for social justice. He is a man of God, but with the devil inside of him. As Geordie draws him into righting the wrongs of criminal Cambridge, Will's own troubled past is unearthed."
As Rebecca Eaton, a Masterpiece Executive Producer at WGBH Boston assures about the Grantchester star swap:
"A message to MASTERPIECE fans, as much as I know you'll miss James Norton, I promise that you'll love Tom Brittney. Just watch him go toe-to-toe with Robson Green's character, the very skeptical Geordie … and watch him win him over."
Grantchester, which adapts James Runcie's current novels series, collectively known as The Grantchester Mysteries, premiered on ITV back on October 2014. The show, set in the 1950s in the eponymous Cambridgeshire village, centered on Norton's Sidney Chambers, a young Anglican vicar who's a jazz enthusiast and a romantic at heart (to the chagrin of his priestly peers), who also carries emotional scars from his service in World War II. Yet, Sidney's desire for justice becomes channeled through crime-solving when he begins a partnership with local DI Geordie Keating (Green); a useful endeavor, since bodies seem to be dropping in their little hamlet every week. Now, Season 4 will see Tom Brittney's Will Davenport take Sidney's place in said partnership.
Exiting star James Norton – who does not reveal the reason for his exit – expresses praise for the series in a statement:
"As excited as I am to be filming a new series of Grantchester, it's also heartbreaking to be saying goodbye to Sidney Chambers. I've loved this experience, and particularly working with such an extraordinary cast and crew. All the best to the fantastic Tom Brittney in his role as the new vicar. He is a wonderful addition to the Grantchester family."
Grantchester Season 4 doesn't have a release date, though it is expected to arrive in 2019. The show is currently in production in London, Cambridge, and (obviously,) Grantchester.