News
Gotham: Who is the Joker?
Is Jerome really the Joker on Gotham? If the answer is no, you wouldn't know it from these new trailers.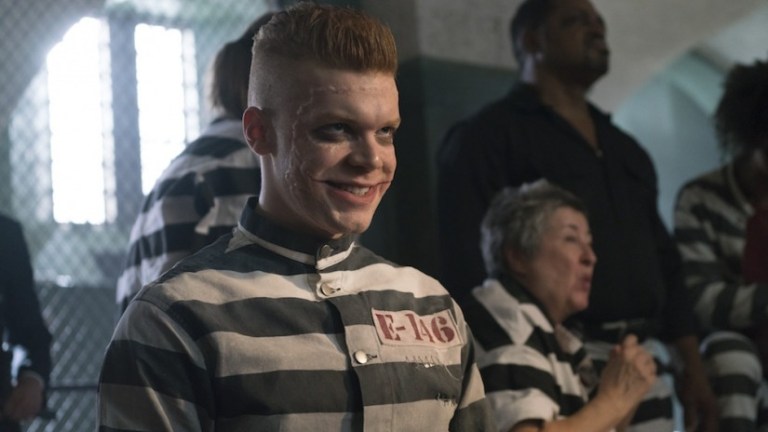 Much ado has been made about the fact that, while Gotham Season 4 will introduce the Joker, he will not be Jerome, the very Joker-like character who has been delightfully played by Cameron Monaghan since the show's first season. That hasn't stopped Gotham from playing up the Jerome/Joker angle at every opportunity. And we can't blame them, since Monaghan has turned in a memorable performance certainly worthy of one of the greatest supervillains of all time.
Gotham is continuing to tease these Joker connections, though. Two recent trailers in particular highlight everything great about Jerome, and after watching these, it's tough to imagine a scenario where he wouldn't be a perfect Joker for this world.
Check them out, and then we'll get further into the mystery…
The first is the "white band" trailer, in which Joker…ahem…we mean, Jerome, assembles his "Legion of Horribles."
And then they get a little more to the point with this one…
A few months ago, David Mazouz let slip that Jerome isn't the Joker, but that he's "the inspiration for" the Joker. Monaghan himself has continued to tease fans on social media about whether or not Jerome is the Joker, too.
However, as a recent interview from Bustle points out, just because Jerome isn't the Joker doesn't mean Monaghan won't be playing Gotham's most famous villain. According to the article, Gotham star Morena Baccarin let slip that Monaghan will be playing multiple characters this season.
"[Cameron]'s got some incredible scenes," Baccarin teased. Though Bustle didn't share the specific quote that had Baccarin mentioning Monaghan's multiple characters, Baccarin implied that the other character would be a member of Jerome's family. This is actually helpful evidence. Otherwise, I might have thought doppelganger, as Jerome did spend some time in Indian Hill under Hugo Strange's, for lack of a better word, care. Strange made a doppelganger of Bruce, so why not Jerome?
If the other Monaghan character isn't a doppelganger, could he be a twin? We know a bit about Jerome's past, as we met him while he was still living with Haly's Circus, where he grew up with his mother, Lyla the snake-dancer, before he murdered her back in Season 1. Given that Jerome spent the beginning of his life thinking his father was a deceased sea captain called Sven rather than fortune teller Paul Cicero, it's not so hard to believe that Jerome might have a brother or even a twin that he didn't know about.
Either way, it's exciting to consider that Monaghan may still get to play the Joker. His performance as Jerome has been one of the standouts of Gotham, and he already has the Joker routine down. It would be fascinating to see how Monaghan would approach assuming the Joker persona in a slightly different way, as a new character. Hopefully, we won't have to wait long to find out if this Monaghan as Joker theory is true…