News
Gotham Season 5 Poster Reveals Batman
Check out the finale poster for Gotham Season 5, which reveals a Dark Knight rises.
The end is nigh for Fox's Batman prequel series, Gotham. Originally pitched as a pseudo-police procedural about Gotham City's finest in blue combatting corruption in their ranks and crime on the verge of a superpowered reckoning, it instead became a loopy criminal soap opera that threw in everything but a kitchen sink. The fifth and final season even included its own version of the "No Man's Land" saga (made iconic in Christopher Nolan's The Dark Knight Rises), complete with Bane being a back-breaker before there was a Batman.
Nonetheless the Batman is imminent when the series returns for a two-part finale, the second of which includes a time-jump from the show's most recent storyline. The show returns for its finale on April 18 and April 25, with the final episode hitting the elusive goal post of all broadcast network shows of 100 episodes. During the final hour, we are set to see David Mazouz's young and adolescent Bruce Wayne return to the city of his birth and don the cape and cowl that have become iconic. He will do so presumably to offer a helping hand to Jim Gordon, the main character of the series played here by Ben McKenzie.
The new finale poster from Fox reveals as much as it teases a certain Dark Knight.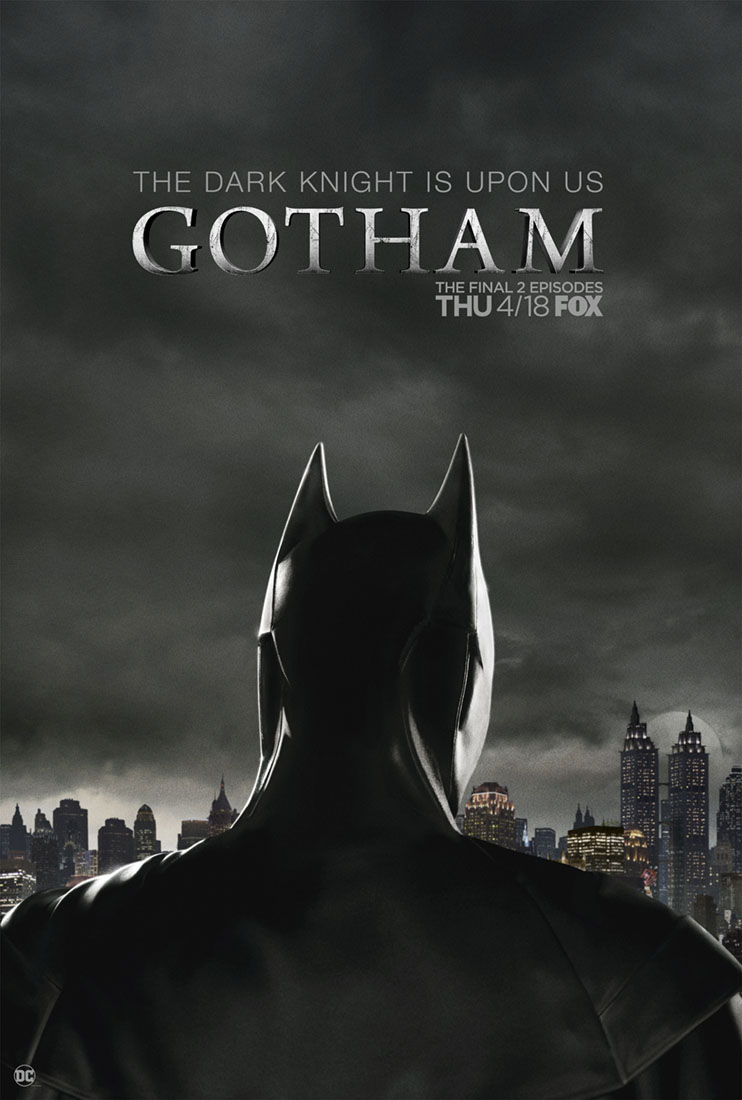 Our critic Marc Buxton said this about Gotham in his most recent review.
This final season of Gotham began with a flash-forward of our heroes and villains making a Helm's Deep like stand against an invading force. We now know who and what that was all about. Waid is a puppet of Nyssa and the US military is going to take out Gotham City. As the missiles fly, many questions remain. What will happen to Alfred? Is the baby Barbara Gordon, and if so, does her mother sacrifice herself? How does Gotham City survive No Man's Land? Will Ed and Oswald ever finish their sub?
We'll find out next month at the same Bat-time, and at the same Bat-place.
David Crow is the Film Section Editor at Den of Geek. He's also a member of the Online Film Critics Society. Read more of his work here. You can follow him on Twitter @DCrowsNest.