Features
Gotham Season 4: What's Next
Gotham actor David Mazouz gave us 12 teases for what to look forward to in the second half of Gotham Season 4...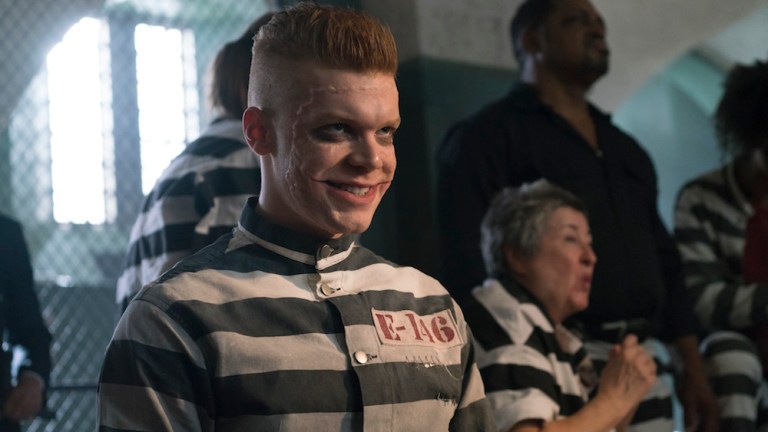 When Gotham returns on Thursday, it brings a new era of the city with it. A city where, yes, Jim Gordon is captain of the GCPD, but under the thumb of Sofia Falcone. A city in which, yes, Bruce Wayne is slowly becoming Batman, but is currently without his Alfred. A city that, yes, has a Joker-like figure in Jerome, but is still waiting for its Joker to show up.
We talked to David Mazouz (Bruce) about what to expect from this next phase of Gotham. Here are 12 things we learned…
As the season moves forward, we will see some epic ensemble team-ups.
Like most shows, Gotham is an ensemble drama that, by virtue of the realities of TV production, does not often get to see its ensemble in one place. While that won't be changing any time soon, Mazouz teased that, as Season 4 progresses, there will be more and more opportunities to see major ensemble scenes. The good guys (and even some of the not-so-good guys) will be teaming up to take on a Rogues Gallery of villains and to save Gotham from its clutches.
Bruce will be hanging out with Ivy and Jerome.
Now that Alfred and Bruce are officially broken up, Bruce will have more time to spend with other characters. Who will we see him hanging with when the season picks back up? Plenty of villains. Mazouz teased scenes with both the new Ivy, played by The Flash's Peyton List, and a certain redhead… aka Jerome.
Jerome hates Bruce more than ever.
What will those Jerome/Bruce scenes look like? Well, we didn't think it was possible, but Mazouz teased that Jerome hates Bruce now more than ever. This will lead to Bruce working desperately to protect the people he cares about from Jerome's nefarious plans.
Penguin will not factor into this dynamic.
Sadly, though Jerome was last seen hanging with Penguin, that will not translate into more Bruce/Penguin interaction when Season 4 returns and Jerome starts torturing Bruce again. Mazouz said that he didn't have any scenes coming up with Penguin, though he loves working with Robin Lord Taylor and enjoys the Penguin/Bruce dynamic.
Alfred will unveil new levels of badassery.
Bruce may have fired Alfred (a scene Mazouz said he got angry at his character while watching), but that doesn't mean Alfred is done for the count. Mazouz teased that, in the midseason premiere specifically, Alfred will be unveiling new levels of his badassery.
Peyton List's version of Ivy is the closest to the comics we've seen yet.
Peyton List's casting of Ivy marks the third incarnation of this character on Gotham, and Mazouz says she is the closest, both visually and in terms of character, to the Poison Ivy from the comics that we've seen yet. As we know from the promo, Ivy will be visiting Bruce in the next few episodes.
This won't specifically affect Bruce's dynamic with Selina.
While Bruce, Selina, and Ivy have grown up as a bit of a trifecta within the Gotham universe, Mazouz said Bruce's interactions with this new Ivy will not specifically affect his relationship with Selina. Given that he mentioned that the Sirens would be some of the not-strictly-good-guys teaming up with Bruce and co. to take down the villains later in the season, it seems like Selina and Bruce will be spending some time together in the second half of Season 4.
There's no timeline on the Alfred/Bruce reconciliation.
Mazouz would not reveal how long Alfred and Bruce would be on the outs, but the synopsis for Episode 14, titled "Reunion," does tease a possible reconciliation. In the meantime, Mazouz is still figuring out what the Alfred/Bruce portmanteau would be. #BruFred seems to be the current frontrunner.
"A Beautiful Darkness" will be a great Bruce episode.
While the midseason premiere will give us Badass Alfred, the following episode, "A Beautiful Darkness," will delve further into Bruce's psyche than ever before. Mazouz teased that it is tied to the very character's soul, and that with head writer John Stephens as the man behind the camera, it was a particularly special filming experience.
Jim and Bruce will clash.
This is a bit like saying that the sky is blue, at this point, but with Jim's role as the captain of the GCPD, the relationship between Bruce and Jim will get a bit more contentious as these two continue to argue about the best way to save the city. (It probably doesn't help that Jim comes upon a particularly sad-seeming Alfred in the midseason premiere.)
The evolution into Batman will slow down a bit.
While we got some major steps in Bruce's evolution into Batman in the first half of the season, which is subtitled "A Dark Knight," by the way, Mazouz said that evolution into Batman will slow down a bit in the second half of the season as Bruce experiments with other aspects of his personality in the kind of committed-to-a-phase single-mindedness that teenagers do so well.
Mazouz is very excited for the Joker storyline.
Mazouz isn't just an actor who plays Bruce Wayne, he is a fan who genuinely gets excited about the adaptation of DC Comics into this show. When asked what non-Bruce storyline he was most excited for fans to see in the second half of Season 4, he teased a particular "joke" the show would be telling, if you catch his drift…