News
Gotham Season 4: David Mazouz on Bruce's Imminent Tragedy
David Mazouz teased a tragedy next episode that will change Bruce forever.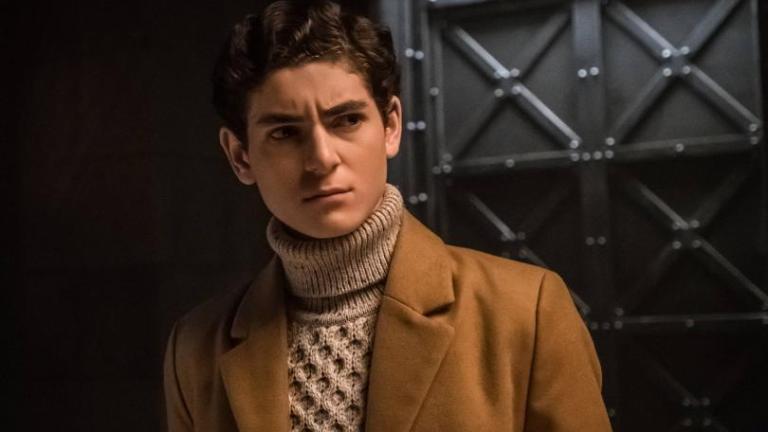 If you enjoyed the glimpe of Bruce's playboy persona in the last episode of Gotham, there's more where that came from.
"What we saw in the last episode, which reaction has been really great for that, that was just a tease," David Mazouz (Bruce) told Den of Geek at New York Comic Con. "It's going to go six hundred million times that in coming episodes and coming scenes."
What does that mean, exactly? Well, things are going to get dark for Bruce, triggered by a tragedy Mazouz teased happens in the very next episode.
"Bruce is going to become a different person," continued Mazouz. "Because of a tragedy that happens, it's going to change him and it's going to turn him into that person. He becomes somebody that nobody should be proud of, and that Alfred definitely isn't proud of, and it gets really dark but it's been so much fun to play."
Mazouz said there is a particularly fun scene in Episode 7 which was "the most fun I've ever had on any set working, ever."
How bad are things going to get between Bruce and Alfred this season?
Alfred and Bruce are goig to be going through their roughst patch yet, which is hard to top since Bruce killed him at the end of last year. I do think it's gonna get very, very dark for this relationship because I feel like, last year, when Bruce killed Alfred, he was under the influence and, now, this is gonna be Bruce just being a jerkhole.
And it's not just Alfred that Bruce will be pissing off this season. Mazouz teased that Bruce will be coming up with his own way of trying to take control of the city this season and that will mean "butting heads with a lot of people as a vigilante, including Gordon."
So his relationship with Gordon is going to be severely damaged and not the same because they're not going to be very friendly towards one another for awhile.
Bruce's isolation from Alfred and Gordon will leave him vulnerable to R'as al Ghul as a father figure in Season 4. Mazouz said "Bruce's relationship with R'as is going to be the most important relationship he has this year."
As you can imagine, this does not mean puppies and rainbows for Young Bruce Wayne in Season 4.
Ra's is going to take the last strand of boyish innocence that Bruce possesses and snap it in two … Because of a very tragic episode that happens with Bruce and Ra's, [Bruce]'s going to transform as a human and he's never going to be the same ever again. He's really going to lose all of his naivety, all of his innocence, and he's going to see the world for what it is, this unforgiving, disgusting place and especially Gotham — it's 10 times that.
Sounds like Jim Gordon is now on his own as Gotham's soul idealistic character. Good luck, buddy.
Read the full Den of Geek NYCC Special Edition Magazine right here!