News
Gong Show Reboot Unveils Mystery Host
Celebrity judges Jack Black, Will Forte and Zach Galifianakis will bang ABC's Gong Show reboot.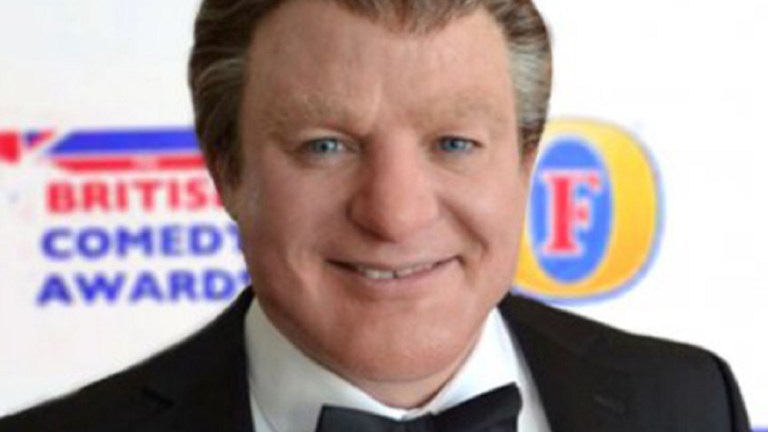 We'll be right back with more stuff. ABC's upcoming reboot of the 70s classic low-rent game show The Gong Show announced its mystery host and, like the true identity of the Unknown Comic, the reveal is still a mystery.
According to rumors, Mike Myers, best known for Shrek, Wayne's World and Austin Powers, will go undercover in the role of former possible CIA assassin Chuck Barris to host The Gong Show as the character Tommy Maitland.
Like the original series, the new Gong Show will feature a rotating cast of celebrity guest judges including Zach Galifianakis, Alison Brie, Andy Samberg, Elizabeth Banks, Joel McHale, Dana Carvey, Will Forte, Jack Black and Anthony Anderson. 
The Gong Show may have paved the way for reality TV more than any other series, is coming back. ABC announced it ordered 10-episodes of a new version of the 70s talent show competition. The Gong Show will be executive produced by Will Arnett.
"I've been a huge fan of Tommy since I first saw his stand-up in the U.K. while traveling as a teenager. He was so funny and original. I had the good fortune to cross paths with Tommy a few years ago and ever since we've talked about working together," Arnett told The Hollywood Reporter.
"I tried for years to come up with a vehicle that was suitable to expose his immense talent on a bigger stage, and The Gong Show is the perfect fit."
Meyers put together a extensive backstory for the character which includes a brief tour of duty in the British Army, a spaghetti western career, some bad spy movies and  films like Dingos Got the Baby.
Maitland told THR to tell America not to be worried. While he "can be a bit of a cheeky monkey," he plans "nothing terribly dirty, just a little naughty at times."
Maitland took the gig on The Gong Show after "they waved a tremendous amount of cash under my nose" to counter some "money problems back in England" that came from "some terrible investments."
Maitland also revealed some of the Gong Show catchphrases he's been working on, like "You've got no proof," which comes from his "second memoir," which "was titled You've Still Got No Proof."
There is no word on whether the network will try and find replacements for original recurring acts like Gene Gene the Dancing Machine or The Unknown Comic.
Gong Show creator Barris also produced The Dating Game and The Newlywed Game. 
"The comedy culture we are living in has finally caught up to The Gong Show, so the timing is perfect," Holly Jacobs, the executive VP of reality and syndication programming for Sony Pictures Television, said in a statement. "We've found just the right partners to bring back this iconic original."
ABC  has already rebooted classic game shows like throwbacks $100,000 Pyramid, Celebrity Family Feud, Match Game and To Tell The Truth.
"ABC has tapped into the nostalgia and excitement of primetime game shows," Rob Mills, the senior VP of alternative series, specials and late-night programming, said in a statement. "We are thrilled to add The Gong Show to ABC's schedule spearheaded by the incomparable Will Arnett."
The Gong Show was broadcast on NBC's daytime schedule from June 14, 1976, through July 21, 1978. Produced by host Barris, the show is best remembered for its absurdist humor and its run-ins with the censors. Including the infamous "Popsicle twins," aka "Have You Got a Nickel," who doubled their pleasure with a frosty treat.
The Gong Show is scheduled to premiere on June 22.