News
Goldberg Once Again Delivers on Raw
Goldberg speared Heyman and hit Rusev with a jackhammer to open Monday's Raw ...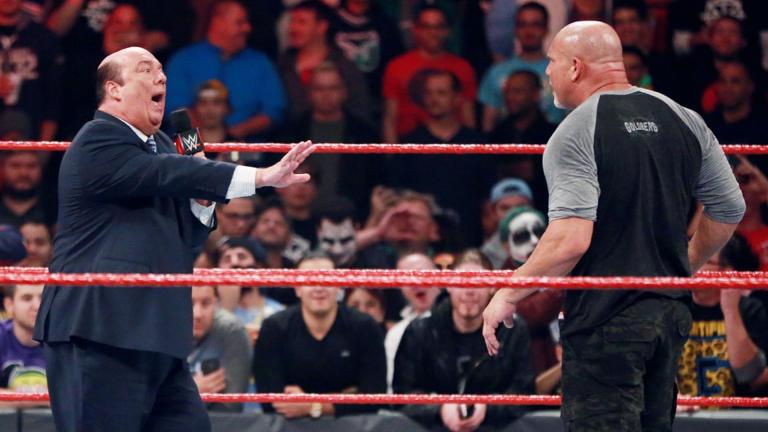 I was a little nervous at the start of last night's Raw when Goldberg began his promo and almost immediately after he began, he was interrupted by Paul Heyman.
Goldberg was never known for his promos, and despite a really good one when he returned to WWE in Denver a few weeks back, Goldberg vs. Heyman in a battle on the mic just isn't a fair contest.
But Goldberg once again more than held his own. This time, he didn't do it with his words, he did it with his look. When Heyman faked bringing out Brock Lesnar, Goldberg locked his chops. He looked intense. He looked ready for a fight.
When Heyman began mocking Goldberg's son at ringside, you could see the rage in Goldberg's eyes.
Heyman was also terrific in this opening segment, snickering in the corner while Lesnar's music played, knowing full well he was never going to appear.
After Goldberg looked like he was going to attack Heyman, Rusev came to the ring. He told Goldberg that he doesn't think he has it anymore. Rusev told Goldberg he wasn't a superhero, because superheroes not exist.
Why is Rusev saving Paul Heyman? We don't know.
But Rusev told Goldberg that he had some great moves in WCW. Rusev told Goldberg he doesn't think he has the strength or explosiveness to do a spear or jackhammer anymore. Rusev questioned Goldberg's heart.
All the while, Goldberg was delivering with his facial expressions. He mock laughed at Rusev a few times and then looked really intense when Rusev was questioning his ability.
Rusev delivered a right hand and Goldberg had good snap on the sell. It was like he hasn't missed a beat to be honest. Goldberg slipped for a moment while delivering knees to Rusev's gut but landed a very solid looking jackhammer before spearing Heyman.
Is Goldberg rusty? I'm sure he is. The slip during the knees was pretty obvious. But this performance has me thinking the match with Lesnar at Survivor Series will be better than some of us expect. Goldberg has delivered well in two straight segments. Who is to say he can't deliver at Survivor Series, too?
1. Enzo Amore beat Luke Gallows in a Trick or Treat Fight
This was just silly and, honestly, stupid. I'm a big fan of Enzo and Cass, especially Enzo's promos, but this just made everyone here look like a bunch of fools. They follow a big Goldberg segment, which opened the show, with this garbage? Guys bobbing for apples and Enzo using a plastic skeleton as a weapon? This is stupid, hokey, crappy sports entertainment and it's far from entertaining. These four guys are really talented, and using them in a segment like this is a total waste.
2. TJ Perkins beat Brian Kendrick via count-out in a Cruiserweight Title match
The angle at Hell in a Cell was a poor one, with everyone in the building and everyone watching on television realizing that Kendrick was faking the injury. Only Perkins and the officials didn't realize this, apparently.
3. Braun Strowman won a battle royal to earn a spot on Team Raw
Strowman winning puts them in a weird spot, and tells me that Raw wins the match almost for certain. They need to protect Strowman and eliminating him in a tag team match for "brand loyalty," which literally means nothing, is a horribly bad idea.
4. Rich Swann, Lince Dorado and Cedric Alexander beat Daivari, Drew Gulak and Tony Nese
Decent match. Swann had a good spotlight on him but this match definitely felt like filler on a three-hour show.
5. Nia Jax beat Bayley
This was booked really well. Jax is a monster and Bayley is supposed to be the underdog. They told a really great story here with Bayley getting dominated but fighting back before ultimately being overwhelmed by the bigger, stronger Jax. Bayley, to be the underdog, has to lose and I have no issue with her dropping a clean match to Jax here. Well done.
6. Sheamus & Cesaro beat The Shining Stars
More filler. I can't get behind the Sheamus & Cesaro team all that much. They don't like each other, and they have no obligation to be teaming together. Mick Foley suggested it once, but it's not as if they are contractually obligated to team, so I can't figure out why they continue to.
The Shining Stars, I don't know what they are or why I should care about them at all. They're barely used on television in any meaningful way.
7. Roman Reigns beat Chris Jericho via DQ to retain the U.S. Title
This was an OK television main event. Rollins making the save for Reigns was expected, but still not a bad thing. They'll get some legs out of this and I'm expecting to see a Reigns & Rollins vs. Owens & Jericho Raw main event in the next week or so. The crowd really ate up Rollins and Reigns staring at each other after the match, too.