News
Godfather of Harlem Exclusive Clip Reveals Battle Plans
Bumpy Johnson sets his enemies against each other in this exclusive clip from Godfather of Harlem.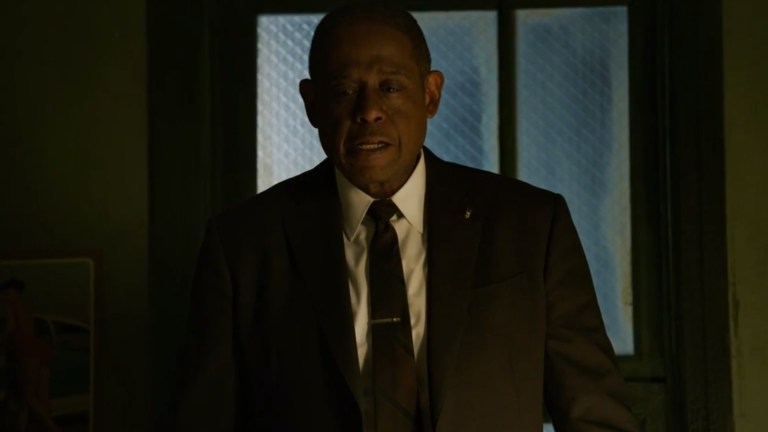 There's a battle brewing uptown on Epix's crime drama Godfather of Harlem, and all the players are looking for a home field advantage. Italian mob boss Joe Bonanno (Chazz Palminteri) may not want a war with Genovese capo Vincent "The Chin" Gigante, played by  Vincent D'Onofrio, but Bumpy Johnson (Forest Whitaker) is declaring his independence. An exclusive clip from episode 7
Johnson got out of prison to come home to a new Harlem. The deals he made with Lucky Luciano are losing value and the street price of dooji, or heroin, is on the rise. His old friend Malcolm X (Nigel Thatch) sees it as a blight on the community where the gangsters just see a commodity. It's business but it's about to get very personal.
read more: Godfather of Harlem Star Vincent D'Onofrio Talks Mob Rule
The clip shows Bumpy plotting to evict the Italian mob from the neighborhood while his right hand man Del Chance (Erik LaRay Harvey) plays devil's advocate, saying their gang is going to get caught in the middle. But Bumpy's carrying concealed weapons. He's befriended Gigante's daughter Stella (Lucy Fry) and knows how to get to the bottom of a killing which has driven Bonanno bananas for years. If the two mobsters go at each other, everything above 110th Street is up for grabs.
You can watch the clip here:
The ten-episode series also stars Giancarlo Esposito as Adam Clayton Powell Jr., Ilfenesh Hadera (She's Gotta Have It), as Mayme Hatcher Johnson, Bumpy's wife, and Paul Sorvino as mob boss Frank Costello.
Godfather of Harlem tells the "true story of infamous crime boss Bumpy Johnson, who in the early 1960s returned from ten years in prison to find the neighborhood he once ruled in shambles," reads the official synopsis. "With the streets controlled by the Italian mob, Bumpy must take on the Genovese crime family to regain control. During the brutal battle, he forms an alliance with radical preacher Malcolm X – catching Malcolm's political rise in the crosshairs of social upheaval and a mob war that threatens to tear the city apart. Godfather of Harlem is a collision of the criminal underworld and the civil rights movement during one of the most tumultuous times in American history."
Godfather of Harlem episode 7 airs Nov. 10 on Epix.
Culture Editor Tony Sokol cut his teeth on the wire services and also wrote and produced New York City's Vampyr Theatre and the rock opera AssassiNation: We Killed JFK. Read more of his work here or find him on Twitter @tsokol.