News
GLOW Season 2: Release Date, Cast, Trailer, and More Details
GLOW Season 2 will arrive in June! Here's everything you need to know.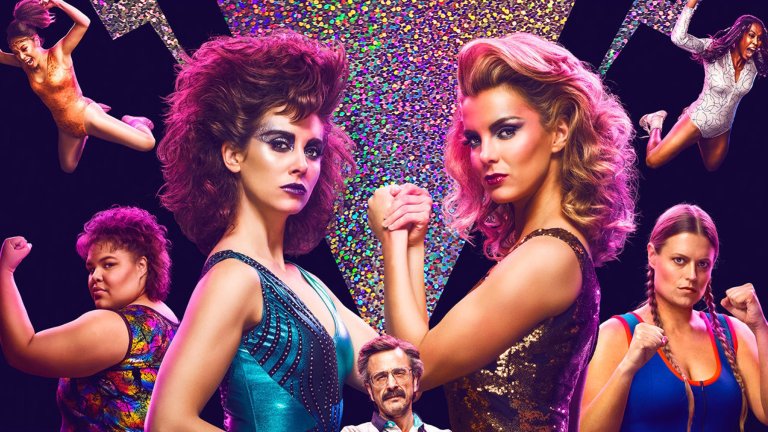 If you watched the first season of Netflix's '80s set wrestling comedy, GLOW, you were definitely charmed by its neon lit sense of humor. If you didn't watch GLOW yet, well, what the hell are you waiting for? Its 10-episode first season was so easily bingeable, and perfectly walked the line between comedy and drama, with lots of fun 1980s references and some authentic wrestling detail thrown in for good measure.
GLOW Season 2 is coming for a second round of wrestling fun. Here's everything we know about the new season… 
GLOW Season 2 Release Date
The gorgeous ladies of wrestling return on June 29.
GLOW Season 2 Trailer 
GLOW Season 2 Cast
Annabella Sciorra joins GLOW Season 2 in a recurring role, reports Deadline. She is set to play Rosalie Biagi, described as the "mother to the youngest of the GLOW girls."
Sciorra, a veteran actress, made early onscreen impacts as half of the interracial romance with Wesley Snipes in 1991's Jungle Fever, a co-starring role in the 1992 horror/suspense film, The Hand That Rocks the Cradle, and is remembered for her powerful 2001-2004 run as Tony Soprano's tragic mistress Gloria Trillo on HBO's The Sopranos. Besides a wide array of films and TV guest spots, she's since fielded TV runs on Mental, The L Word, Law & Order: Criminal Intent and Queens Supreme.
Wyatt Nash joins GLOW Season 2 for a recurring role, reports Deadline. He will play Phil, a new cameraman for the late-1980s era GLOW wrestling show, whose hunky good looks has potential for disruptive drama (the unscripted kind,) within the women's wrestling organization. That is the extent of the character details for now.
Nash is coming off run on another Netflix series, Dear White People, as well as Hallmark TV movies Like Cats & Dogs, The Bridge and The Bridge Part 2. He also fielded a brief run on Pretty Little Liars in 2013 and Hollywood Heights in 2012.
GLOW Season 2 Story
As GLOW Season 2 quickly approaches, new plot details arrive by way of EW's upcoming cover story.
While GLOW Season 1 focused on the (heavily dramatized) beginnings of the eponymous women's wrestling organization and worked toward a détente between primary characters Ruth (Alison Brie) and Debbie (Betty Gilpin), Season 2 will finally see the launch of the famed, fact-based, "Gorgeous Ladies of Wrestling" late-night cable television show, famously taped in Las Vegas in the Riviera Hotel and Casino (which was demolished in 2016). Thus, the revealed plot details play out as such:
Debbie insists on becoming a producer, only to be thwarted by a boys' club.

Ruth has a flirtation with a camera operator, much to Sam (Marc Maron) and Debbie's discomfort.

One character has a sexual epiphany; another is a victim of a startlingly 2018-resonant sexual harassment situation.

One of the wrestlers is injured in the ring.
In regard to the show's upcoming #MeToo-pertinent story angle, star Alison Brie explains:
"I feel like with all these terrible stories coming out and reading about people's traumatic experiences, you catalog your own and decide what effect they had on you. But then you do look around our set, and it's the most welcoming, safe place to work. It feels…nice to be on a set like this while all this is happening. That starts with or female showrunners and our characters and us as actors. The women on the show really do take ownership of the set and feel comfortable and powerful and not objectified. We're comfortable in our bodies, comfortable in our costumes, and comfortable with ourselves."