News
Giveaway: Win a Copy of The Art and Making of The Expanse
Our Sci Fi Fidelity podcast hosts are giving away a great coffee table book for fans of The Expanse while they wait for season 4 to return.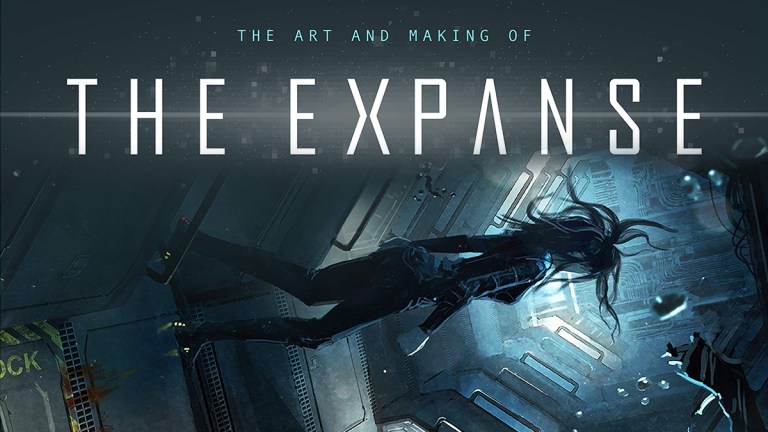 The Expanse has been one of the most popular topics over the years on our long-running genre television podcast, Sci Fi Fidelity. Going back to our first discussion of the show in season 1 as well as our interviews with showrunner Naren Shankar and lead actor Dominique Tipper, we've always been fans of the show ourselves, so we're excited to announce our very first prize giveaway this holiday season to help promote the podcast and show our appreciation for the show before its season 4 return on December 13, 2019.
Three lucky listeners of the podcast can win their very own copy of The Art and Making of The Expanse, an official companion to the sci-fi series from Titan Books that features everything from spaceship specs to character art. With The Expanse returning to Amazon Prime Video during the holiday season, this coffee table book could make the perfect gift for any fan.
Here's the official description of the book, which goes on sale November 28, 2019:
The Expanse is a modern TV revelation. Adapted from the hugely popular novels by James S. A. Corey, this Hugo Award-winning story of conspiracy, adventure and intrigue in a galaxy tearing itself apart through civil war has captivated audiences worldwide with its high-concept vision of the future.

The Art and Making of The Expanse goes behind the scenes of the first three seasons of the show, exploring how the bestselling books were turned into one of the most highly regarded science fiction TV series of the 21st century. Packed with stunning concept art and compelling photography, the cast, crew and creators reveal the ideas, processes, inspirations and obstacles behind the making of this massively popular series.
further reading: What Makes The Expanse a Truly International Show
Entering the giveaway is simple! Just follow Sci Fi Fidelity on Twitter or join the Facebook group for listeners of the podcast. Then respond to the giveaway thread on either platform (which is pinned in both instances) by telling us who your favorite character is from The Expanse and why.
You can also win a bonus entry by writing a review for Sci Fi Fidelity on Apple Podcasts! Just tell us what name it's under when you respond to the Facebook or Twitter thread. Social media entries only need to be on one platform – no need to do both.
The giveaway ends on December 1st, and winners will be selected at random, and they must respond to prize shipping address requests within 48 hours before new winners are chosen (U.S. residents only). So follow, comment, and remember to subscribe to Sci Fi Fidelity wherever you get your podcasts so that you never miss an episode. Or listen to the latest installment below!
Subscribe: Apple Podcasts | Spotify | Stitcher | Acast | RSS