News
Giveaway: The Ultimate Game of Thrones Season 8 Prize Pack (Worth Over $1,000)
One winner will throw the perfect Game of Thrones party with this enormous box of Westerosi loot, worth over $1,000!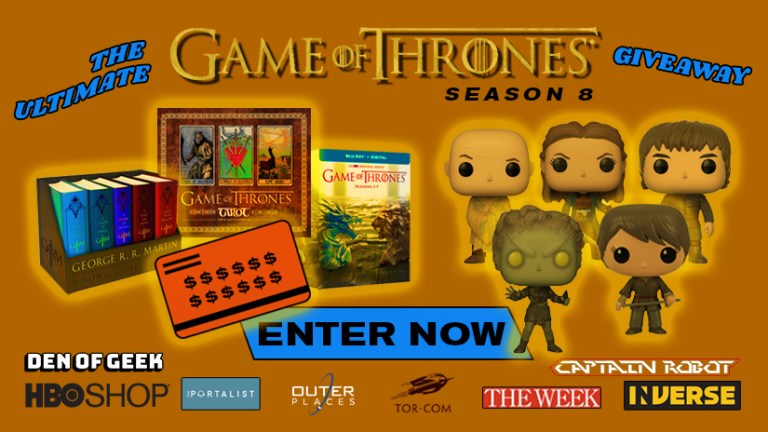 Seven hells! From The Wall to Dorne, the Westerosi among us have been eagerly anticipating the final season of HBO's Game of Thrones. The thrilling fantasy premiered in 2011 and emerged as a global cultural phenomenon, quickly becoming the most popular television show in the world. The eighth and final season, premiering on April 14, 2019 on HBO, HBO NOW and HBO GO, is ramping up to become an enormous TV event–which is why we want to equip you with an equally enormous Game of Thrones loot box! To celebrate the show's finale, we're hosting an epic giveaway inspired by George R.R. Martin's epic vision, joined by our friends at the HBO Shop, Inverse, The Week, The Portalist, Tor.com, Outer Places, and Captain Robot.
Click here to enter via our official giveaway page.
The giant prize pack from north of The Wall is worth over $1,000 and includes:
– An awesome prize bundle provided by the HBO Shop: five Funko Pop! figures (Bran Stark, Arya Stark, Yara Greyjoy, Lord Varys, Children of the Forest), a Night King T-Shirt, a Targaryen Sigil Wine Glass, a Game of Thrones Logo Rocks Glass, and an Iron Throne LovePop pop-up card – A Game of Thrones Seasons 1-7 Blu-ray Box Set, the Game of Thrones Tarot Card Game, and a $50 VISA gift card from Den of Geek- George R.R. Martin's A Song of Ice and Fireseries, leather bound from Inverse- A Seven Kingdoms Goblet from The Week- A $200 AMEX Gift Card from The Portalist- A Game of Thronesbookset from Tor.com, consisting of The Lands of Ice and Fire, Game of Thrones: The Storyboards, and Game of Thrones: Pop-Up Guide to Westeros
Win this giveaway and you'll be able to relive the most glorious (and therefore goriest) moments of the show thanks to the Blu-ray box set of seasons 1 through 7. From epic battles like the Battle of the Bastards or Blackwater Bay to shocking and heartbreaking tragedies of the Red Wedding and the Mountain caving in the Red Viper's head, you'll be able to binge-watch the HBO epic and fully prepare yourself for the final season. So grab your house sigil and maybe a fine glass or two of Dornish Red, and don't miss the opportunity to completely deck out your home with Game of Thronesmerch and host the perfect Westerosi fête.
read more: Game of Thrones Seaosn 8 Predictions and Theories
Entries will be accepted until April 15. One winner will be chosen and then notified via e-mail. Good luck!