News
Ghost in the Shell Netflix Anime Series Details
Netflix has ordered a new 3DCG anime series based off the Ghost in the Shell manga
Netflix has heard your "Netflix Anime Adaptation" memes and is bringing out the big guns to put a stop to them.
One of the most well-known anime properties to Western audiences is getting new life at Netflix. The streaming giant announced today that it will be bringing a "reborn" Ghost in the Shell series to life in 2020. The series, titled Ghost in the Shell: SAC_2045, will be animated in 3DCG and is to be directed by Kenji Kamiyama and Shinji Aramaki. Aramaki helped pioneer the 3DCG look in Appleseed, while Kamiyama is familiar with the Ghost in the Shell universe having directed 2002's Ghost in the Shell: Stand Alone Complex. Both directors have already worked with Netflix on Ultraman, which arrived back in April.
In the latest news on Ghost in the Shell: SAC_2045 (the first bit in quite a while), Netflix has released (via Variety,) a new image, seen just below, of our new Motoko Kusanagi, who appears to be asking someone positioned from our point of view if they feel lucky. – Well, do ya, punk?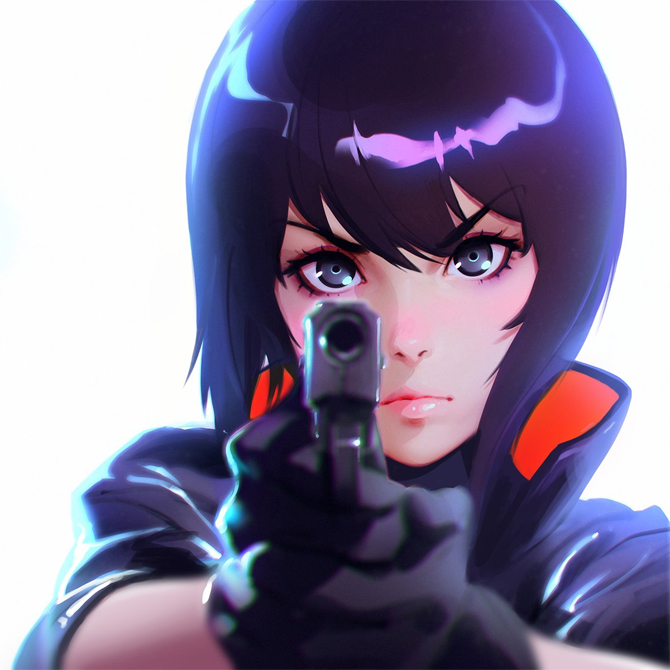 Netflix's announcement of the series back in December didn't reveal any plot details or specify whether this is a reboot or continuation. Regardless of what route Ghost in the Shell: SAC_2045 takes, there will be a familiar heroine involved. The image below served as the first look at the new Motoko Kusanagi.
She seems nice.
Ghost in the Shell is one of the longest-running and most recognizable anime properties ever. Starting with the 1989 manga by Masamune Shirow, Ghost in the Shell is set in a cyberpunk future where human beings have cyberbrains to interface with computers. The world of Ghost in the Shell has been adapted to numerous animated films and TV shows and in one instance was a live-action film starring Scarlett Johansson.
Netflix is working hard to beef up its anime catalog. Ghost in the Shell: SAC_2045 will exist alongside a live-action adaptation of another massive anime property, Cowboy Bebop. 
Alec Bojalad is TV Editor at Den of Geek and TCA member. Read more of his stuff here. Follow him at his creatively-named Twitter handle @alecbojalad