News
Ghost in the Shell Creator Premieres New Micro-Series on Toonami's 20th Anniversary
Sand Whale and Me is expected to air midnight on the fun and giveaway-loaded weekend of Toonami's 20th anniversary.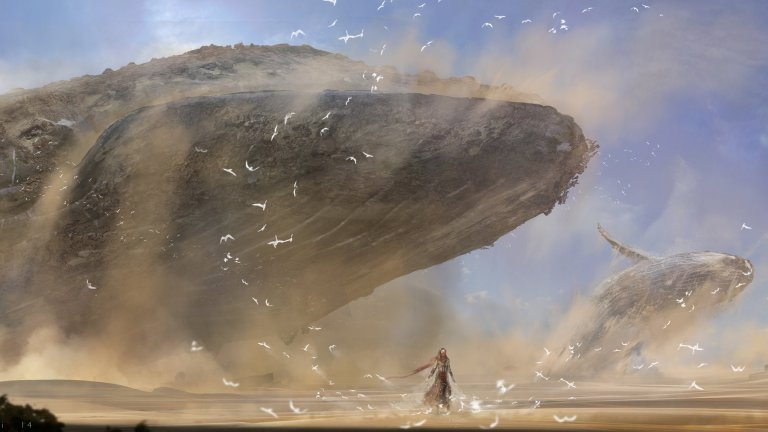 Toonami, Adult Swim's weekend block dedicated to Japanese anime and other animation, is celebrating its 20th anniversary this weekend starting Friday, March 17 at 8 PM EST. It will also see the premiere of a new micro-series titled Sand Whale and Me by the creator of Ghost in the Shell, Mamoru Oshii, at midnight on March 18, along with a slew of anniversary-themed giveaway and other funs.
Here is an official synopsis of the series:
Sand Whale and Me is the story of a female paratrooper in the distant future who is stranded in a vast desert. With limited supply of food and water, her only hope is to catch a Sand Whale from a pack. If she can't, her life may just hang in the balance.
Check out the official trailer here:
A pioneer catalyst at popularizing anime with US audiences, Toonami recently made news with the revival of Samurai Jack,a beloved '90s children cartoon, as a late night broadcast. Now it's marking its 20th year on air with a slate of celebations.
The premiere ofSand Whale and Meis just the start to a weekend of fun. Fans can look forward to kick off the anniversary with a special, live edition of Toonami Pre-Flight on Friday at 8 PM, featuring a number of voice acting talents. The celebration will also include a vote on fan's favorite graphic look of Toonami throughout the years, a number of T-shirt, T.O.M action figures, and comics giveaways, and more! Details on how to register for the events will be revealed during the broadcast.
"It's hard to believe Toonami is celebrating its 20 year anniversary. Much has changed since Toonami's premiere in 1997, but our strategy remains the same: To air the best anime and action cartoons, packaged and presented in a way that respects and welcomes fans," stated senior vice president and creative director, on-air for Adult Swim, Jason DeMarco. "Those fans are the reason Toonami still exists in 2017, and we couldn't be more thankful for their years of support. Here's hoping we're still around for another 20 years."
Toonami Pre-Flight will air Friday, March 7 at 8 PM. Toonami airs Saturday at 11 PM.