News
George "The Animal" Steele: Wrestling Legend and Film Star Passes Away
Wrestling great George "The Animal" Steele has died at age 79. He will also be remembered for his movie role in Ed Wood.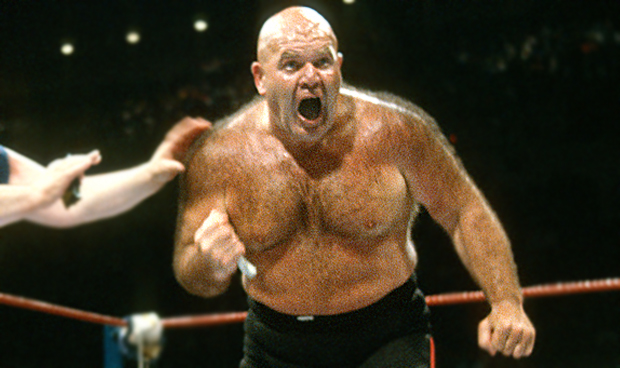 The world of professional wrestling has lost another great, with the news that legend and WWE Hall of Famer George "The Animal" Steele has passed away at the age of 79 from causes not yet confirmed. While Steele was an unforgettable element in the squared circle, especially for the WWE (née WWF) during the company's "Rock 'n' Wrestling" pop-culture spotlight heyday of the 1980's, he will also be remembered for his handful of film roles, notably his part opposite Johnny Depp in 1994's Ed Wood.
Steele, born William James Myers, was an accomplished college athlete and a sciences-centric scholar with a master's degree from Central Michigan University. However, the hulking hirsute hoss found his calling in pro-wrestling in 1967, hiding his articulate, erudite nature with a brutish, grunting, Neanderthal-like persona as "The Animal." Appearing as a "bad guy" wrestler or "heel" for most of his early in-ring career, the head-shaved savage Steele flashed a signature green tongue with a tendency to rip open a nearby turnbuckle with his teeth and used his strength to brutalize his opponents into submission with his signature Flying Hammerlock hold.
While Steele's villainous run put him at the top of the marquee against good guy greats like Bruno Sammartino, Bob Backlund and Hulk Hogan, by the mid-80's, he became a fan-favorite. Managed by an also image-reformed Captain Lou Albano, Steele was subsequently seen more as a lovable brute. Besides his feud with "Macho Man" Randy Savage in which Steele – in a way akin to King Kong – made innocent amorous advances on his opponent's manager, Miss Elizabeth, he regularly engaged in comical skits bordering on the absurd, later coming to the ring with a stuffed animal he named "Mine."
After retiring from wrestling in 1988, Steele parlayed the squared circle into sporadic roles in Hollywood films over the next few decades such as 1997's Blowfish, 2003's Small Town Conspiracy, 2008's South of Heaven and 2010's Boston Girls. Yet, his acting career was undoubtedly highlighted by his role as another wrestler-turned-actor Tor Johnson in the 1994 schlock king biopic Ed Wood with star Johnny Depp. Within the film's focus on the quixotic 1950's-era director's attempts to get his movies made, Steele's role as Johnson – a repertory player in Wood's films – were nothing less than scene-stealers in a film that ended up garnering two Oscar wins (for Martin Landau and the makeup team). While the role of Johnson was in Steele's wrestling wheelhouse, it was, nevertheless an artful and hilarious achievement.
We at Den of Geek wish to convey our condolences to the family and friends of William James Myers and reminisce about all the great moments he gave us as George "The Animal" Steele.