News
Geeks of a certain age love … Erin Gray
Our weekly series of some of geekdom's finest figures arrives in the world of Buck Rogers. Ladies and gentlemen, let's celebrate Erin Gray...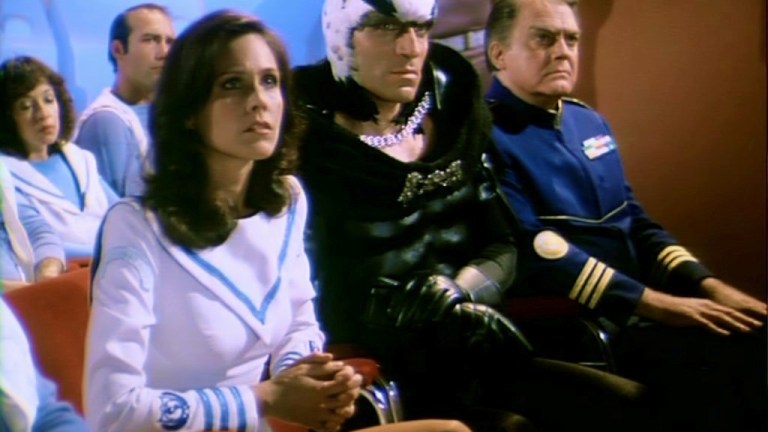 Ahhhhh the 80s, when sci-fi women were a wonderful, beguilingly Technicolor mix of sequins, spandex and shiny accoutrements. A time when hairspray was the most valuable commodity in the universe. A time when the march of feminism had reached a zenith, meaning the female leads of TV series everywhere were free to show how brainy they were (by wearing glasses and putting their hair up, maybe), to order men around in sprayed on or semi-complete outfits ('cause, y'know, that's what liberation's all about – looking sexy and ordering men around) and be – y'know – a bit like that Princess Leia.
A time when women were free to pretend that they didn't want to instantly jump into bed with the male lead, though obviously they did – natch. A time when Erin Gray rocked my world.
Gil Gerard never became the 'Shatner for the 80s' that NBC probably wanted; he may have been just too good an actor for that, and just too clever to carry that oft-terrible dialogue with the sheer gusto that Bill could manage. Indeed, whether the permanent on-screen smirk he walked around with was character colour, or just the fact that he knew what was coming, is still open to debate.
Erin Gray's Wilma Deering on the other hand hit the 'young boy who doesn't quite know why he feels tingly in the tummy when she wears that outfit; and why's Dad so interested in this show anyway?' demographic perfectly. Saturdays, after Final Score, you can bet I was there dude.
Wilma, I like to think, was the discerning choice of a proto-geek; while others made the easy choice of lusting after the voluptuous, voracious and also truly memorable Queen Ardala of Draconia (Pamela Henderson), I always preferred her more serious (but a bit of a laugh), studious – no, really – demeanour. She wasn't the outright 'glamorous one' (despite being a former model for Revlon, L'Oreal and Bloomingdales – but this is US TV, remember), kinda like Jaclyn Smith wasn't the glamorous Angel… Oh no. That spot was reserved for Buck's guest girlfriends and the Queen.
No, Wilma could fly those cool ships nearly as well as Buck (but of course, she relied too much on computers, silly girl). What's more, she could murder all-comers at chess (probably) and – most importantly of all – was about six-foot, with legs that ended just under her armpits, Farrah Fawcett hair (originally blonde, but later returning to her natural brunette – re-sult) and a fantastic array of skin-tight jumpsuits (Blue, Maroon, Peach – it's all good).
Yes, it's true to say that hers is a silhouette that has had more than a little influence on my life.
They were cruel to her though, but oh how we loved it when they were cruel. Those costumes! My mind springs immediately to one particularly wonderful short skirted sailor/trolley dolly-type affair from season two. Wilfred Hyde-White could hardly keep his dentures in, Gil Gerard was wearing baggier pants than usual, and I was probably awkwardly repositioning a cushion.
Now that's a costume!
—-
See our interview with Erin Gray here.