News
Gangs of London: Release Date, Trailer and Details for Gareth Evans Gangland Series
Gareth Evans, the action visionary behind The Raid, co-created TV series Gangs of London for HBO's Cinemax and Sky Atlantic.
The cult cinema myth of Gareth Evans's innovative 2011 Indonesian action flick, The Raid: Redemption, is still resonating several years after its release. However, Evans, who also tackled Netflix horror film Apostle, and remains in the mix to direct DC's (up-in-the-air) Deathstroke movie, has heeded the call of peak television as the co-creator – with Matt Flannery – of an action series called Gangs of London.
Evans contributes as a director for Gangs of London's 10-episode run, using his Raid repertoire to handle complex choreographed fight scenes. However, he shares that duty of director with Corin Hardy (The Nun, The Hallow), who handled four episodes, joined by French helmer Xavier Gens (Hitman, The Divide), who helmed one. The series is a co-production of HBO/Sky with Pulse Films and Sister Pictures and is (per a $250 million deal,) set for HBO's Cinemax and Sky Atlantic, as first reported back in November 2017.
Gangs of London Trailer
The trailer for Gangs of London showcases a vengeance-fueled serial romp that creatively puts Evans's frenetically-choreographed action fare through the thematic lens of Guy Ritchie-type cockney gangster flicks. The result, at least as far as this trailer reveals, is promising.
Gangs of London Release Date
Gangs of London is eyeing a launch for U.S. and U.K. viewers sometime in 2020. – It's vague, we know.
The series will first arrive in the U.K. on streaming service Now TV before making its way stateside by way of Cinemax.
Gangs of London Cast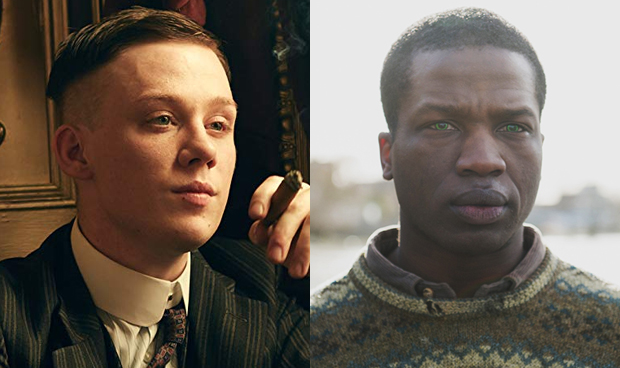 Joe Cole (Peaky Blinders, Pure) and Sope Dirisu (Humans, The Huntsman: Winter's War) co-star on Gangs of London. They are joined in the cast by the following:
Lucian Msamati (Black Earth Rising), Michelle Fairley (Game of Thrones), Mark Lewis Jones (Star Wars: The Last Jedi), Narges Rashidi (The Girlfriend Experience), Jing Lusi (Crazy Rich Asians), Pippa Bennett-Warner (Harlots), Brian Vernel (Dunkirk), Orli Shuka (War Machine), Richard Harrington (Poldark), Jude Akuwidike (Beasts of No Nation) and Emmett J Scanlan (Peaky Blinders).
Rounding out this ensemble are the following:
Colm Meaney (Star Trek: Deep Space Nine, Hell on Wheels), David Bradley (Harry Potter, Game of Thrones), Paapa Essiedu (The Miniaturist, Kiri), Adrian Bower (The Last Kingdom, Dirty Filthy Love), Valene Kane (Rogue One, The Fall), Ray Panthaki (Colette, Official Secrets), Orli Shuka (War Machine, Hyena), Darren Evans (Requiem, My Mad Fat Diary), Garmon Rhys (Hidden), Serena Kennedy (Remember Me), Aksel Üstün (The Take, Les Revenants), Kwong Loke (The Feed, Yellow Fever), and Constantine Gregory (Wonder Woman 1984, 6 Underground).
Gangs of London Details
Gareth Evans described the series during its conception as "a multicultural world of global crime as it intersects on the streets of London." Indeed, it will be set in a version of contemporary London that has been ripped apart by the destructive power struggles of international criminal organizations. The situation becomes a powder keg with the inciting incident of the assassination of the leader of a major criminal organization, which creates a power vacuum that makes the city rife for warfare amongst the underworld.
While the project always belonged to Evans, Corin Hardy was revealed to be directing episodes of Gangs of London back in October 2018, fresh off his recent hit horror film, The Nun. He was previously attached to direct the long-gestating movie reboot of The Crow, which was to star Jason Momoa, until the project was shelved (permanently,) due to cited creative and financial difficulties. Xavier Gens (Hitman, The Divide) would subsequently be appointed to direct two episodes, cutting Evans's directorial workload for the 10-episode season in half.
As Hardy expressed in an October 2018 statement:
"Gareth and I share a mutual appreciation of each other's work and an affinity for genre cinema, so it's a real honour to become part of his & Matt's intricate web of crime in their new show Gangs of London. The multi layered story weaves emotional drama with blistering action set pieces which I found enthralling to read. I am looking forward to bringing something rich and cinematic to the city streets."
Evans chimed in, lauding:
"I couldn't be happier than to be collaborating with Corin on this show. Having been a huge fan of his for some time, Corin's genre sensibilities and ambitious scope perfectly compliment the cinematic landscape we strive to achieve for Gangs of London."
Auspiciously, Kary Antholis, President of Miniseries at HBO and President of Programming at Cinemax, describes the series as a "fun, adrenalized and entertaining series that will be catnip for audiences."
Hardy worked off a script co-written by Evans, joined by a gaggle of producers that includes Peter Berry, Clare Wilson, Joe Murtagh along with his repertory cinematographer, Matt Flannery. Pulse's Thomas Benski and Lucas Ochoa, along with Featherstone and Sky's Anna Ferguson, all serve as executive producers.
Joseph Baxter is a contributor for Den of Geek and Syfy Wire. You can find his work here. Follow him on Twitter @josbaxter.