News
Game of Thrones: Sophie Turner Thinks Sansa is Woke, Cannot Be Played by Littlefinger
At Game of Thrones' Comic-Con panel, Sophie Turner dismisses the idea Littlefinger can manipulate Sansa anymore, saying the Stark is woke.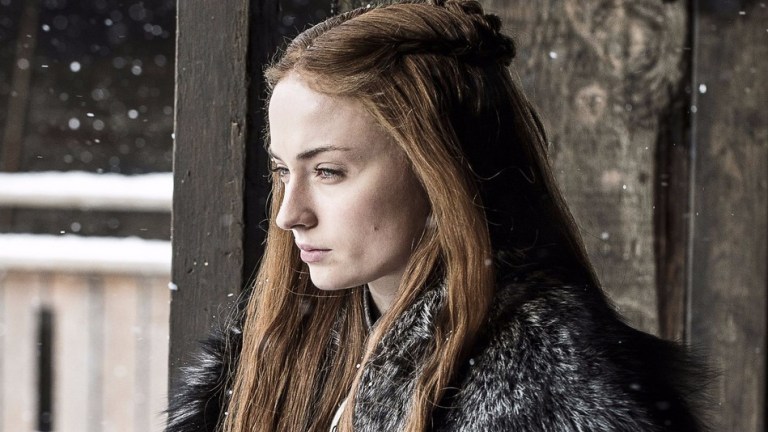 For the last year, much has been made in the press about the tension rising between Game of Thrones' Jon Snow, his adopted sister Sansa Stark, and that shadowy spider in the corner, Petyr "Littlefinger" Baelish. Despite retaking Winterfell together from the Boltons in the last season, Game of Thrones showrunners David Benioff and D.B. Weiss, as well as Sophie Turner herself, have suggested a storm is coming. And the trailers have definitely emphasized Littlefinger pushing a wedge into House Stark.
Personally, I find this to be media misdirection, and it would seem Sophie Turner herself is skeptical of the "worst case scenario" of this scheming: Littlefinger uses manipulation to turn Sansa against Jon. Indeed, during the Game of Thrones panel at San Diego Comic-Con, Turner described her now iron-willed Lady of Winterfell as "woke," and more seriously as every bit the manipulator as Petyr Baelish.
"I think initially, there was definite manipulation on Littlefinger's part. But you know, as Sansa has grown and been a prisoner of all these master manipulators, especially Littlefinger, she's been silently absorbing and learning, and adapting, and in my opinion, she's just as good at playing the game as he is at this point." She added a "thanks guys" when the crowd roared in approval.
With that said, Turner also suggested Sansa's wokeness has simply made her view everyone differently… including hearth and kin.
read more: Game of Thrones Season 8 Predictions and Theories
When asked whether Sansa still maintains any of her season 1 girlish ideas of romance, Turner responded, "I don't think she's like season 1 Sansa. She's not really looking for relationship or love at the moment. I think she's kind of done with that. I think she's always on the search for happiness, because she doesn't see the world through rose-tinted glasses anymore. I think she sees a reality of the situation. In terms of seeing men in a different light? I think she sees the world in a different light… She's cautious, she trusts no one, whether it be man or woman, whether it's family member or not, she trusts no one. And I think that's important when you play the game of thrones."
She also added, "She's woke now, guys. She's real woke." Indeed, she is. And methinks Littlefinger is in for a rude awakening too when push comes to knife-in-the-back shove at the end of season 7.