News
Game of Thrones: Sophie Turner Dismisses Backlash as 'Disrespectful'
Game of Thrones backlash has resulted in petitions demanding a remake of the series. Sophie Turner is having none of it.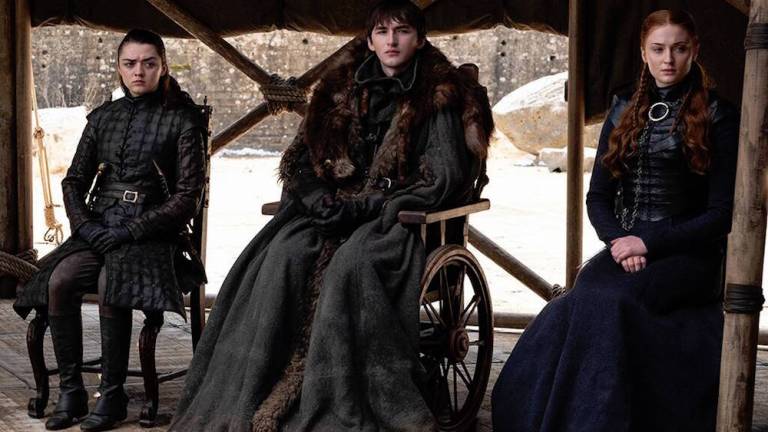 This article contains Game of Thrones spoilers.
It is fair to say the final season of Game of Thrones has been a divisive one. While many were largely happy with the earlier episodes of this year, including how the first two installments averaged an 88 percent and 92 percent aggregate score, respectively, on Rotten Tomatoes, you wouldn't know it from the way the online social media fury has reacted to the series finale. We would argue the final two episodes returned to the moral ambiguity of George R.R. Martin's influence on the early seasons and found a decent grace note to conclude the series on, but many TV critics added their voices to the storm (the last two episodes scored less than 50 percent averages on RT) which reached its most absurd thunder when more than 1.2 million fans signed a Game of Thrones backlash petition demanding HBO remake the final season with different showrunners than "incompetent" David Benioff and D.B. Weiss.
Sophie Turner is not having any of it. The actor who portrayed Sansa Stark over the past nine years on the HBO fantasy series—which culminated in her achieving an Elizabethan-esque ascension—spoke recently to The New York Times about how insulting it is to everyone who worked on Game of Thrones that the backlash would like to pretend the last two years of work on concluding the series should be thrown away because of a growing sense of entitlement among online clusters of fandom.
"All of these petitions and things like that—I think it's disrespectful to the crew and writers, and the filmmakers who have worked tirelessly over 10 years, and for 11 months shooting the last season," Turner said. "Like 50-something night shoots. So many people worked so, so hard on it, and for people to just rubbish it because it's not what they want to see is just disrespectful."
These comments followed Turner saying she is not surprised, however, that there is an online backlash, something she hinted would occur in the past. She also suggests much of this is because fans simply didn't want to see Daenerys Targaryen become "the Mad Queen."
Says Turner, "Honestly, I'm not surprised. People always have an idea in their heads of how they want a show to finish, and so when it doesn't go to their liking, they start to speak up about it and rebel. The thing about Game of Thrones that's always been amazing is the fact that there's always been crazy twists and turns, right from season 1 with Ned's beheading. So Daenerys becoming something of the Mad Queen—it shouldn't be such a negative thing for fans. It's a shock for sure, but I think it's just because it hasn't gone their way."
For the upcoming Dark Phoenix star's part, she couldn't be happier with how Sansa Stark's journey ended.
"I loved it. It's the only place that she really, truly feels safe. It's the place that she's the most capable of ruling. She would be a fair and loving ruler, and it's what she's been striving for the whole series: to go back home, to protect her home."
You can read the rest of her interview here. Turner is wise in noting that for whatever shortcomings season 8 might have, much of the online vitriol seems to stem from an overreaction of things taking a hard and unexpected left, particularly regarding Daenerys Targaryen. Or perhaps more intrinsically, fans simply dislike definitive endings to beloved worlds and characters, a feature in online fan culture we unpacked further here.
Isaac Hempstead-Wright shared similar thoughts to The Wrap this week about fandom's backlash.
"I think the petition is just kind of a weird, juvenile gesture," Hempstead-Wright said. "It's so irrelevant to start petitioning to remake a series. But I'm trying to put that stuff out of my mind. It's just nonsense, really." He would go on to add that Benioff and Weiss are brilliant writers and producers, and "I think the fact that people are so emotive and pissed off about things just proves that we've kind of done the right thing. We've elicited a reaction, a strong reaction from people by taking plot twists and plot directions that nobody wants."
read more: Bran Stark Played Us All
The execution of season 8 did leave much to be desired, but personally, we suspect as years pass and people revisit or discover Game of Thrones, the finale will age better than the last week would lead you to believe.
Listen to our Game of Thrones season 8 discussion on the Sci Fi Fidelity podcast:
Subscribe: Apple Podcasts | Spotify | Stitcher | Acast | RSS
David Crow is the Film Section Editor at Den of Geek. He's also a member of the Online Film Critics Society. Read more of his work here. You can follow him on Twitter @DCrowsNest.