News
Game of Thrones Season 8: HBO Removes Coffee Cup from Episode 4
Sad news in the Game of Thrones world. Everyone's new favorite character, Random Coffee Cup, has been digitally removed.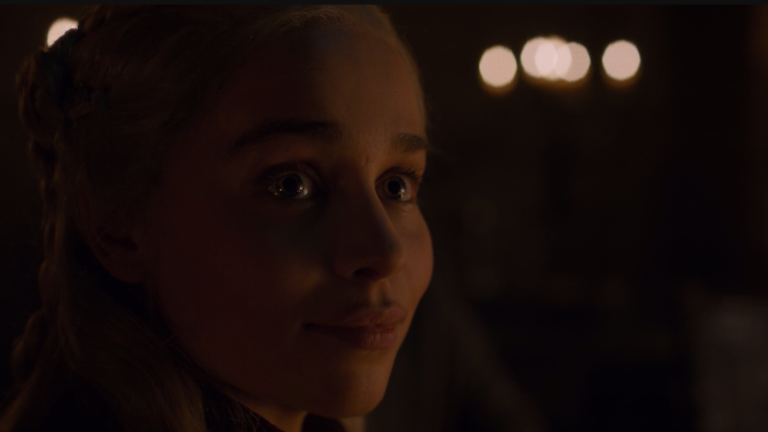 And just like that Coffee Cup Gate is no more…for now.
HBO has not so stealthily digitally removed the anachronistic coffee cup that made its series debut around the 17:40 mark of Game of Thrones season 8, episode 4 "The Last of the Starks." The offending cup was spotted by eagle-eyed Twitter users and was just kind of hanging out on a table while Tormund Giantsbane waxed poetic about his friend and king Jon Snow.
Now here is the new version that popped up on HBO Now and HBO Go late Monday night/early Tuesday morning. We've added a helpful artist rendering to show you where the coffee used to be. 
Given that Game of Thrones is pop culture's biggest phenomenon currently (or in second place depending on how many tickets Avengers: Endgame continues to sell), there is a precisely 0% chance that any production mistake would go unnoticed and subsequently memed. Certain members of the Game of Thrones crew tried to mitigate the memes as best they could, but obviously you know that doesn't work. 
Game of Thrones art director Hauke Richter told Variety that it's not uncommon for misplaced props to sneak their way into final shots of movies and television shows and the Internet's hysteria was overblown because similar mistakes had not appeared in the show before. 
read more: Game of Thrones Season 8 – Euron Greyjoy is the Worst
Then HBO released a statement to assure viewers that they were really not mad that someone saw the coffee cup. Really! In fact, they're laughing! 
Maybe there's a grand sociological lesson to take away from this whole kerfuffle. For one, it's clear that absolutely no one has ever seen a Starbucks cup or apparently they just refer to any coffee cup as a "Starbucks" like they call tissues Kleenex's.
Really, however, this just goes to show that Game of Thrones is such a massive event that viewers will leave no stone unturned in search of content. HBO should consider itself lucky that a coffee cup has dominated the post-episode 4 reaction cycle and not Jon Snow's decision to leave his pupper behind.
Alec Bojalad is TV Editor at Den of Geek and TCA member. Read more of his stuff here. Follow him at his creatively-named Twitter handle @alecbojalad