News
Game of Thrones Season 5 Clip Showcases Arya
A new Game of Thrones Season 5 clip showcases Arya Stark arriving in Braavos and finding a chilly reception from the Faceless Men.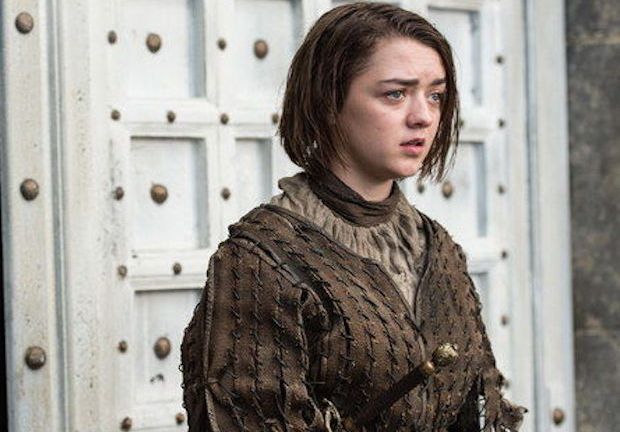 Early word is that Maisie Williams' fan favorite character of Arya Stark is conspicuously absent from the Game of Thrones season five premiere next month. But considering that Arya got the central focus of the season four closer, complete with a new choral recording of the Game of Thrones theme music as she sets sail for a new life on the long boat to Braavos, I would not worry that this character is being downplayed. After all, she had her arguably best year in season two, which also began with her being mostly absent from the season premiere. And perhaps to relieve these worries, HBO has released a new Game of Thrones season five clip that is all about the girl and her Needle.
In the new clip (released via Jimmy Kimmel Live!), Maisie Williams' Arya has at long last reached the House of Black and White, where the Faceless Men (assassins) serve the Many Faced God of Death. And with her lonely Iron token, bestowed upon her by Jaqen H'ghar, she attempts to enter this deadly place while facing much resistance.
Game of Thronesseason five picks up right after the madness of the season four cliffhanger. King's Landing is in mourning and upheaval after the death of Tywin Lannister, which leaves his two eldest children, Cersei and Jaime, in grief and at odds. As Cersei takes on a more commanding role of governance as her son's regent, the capital's religious community grows more fervent with the arrival of a new Septon; meanwhile an uneasy alliance is formed between the men of the Night's Watch and King Stannis Baratheon, who has come to "liberate" the North from the Boltons and Lannisters.
Across the Narrow Sea, Arya Stark arrives in Braavos to start a life with a new evocation, and Tyrion is set on his own quest to find a new queen that rules over the former slave city of Meereen. But he should be careful, because there will be dragons out there.
Game of Thrones season five premieres on April 12, 2015 in a global simulcast. Between now and then, you can read everything we know about Game of Thrones season five here.
read more: Game of Thrones Season 8 Predictions and Theories