News
George R.R. Martin Reveals Details for Game of Thrones Prequel Series
Surprising new details have been confirmed about the currently-in-production prequel series for Game of Thrones.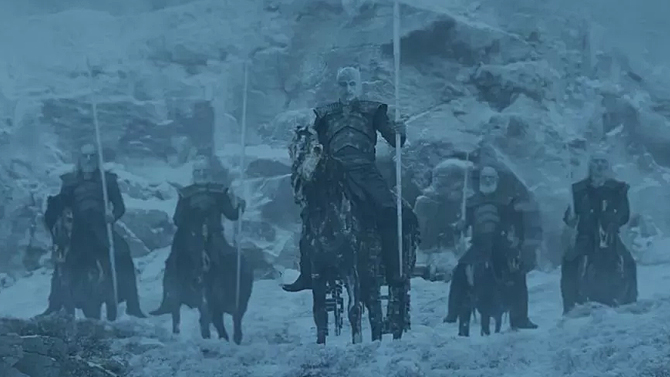 Game of Thrones may have reached its (understandably divisive) coda in massive pop-culture-proliferating fashion, but the mythology of HBO's global television juggernaut isn't going away, with a yet-to-be-titled prequel series – filled by an intriguing cast headlined by twice-Oscar-nominated A-lister Naomi Watts – already in production in Northern Ireland at this very moment. While, obviously, information about the series resides in a closed book, the literary creator himself, George R.R. Martin, just dropped major details!
Some revelatory plot points have been divulged about the Game of Thrones prequel series in an interview with EW with Martin, the author of the TV mythos' A Song of Ice and Fire source material novels, who also serves on the HBO spinoff series as an executive producer. While it has already been revealed that the series will take place approximately 5,000 years before the events of the original series, the new details paint a picture that's far more chaotic than fans ever could have imagined! Here's what we've learned:
It might brandish a "longer" title.
It has been speculated that the series, which will build to an ancient war with the White Walkers (unfortunately forgotten by posterity), known as "The Long Night," might just borrow the conflict's name for its very title. However, while Martin seems to imply that the notion is not far-off, he does suggest a slight titular tweak, stating, "I heard a suggestion that it could be called The Longest Night, which is a variant I wouldn't mind. That would be pretty good."
Westeros will consist of roughly 100 (yes, 100) Kingdoms.
While viewers have become comfortable with the concept of Westeros's seven major kingdoms – and the wars and the plethora of politically-spawned bloodshed that naturally resulted from that continental sharing – throughout the eight seasons of the original series, the Game of Thones spinoff will take place in an ancient version of Westeros that's divided into somewhere around 100 separate kingdoms! As Martin explains:
"We talk about the Seven Kingdoms of Westeros; there were Seven Kingdoms at the time of Aegon's Conquest," Martin says. "But if you go back further then there are nine kingdoms, and 12 kingdoms, and eventually you get back to where there are a hundred kingdoms — petty kingdoms — and that's the era we're talking about here."
If we thought that the original show's "War of the Five Kings" was a chaotic, continent-razing battle royale of epic proportions, imagine the unmitigated brutality of Westeros and its array of idiosyncratically sadistic hereditary monarchies, except magnified exponentially with a plethora of petty kingdoms!
Further Reading: Game of Thrones and A Song of Ice and Fire: Will the Books Have a Different Ending Than the TV Show?
Prequel-era Winterfell knows no king but the King in the North, whose name is Stark.
One might have speculated that the mythos might want to move away from the (often gut-wrenching) rollercoaster-esque travails of the Stark family – much like the Star Wars film franchise plans to move on from the Skywalker saga with December's The Rise of Skywalker. However, that doesn't seem to be the case here. Martin has confirmed that the Starks will very much be part of the Game of Thrones prequel series, describing the North of Westeros filled with familiar elements, albeit in a different context, in a time before the arrival of the Targaryen family (and, most importantly, before their dragons invaded the skies with fiery vengeance). As he goes on:
"The Starks will definitely be there." Adding, "Obviously the White Walkers are here — or as they're called in my books, The Others — and that will be an aspect of it." Further teasing a familiar bestiary, he says, "There are things like direwolves and mammoths."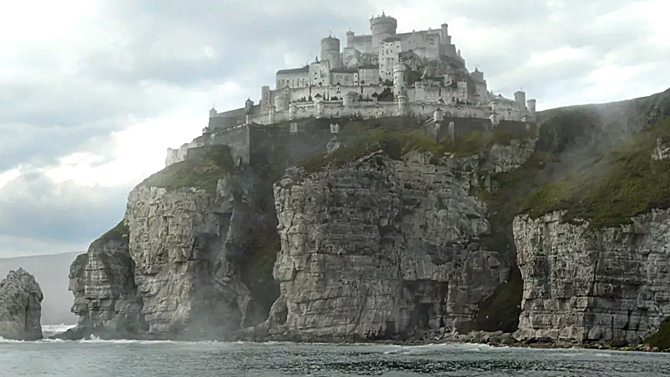 A Casterly Rock with actual Casterlys.
Since the series takes place in a time before the rise of the Machiavellian Lannister family, don't expect to see them in their ancestral home, the nearly-impenetrable fortress of Casterly Rock. Instead, we'll see the property under its original ownership, that of the Casterly family, before the time in which ancient Lannister Lann the Clever purportedly tricked the family into giving up their eponymous estate. As Martin clarifies:
"The Lannisters aren't there yet, but Castlery Rock is certainly there; it's like the Rock of Gibraltar." He adds, "It's actually occupied by the Casterlys — for whom it's still named after in the time of Game of Thrones."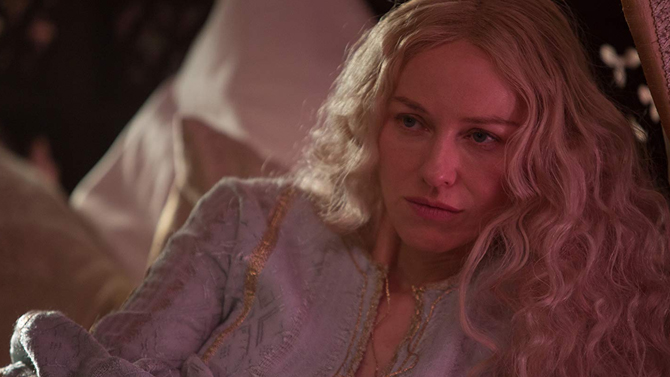 Game of Ensembles.
The addition of an actress the caliber of Naomi Watts might lead one to believe that the series will center on her character – perhaps, in the same way uninitiated viewers during the original show's 2011 outset thought that Game of Thrones would always center on its signature star in Sean Bean's Ned Stark; an idea belied by what now stands as television's most famous decapitation. However, Martin reveals that the spinoff will – as the original Thrones would – showcase a true ensemble dynamic, with Watts sharing screen time with names like Jamie Campbell Bower, Miranda Richardson, Denise Gough, Georgie Henley, Naomie Ackle, John Heffernan and John Simm. Indeed, as Martin confirms:
"I hesitate to use the word 'lead.' As you know for Game of Thrones, we never even nominated anybody for lead actress or lead actor [during awards season] until recently; it was always for supporting [categories] because the show is such an ensemble. I think that will be true for this show too. We don't have leads so much as a large ensemble cast."
These are certainly exciting details, and, even if you happen to be part of the fandom who were unsatisfied with the conclusion of Game of Thrones, the prequel series sounds like it could manifest with a delicious amount of chaos with the potential to surpass the action – and, let's face it, wanton depravity – that fans have come to expect from the franchise.
Joseph Baxter is a contributor for Den of Geek and Syfy Wire. You can find his work here. Follow him on Twitter @josbaxter.