News
Game of Thrones: George R.R. Martin Dismisses Absurd Rumors He's Done Writing
George R.R. Martin publicly ends the inane rumors, spread including by a former Game of Thrones actor, that he's finished the books.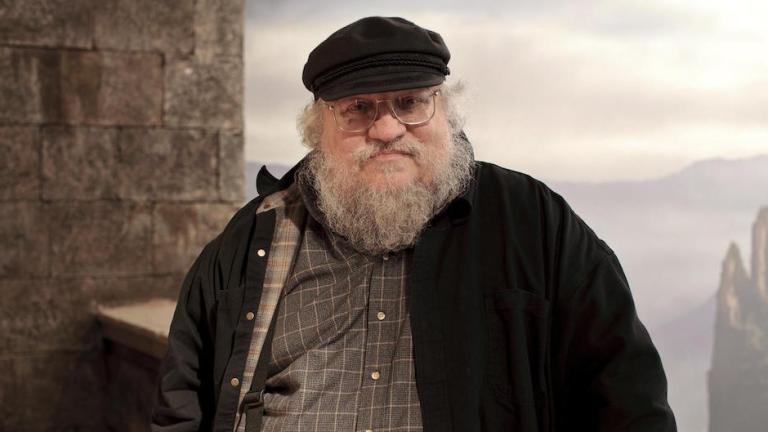 Many folks wish George R.R. Martin finished ages ago the narrative he began with A Game of Thrones in 1996. Given the contentiousness with which the HBO adaptation of Martin's "A Song of Ice and Fire," Game of Thrones, has presented the ending Martin outlined to its showrunners, we imagine they're among them. Despite having his fifth volume of the epic, A Dance with Dragons, published the same year the first season of Game of Thrones premiered, the sixth and alleged penultimate book in the series, The Winds of Winter, still never materialized. As a consequence, Game of Thrones creators David Benioff and D.B. Weiss had to more or less come up with their own journey to what seems to be Martin's ultimate endgame plan.
It's enough to leave some fans ready to believe in any wild conspiracy theory, one of them being that Martin has written both The Winds of Winter and the announced seventh novel, A Dream of Spring, and is simply waiting for the Game of Thrones TV series to end in order to publish them. Actor Ian McElhinney likely didn't help matters since the thespian who portrayed Ser Barristan Selmy told Epic Con in St. Petersburg, Russia that he's heard Martin indeed finished those books but agreed to let Game of Thrones end first before they were published. Martin has now taken to his beloved retro website to squash these absurd rumors like the Mountain crushes a grape.
"All of a sudden this crazy story about my finishing THE WINDS OF WINTER and A DREAM OF SPRING years ago is popping up everywhere. No, I am not going to provide links. I don't want to reward purveyors of misinformation with hits.

I will, however, say for the record—no, THE WINDS OF WINTER and A DREAM OF SPRING are not finished. DREAM is not even begun; I am not going to start writing volume seven until I finish volume six

It seems absurd to me that I need to state this. The world is round, the Earth revolves around the sun, water is wet… do I need to say that too? It boggles me that anyone would believe this story, even for an instant. It makes no whit of sense. Why would I sit for years on completed novels? Why would my publishers—not just here in the US, but all around the world—ever consent to this? They make millions of dollars every time a new Ice & Fire book comes out, as do I. Delaying makes no sense. Why would HBO want the books delayed? The books help create interest in the show, just as the show creates interest in the books.

So… no, the books are not done. HBO did not ask me to delay them. Nor did David & Dan. There is no "deal" to hold back on the books. I assure you, HBO and David & Dan would both have been thrilled and delighted if THE WINDS OF WINTER had been delivered and published four or five years ago… and NO ONE would have been more delighted than me."
It's fairly unequivocal and speaks to common sense. If the books were finished, the publication of each one would have only raised awareness for Game of Thrones. Martin's books would've infiltrated the zeitgeist more (and likely sold more copies) when the show was still on the air and no one knew the ending, and likewise the show would've benefitted from its popularity just as the Harry Potter movies did every time a new J.K. Rowling book was published to thunderous demand. Plus—frankly—while I think the final two episodes of Game of Thrones are going to more or less be Martin's ending, the three seasons leading up to them were mostly Benioff and Weiss… and it's becoming very apparent they would've loved to have strong source material to guide that path more deftly.
read more: Game of Thrones Season 8 Episode 6 – Predictions for the Finale
For the record here is a link to McElhinney's misguided comments last month where he said, "What I've been told is that George has already written books six and seven, and as far he's concerned there are only seven books. But he struck an agreement with David and Dan, the showrunners of the series, that he would not publish the final two books until the series has completed. So if all goes well, in another month or two, we might get books six and seven. Am I am intrigued to know how Barristan for instance ends up going through those final two books. George, I talked to him during season 1, and he did say to me that Barristan had a very interesting journey, but unfortunately I didn't get to play all of that, so we'll have to wait and see."
Barristan might have an interesting journey to play in the later novels, but these rumors are just words and wind that lead to nowhere.
David Crow is the Film Section Editor at Den of Geek. He's also a member of the Online Film Critics Society. Read more of his work here. You can follow him on Twitter @DCrowsNest.