News
Game of Thrones: Emilia Clarke Reveals Season 2 Health Scare
Game of Thrones star Emilia Clarke has penned an essay revealing that she suffered two brain aneurysms early in the show's run.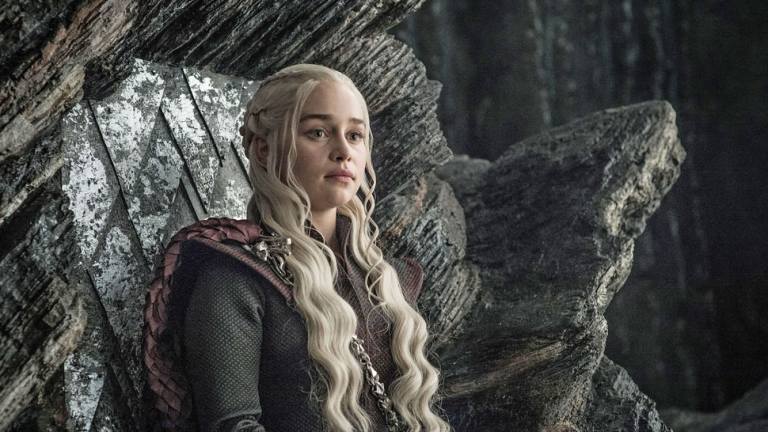 Game of Thrones Season 8 is set to premiere in a scant few weeks. In a new essay from one of the show's stars, Emilia Clarke, the Daenerys Targaryen actress writes that it's something of a miracle that she is still around to see it. 
Clarke has penned a first person account of her time on one of television's biggest ever shows for The New Yorker. And in the essay, she reveals that she suffered not one, but two brain aneurysms in the early years of the show. An aneurysm is a weakened area in an artery that could rupture and lead to life-threatening bleeding.
Following Game of Thrones Season 1, Clarke writes that she was stressed with the suddenly expectations for the role she found herself in. To cope with the stress, she began working with a personal trainer. While in the plank position during a workout, Clarke felt a pressure insider her head and eventually made it to the bathroom where she vomited and passed out.
She was brought to the hospital where an MRI brain scan diagnosed her: "The diagnosis was quick and ominous: a subarachnoid hemorrhage (SAH), a life-threatening type of stroke, caused by bleeding into the space surrounding the brain. I'd had an aneurysm, an arterial rupture. As I later learned, about a third of SAH patients die immediately or soon thereafter. For the patients who do survive, urgent treatment is required to seal off the aneurysm, as there is a very high risk of a second, often fatal bleed. If I was to live and avoid terrible deficits, I would have to have urgent surgery. And, even then, there were no guarantees."
Clarke further discusses in the essay the brief but terrifying aphasia that accompanied her surgery and the discovery of another, smaller  aneurysm in her brain that could "pop" at any moment. The second aneurysm doubled in size while Clarke was playing Holly Golightly in Breakfast at Tiffany's on Broadway. Clarke had to undergo a second, more invasive procedure to address the growing aneurysm.
"When they woke me, I was screaming in pain," Clarke says. "The procedure had failed. I had a massive bleed and the doctors made it plain that my chances of surviving were precarious if they didn't operate again. This time they needed to access my brain in the old-fashioned way—through my skull. And the operation had to happen immediately."
Clarke was back on her feet a few weeks after the procedure and even attended San Diego Comic-Con, though she says she experienced splitting headaches during certain events and intermittently throughout that year.
Thankfully, Clarke is in good health now and is sharing the story in part to promote her work with charity organization, SameYou, which assists individuals in recovering from brain injuries. The entire essay is worth reading for Clarke's frank and honest discourse on the trauma of brain injuries. And of course, there are also some fun tidbits about the early years of Game of Thrones and how she got the role of Daenerys, which was recasted from the pilot. 
read more: Game of Thrones Season 8 Predictions and Theories
After reading for a scene from the fourth episode and the finale, Clarke apparently asked producer David Benioff if she should do anything else. David said she could do a dance so Clarke did the robot and funky chicken.
That's our Khaleesi. We wish nothing but good health and fortune for the Mother of Dragons in Game of Thrones Season 8 and beyond. 
Alec Bojalad is TV Editor at Den of Geek and TCA member. Read more of his stuff here. Follow him at his creatively-named Twitter handle @alecbojalad