News
Game of Thrones' Emilia Clarke Contest Breaks the Internet
Emilia Clarke invited a fan to the Game of Thrones premiere via humorous Omaze contest...the site went down from heavy traffic within hours.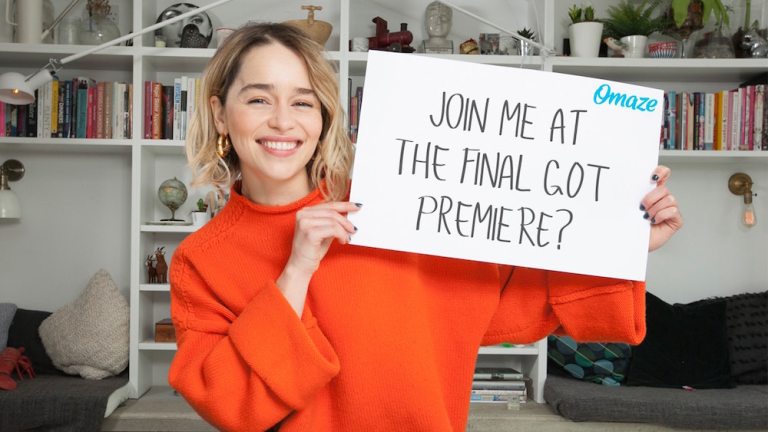 Game of Thrones Season 8 is almost here. That means the end is nigh, which like all life-milestones is leaving Emilia Clarke a little nostalgic. Indeed, the Mother of Dragons revealed in a new video partnership with Omaze that April's impending Game of Thrones Season 8 premiere seems a little bit like a graduation. But just because it's all wistful memories of this major chapter in their lives ending doesn't mean it can't be fun. Or like all graduations, a little bit gossipy.
Hence in the below video where Clarke revealed that in addition to participating in a contest that will allow one lucky fan to attend the final Game of Thrones premiere and after-party as Khaleesi's guest, she also is ready to dub many a high school class' favorite superlatives on her castmates. But it was the contest that brought down Omaze.com… briefly.
As Clarke details in her new Instagram post, the excitement for donating to the charity (and accompanying her to the Game of Thrones premiere) briefly led to such a surge in traffic at Omaze that people were unable to actually access the charity to donate. This is a first in Omaze history. And as Clarke says below, the organization has responded by offering fans who were inconvenienced by the "internet breaking" with a new chance of increasing your bids. Now when you donate, entering the code "BREAKER" will have your name submitted an extra 150 times, increasing your chances to go to the Game of Thrones preimere! 
In the original video that started this all, Clarke revealed what high school yearbook superlatives she'd use to describe certain castmates. For instance, Jason Momoa might've had the best reaction to the news that he was being killed off on the series, as well as why she suspects Alfie Allen is the most likely to be considered "a Stark in the streets, but a wildling in the sheets." So click below to also discover how Sophie Turner and Maisie Williams make Clarke feel "92" and just which cast member she claims is the most eager to take off their shirt (hint: he's been called the King in the North).
Also find out how you can win your chance to attend the premiere of the final Game of Thrones season while also donating to a good cause. All contributions will go to Charities Aid Foundation of America in order to help young adults in physical therapy who are recovering from the impact of major medical drama. So best of luck, and hopefully you'll be toasting alongside Daenerys Targaryen the opening salvo of her final movement toward the Iron Throne. (Because she has to win… right?)
read more: Game of Thrones Season 8 Predictions and Theories
Game of Thrones Season 8 premieres on April 14.
David Crow is the Film Section Editor at Den of Geek. He's also a member of the Online Film Critics Society. Read more of his work here. You can follow him on Twitter @DCrowsNest.