News
Game of Thrones Celebrated by Emmys 2019 with 32 Nominations
The Emmys marked the final season of Game of Thrones with 32 nominations, including many first-time nods for the cast.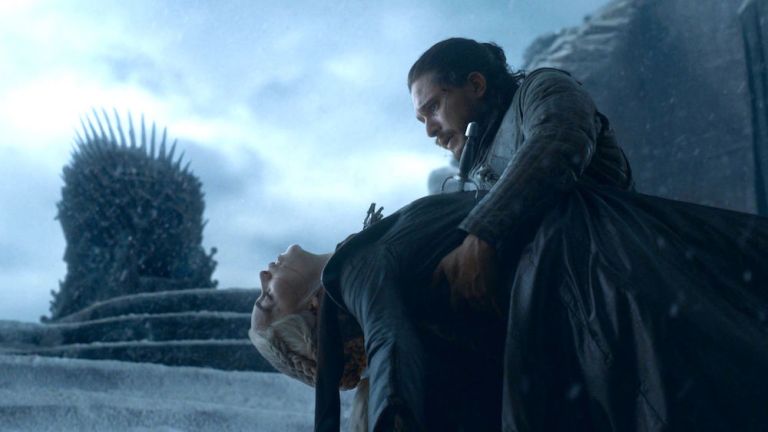 It seems the backlash against Game of Thrones has not reached Emmy voters yet this year. Indeed, HBO's groundbreaking fantasy show, and cultural phenomenon, was highly celebrated for its final season when it received an eye-popping 32 Emmy nominations from the Television Academy ahead of the 71st Annual Emmy Awards presentation.
Game of Thrones, which turned into an Emmy darling during its later seasons, accrued nods for Best Outstanding Series, Best Directing for three of its episodes (including the darkly lit "The Long Night"), and Best Writing for "The Iron Throne," the final episode of the series. It also received nominations that might be less controversial with social media critics for much of its cast. Emilia Clarke received a well-deserved nomination for her fabulous portrayal of a tragic fall over six brief episodes in the Leading Actress category—her characters of Daenerys Targaryen has previously been categorized as "supporting" when she was nominated for seasons 3, 5, and 6—and Kit Harington also was bumped to the leading category for his second Emmy nomination for the series.
Much of the remaining cast filled the supporting sections. Lena Headey, Gwendoline Christie, Sophie Turner, and Maisie Williams dominated the Supporting Actress category (it is Christie and Turner's first Emmy nominations), while Alfie Allen, Nikolaj Coster-Waldau, and Peter Dinklage all received Emmy nominations in the Outstanding Supporting Actor category (it is Allen's first Emmy nomination). 
The Emmy love for the final season of the most popular series of the decade is not really a surprise. Game of Thrones defied conventions when Peter Dinklage won an Emmy for the show's very first season, and it was also nominated for Best Writing that year, despite conventional wisdom suggesting its drama trappings doomed it to awards irrelevancy. While maybe for that reason the show's earliest (and honestly best) seasons did not win Best Outstanding Drama Series, it has claimed that top prize in every year it qualified for since season 5 in 2015.
This celebration of the final season comes not only after a very divisive final season, but after a booming cottage industry of clickbait videos and articles offering to explain why the final season ruined the series (and/or how it was always ruined since going off the books in season 6… or since the very start). This vocal criticism is loud, but it should be noted may not reflect even a majority of viewers, which according to the THR/Morning Consult more than 60 percent of viewers at least somewhat liked the finale. Further Game of Thrones was a cultural phenomenon in television that feels like the end of its era. Personally, I think there will always be new water cooler shows (eventually), but their viewing pools will grow smaller, just as Game of Thrones' impressive 19.3 million live viewers (and more than 45 million total viewers) for its series finale pales in comparison to MASH's 106 million live viewers for its series in finale in 1983. That sitcom is now viewed as the end of broadcast networks' dominance before the advent of cable, and Game of Thrones' finale could very well be the end of premium cable's unquestionable domination of at least prestige drama in the 21st century as streaming begins to bloom. (Netflix and Beyoncé's Homecoming took six Emmy nominations unto itself). 
With that said, the final season of Game of Thrones might be disappointing, but I personally think hyperbole and exaggeration has overstated its problems. This was always the ending, and even it stumbled quite a bit getting there, it had some satisfaction… which might extend to the Emmy stage.
David Crow is the Film Section Editor at Den of Geek. He's also a member of the Online Film Critics Society. Read more of his work here. You can follow him on Twitter @DCrowsNest.