News
Game of Thrones: 14 Things We Learned
There were plenty of surprises and new possibilities for Game of Thrones seasons 7 and 8 teased at SDCC.
Just like all men must die, so too must all San Diego Comic-Cons come to an end. It's with a bittersweet acceptance this is written in that small coastal city, which only 24 hours later has already reverted to its sleepy ways. Only a few days ago, it was filled with the excitement for the biggest sagas in all of fandom, and few are as big—or with a fan base as passionate—as Game of Thrones.
Aye, for the seventh consecutive year, HBO's flagship series brought its fantasy of fire and blood to SDCC, and after being conspicuously absent in 2015 (all the better to avoid "is Jon Snow coming back questions?"), Game of Thrones creators David Benioff and D.B. Weiss returned to embrace fan cheers for the most watched and arguably most celebrated season yet. They were also accompanied by director Miguel Sapochnik and stars Sophie Turner, Isaac Hempstead Wright, Liam Cunningham, John Bradley, Nathalie Emmanuel, Conleth Hill, Iwan Rheon, Kristian Nairn, and Faye Marsay. Rob McElhenney, co-creator of It's Always Sunny in Philadelphia, was also on hand to MC the event as the moderator.
But as you will see below, he had some help in keeping a jovial tone that was intoxicatingly amusing. These good vibrations, and the new insights we learned below, left the crowd ecstatic even without so much as a snippet of footage from the already delayed season 7.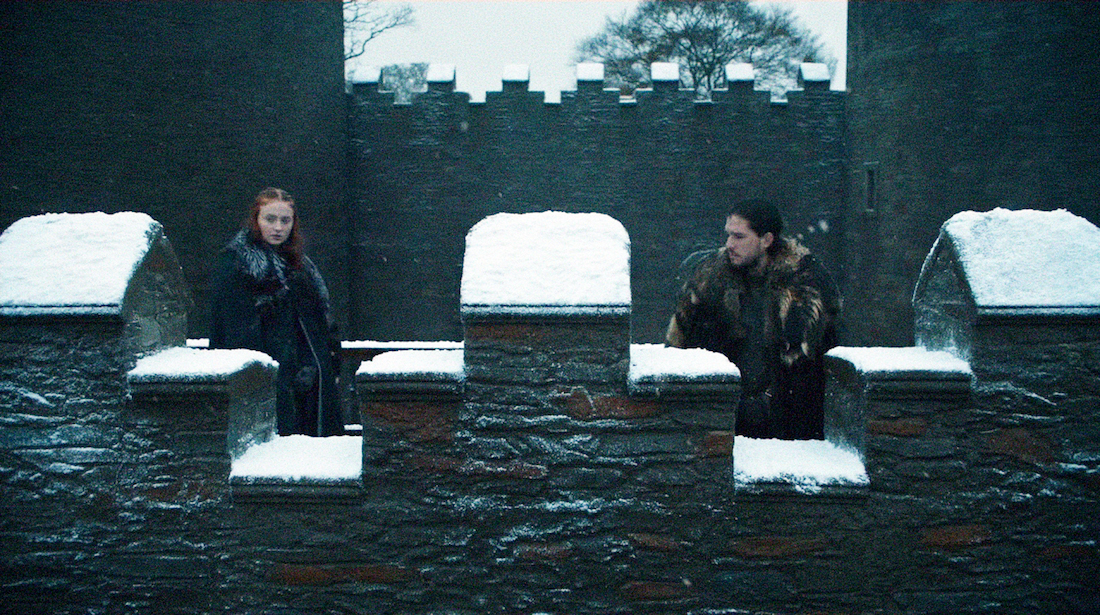 Benioff and Weiss Elaborate on Why Season 7 is Delayed Until Summer 2017
As is already international news (and perhaps a national tragedy for those of us in the entertainment journalism field), Game of Thrones season 7 was infamously delayed until sometime in summer 2017 due to the fact that "winter is here." Before even getting fully situated, Benioff and Weiss were asked point blank by the friendly McElhenney to explain themselves.
"We have to shoot in places where there are trees, so we have to wait for the leaves to fall off," Benioff said matter-of-factly, almost underplaying how grievous a wound he knew he was inflicting on the crowd's psyche. "So, we're actually waiting to shoot [until] later in the year. That means we don't finish shooting until February, and there's no way of finishing post; there's no way to get the show out there until summer."
The Creators Have a Freedom to Explore the Worst in Human History
One of the great appeals in Game of Thrones is how it pulls far more from medieval history and ancient antiquity for inspiration than it does from genre tropes and clichés. That license to world-build with a healthy dose of historical fiction is something we at Den of Geek have explored in great detail. So, D.B. Weiss' answer was of special personal interest.
Says Weiss, "I think the books are built on a sort of skeleton of Medieval western history. But one of the great things about fantasy is you're not bound to what happened, so George [R.R. Martin] when he wrote his books got to pick all the bits that he liked the most, and he got to skip the so-and-so begat so-and-so, begat so-and-so part of history. He got to paper over that and he drew on Mongols, he drew on Native Americans, he drew on everything. He was a very deeply read in world history, and we get to do the same thing. That's one of the real joys, we're both history buffs. We get to look at every awful thing that's happened in the world, not just one part of the world, and just cram it in 10 hours.
Weiss catches himself with a pause. "Seven hours rather…"
— Maisie Williams (@Maisie_Williams)
July 24, 2016
All Panels Go Down Better with Vodka
The reason that Dan Weiss trailed off on the tail-end of his answer above is due to the unexpected difficulty of condensing your thoughts while under the influence of vodka or, apparently, Sophie Turner.
As Benioff quickly explains, "I just want to point out that Sophie Turner made us all do shots of vodka before we came out here… So our answers may not be as articulate."
Turner was quick to demure that she's 20 and can't do any of that in the States. But judging by the above photo, there's a decent chance there was more than water in that bottle, which the delightful Turner brought on stage. In fact, it is safe to say that she was as much a ringleader of the festivities as moderator McElhenney, providing an atmosphere that is best described as giddy. As you'll likely see throughout points below, the Sansa Stark actress continued to loosen up the rigidity of SDCC publicity and staging. Even just a few moments later, Benioff too would become tongue tied, muttering to his chagrin, "Sophie Turner."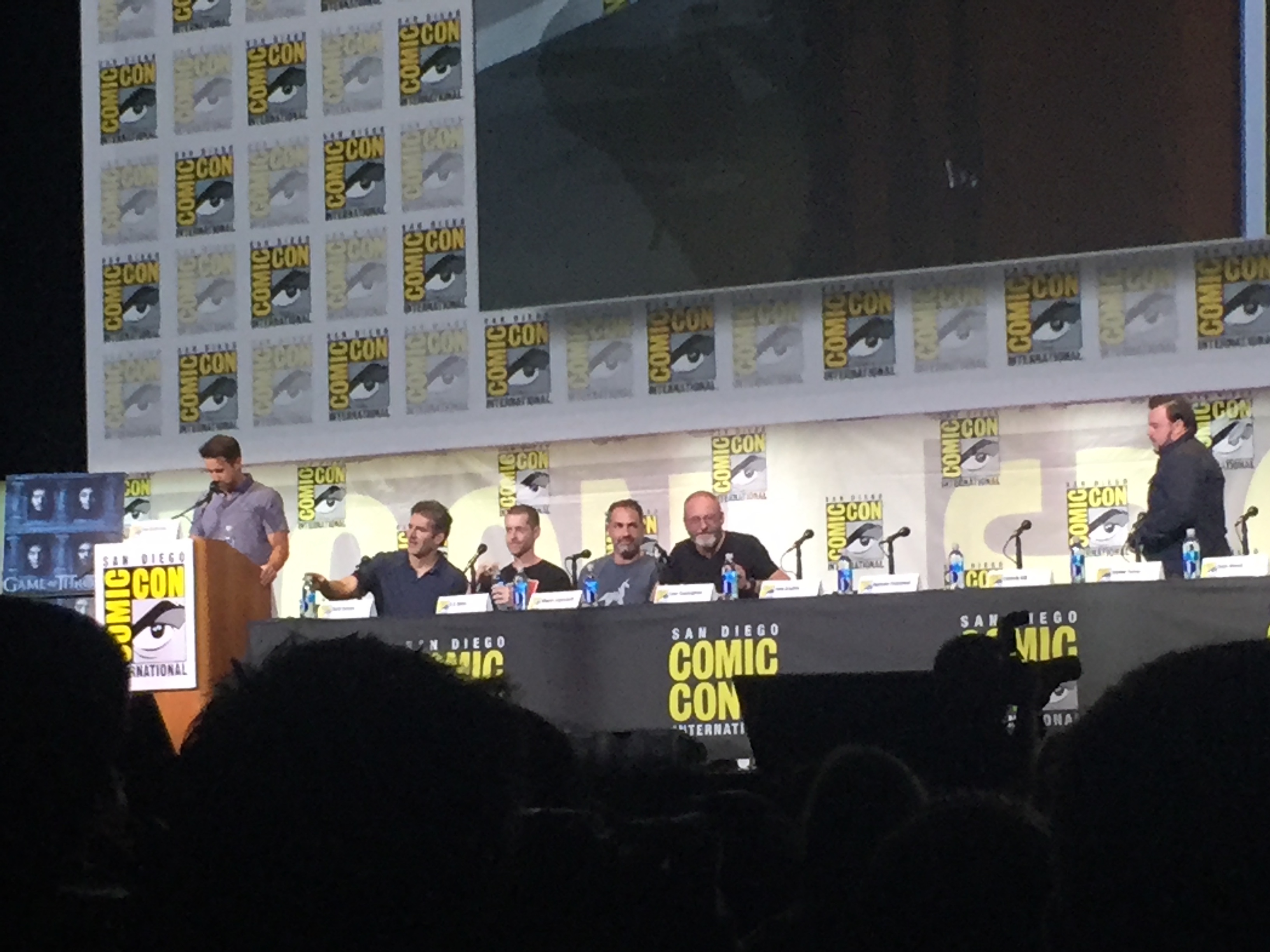 Miguel Sapochnik Teases Return for Season 8
Miguel Spaochnik has directed only three episodes of Game of Thrones. But they're each probably more cinematic than anything that's come before, save for perhaps the contributions of Neil Marhsall. Television has indeed never had quite the visceral impact as the final two mega-budgeted episodes of season 6, "The Battle of the Bastards" and "The Winds of Winter." Hence, it was kind of a shock when HBO revealed Sapochnik would not be returning for season 7. Yet, the now fan favorite director was still invited to San Diego Comic-Con as part of the panel (a first for a non-producing TV director). Sitting conspicuously right next to Benioff and Weiss, Sapochnik was asked if he'd return for next year when they shoot the final season of Game of Thrones.
read more: Game of Thrones Season 8 – Everything We Know
"I would very much hope so, yes," Sapochnik teased to an uproarious crowd, which more or less confirmed his return for season 8. It also causes the mind to wonder if the absence from the seventh season will be due to him directing a larger number than just one or two hours of the final year. If they are really going to treat it cinematically, it would make sense to start storyboarding now, especially if he ends up tackling something closer to six or seven hours. Hey, having Cary Fukunaga direct every episode of True Detective season 1 turned out pretty well for all involved!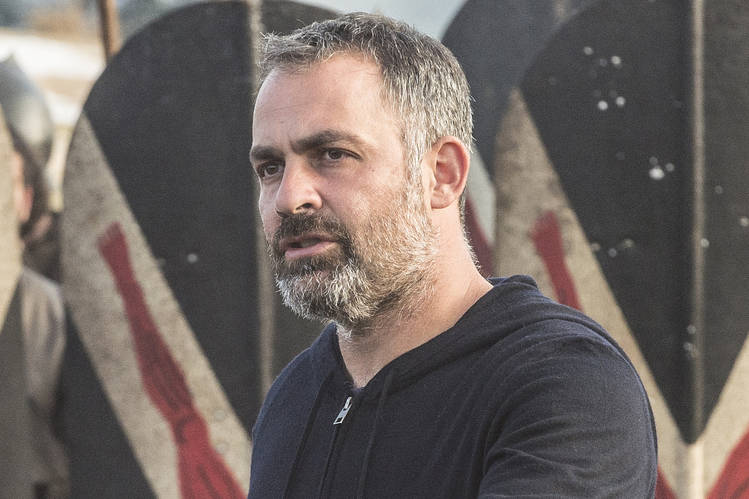 Sapochnik Reveals "Battle of the Bastards" Almost Looked Very Different
Game of Thrones producers have not been shy about noting the similarities between the instantly iconic "Battle of the Bastards" and the Battle of Cannae, an ancient struggle between the Romans and a victorious Cathrage force. However, the battle was originally modeled on the conflict at Agincourt, the famous struggle between Henry V and the French.
"The Battle of Agincourt was between the French and English," Sapochnik begins. "So, the French and English fought it out… and the English attacked, and the French encircled and caught them in a pincer movement. And once they had them, they basically used archers to mow all these people down. And originally we were going to have a lot of horses, like seven horses deep, and they were going to charge the horses and surround the allied troops, and crush them with horses. But the problem with if you run horses at people, they don't like it. Like the first time, they're alright. But the second time, they're like, 'I don't want to run at these people.' And the third time, 'I'm not going.'
"So the decision was that we weren't going to run horses at people, but instead, we were going to run people at people. And then there was this other idea, which I always imagined and was probably the first image in my mind when I read the outline, which was this pile of bodies. And this was something David and Dan were really keen on, and we had a lot of back and forth, because initially it felt like, 'Where does this pile of bodies come from?' And you realize the more research you do, when everybody dies, they become a pile of bodies. And gradually, this pile of bodies really gets in the way of you achieving anything on a battlefield, and in fact in the Battle of Cannae, these heavily armored people were going into battle and they were getting stuck between piles of bodies, dead bodies, and they were becoming sitting ducks waiting to get picked off. And it seemed horrible and a complete bummer to go out to battle and get your foot stuck somewhere, and get picked off. So that seemed like a good way to approach the battle, so that's what we did."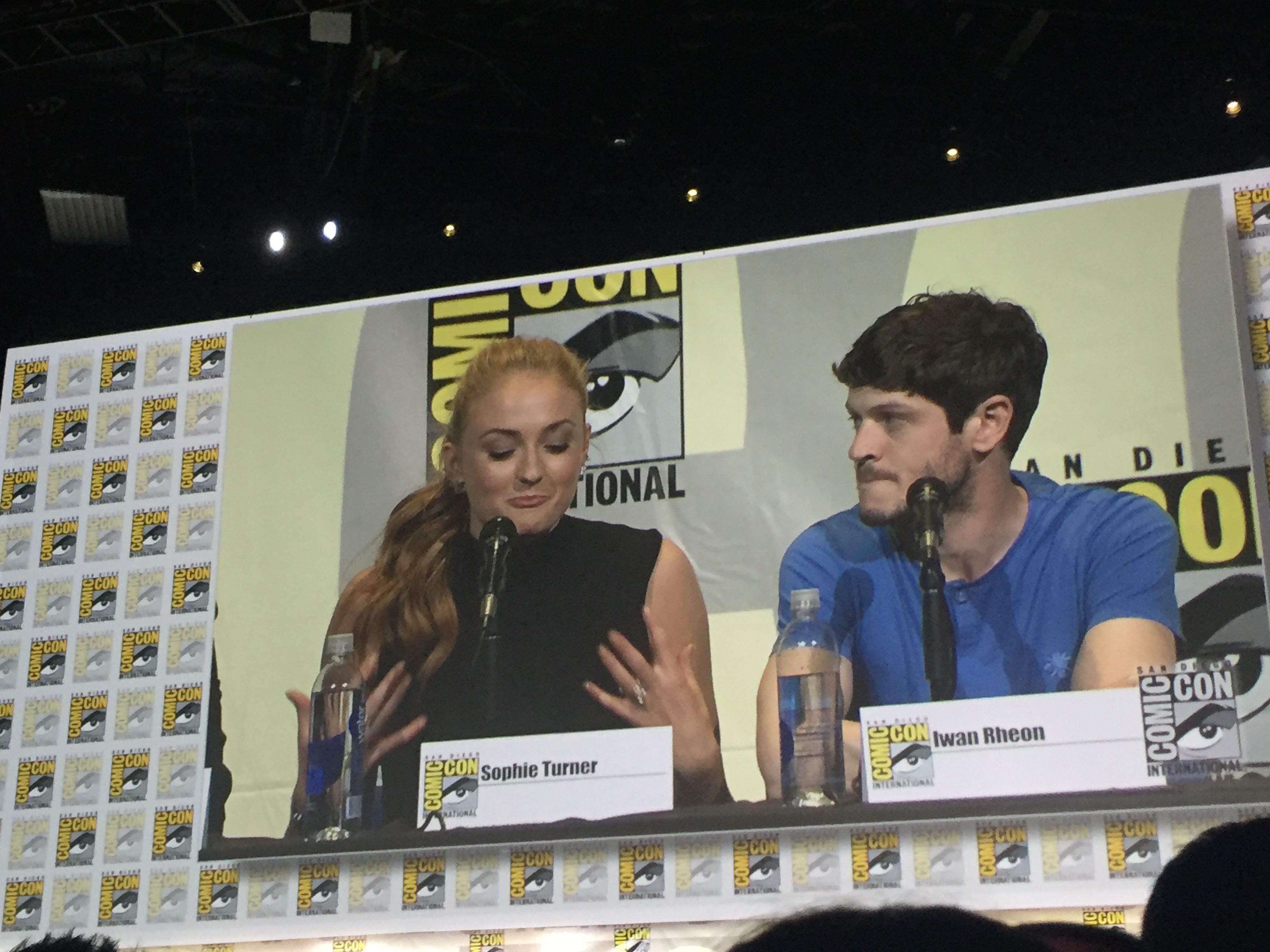 Sansa Wants to Rule with Jon as King and Queen in the North, Especially Since Jon is "Unintelligent"
In news that should be a welcome relief to most fans, Sophie Turner confirmed that Sansa not telling Jon Snow, her supposed half-brother (though actual cousin), about the Knights of the Vale was more about good television drama than Machiavellian scheming. Don't read nefariousness in every plot point, particularly since Turner confirms Sansa doesn't want to rule over Jon, but rule by his side as King and Queen in the North… which might be necessary since Jon is a dope.
Before you start writing your mean tweets, do consider he charged headlong to a seemingly unwinnable battle.
When asked if Sansa wants the Iron Throne, Turner explains, "I don't know about the Iron Throne, I think she believes it was more of a joint effort in terms of Battle of the Bastards. She believes they should both be King and Queen in the North for sure. I don't know about the Iron Throne. I'm not so sure she's keen on that anymore. I'm not sure she believes that Jon is capable of running Winterfell in the North. She thinks he doesn't have the intellect, the knowledge, the experience that she has, and I concur. But she knows that he has wonderful morals and those kind of Stark morals—that inevitably he'll make the right decisions, the good decision. But whether it's going to benefit anyone is another story."
She then adds with a dramatic eye roll, "Whatever, Jon."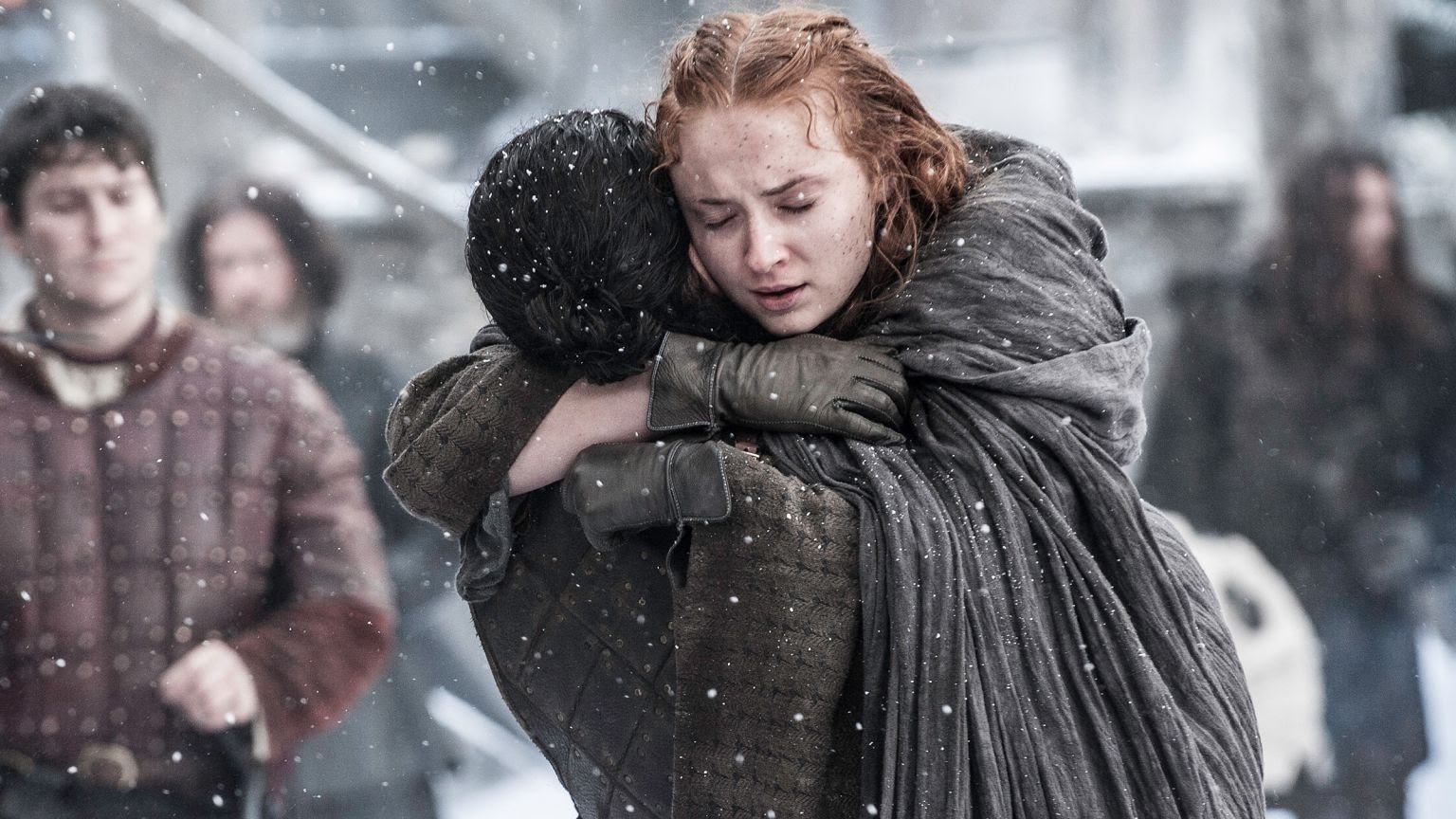 Sophie Turner is Not Shipping Jon/Sansa
Yet, despite saying that it's clear Sansa wants to rule the North with Jon Snow, she is less than open to the fan theory about Jon Snow and Sansa unifying any tension with marriage (cousins marrying is about the least controversial idea in Westeros).
When a fan points out that Jon has a thing for redheads, Turner begins with the concession, "Jon likes redheads, he does. But Sansa and Jon have grown up together. They may as well be siblings; they have the sibling rivalry. I don't know…" She trails off as the possibility becomes more real and looks over at Benioff and Weiss. "But I swear to God, David and Dan, if you make anything happen, I will kill you!"
Benioff and Weiss, always keeping their poker faces on whenever fans bring up speculative questions, remain unreadable with their ever so pleasant smiles.
"It hadn't occurred to us, but thank you," Weiss quips. Cue the laughter.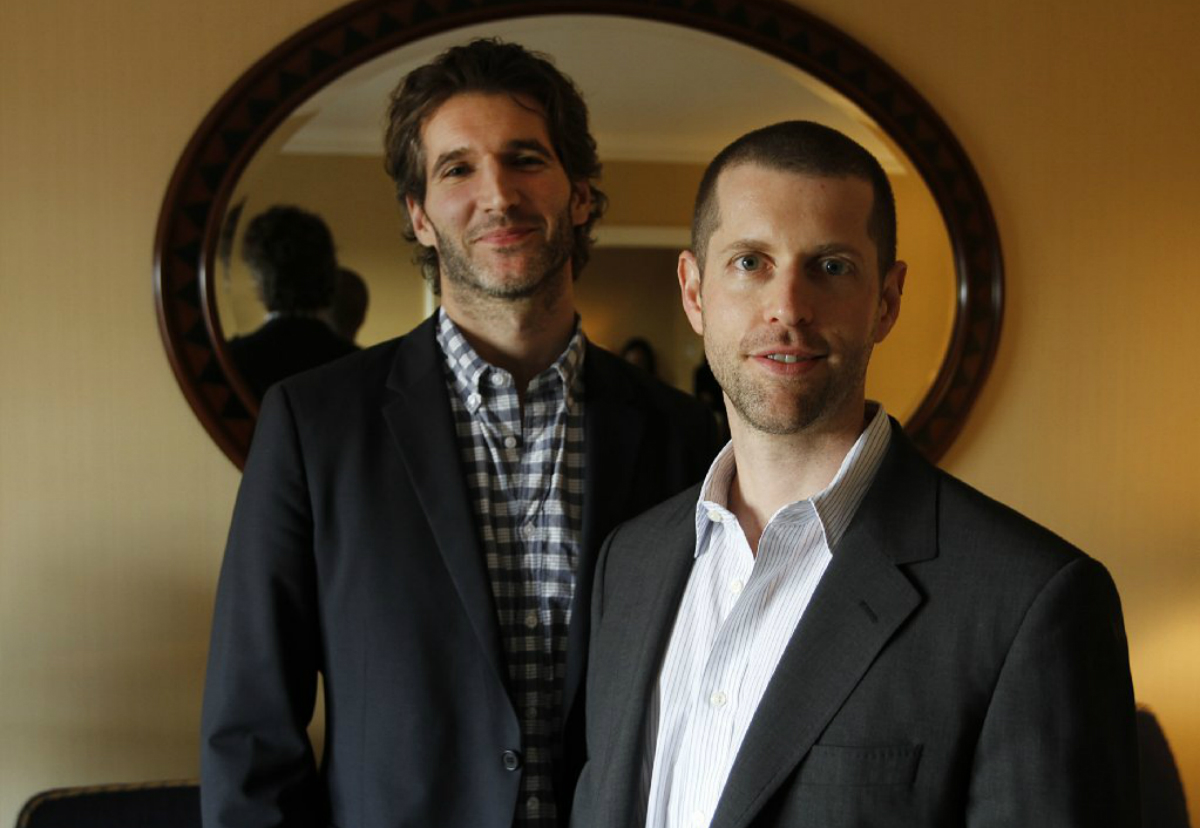 Benioff and Weiss are Keeping Closely as Possible to George R.R. Martin's Outline
Then again, she and the creators might not have a choice depending on what fates were revealed in Santa Fe.
Obviously, Game of Thrones season 6 is the first year that the show has completely surpassed the narrative of "A Song of Ice and Fire" in every location, even those backward Iron Islands. With the safety of George R.R. Martin's literary Wall far to the south of the showrunners, they tread lightly into that good night with only a handful of major character conclusions offered up by author George R.R. Martin several years ago. Still, they have a consistent destination in mind.
"It's still ultimately George's imagination that gave us these characters, that gave us this world. And three or four years ago, we were in Santa Fe, talking to George, and that's where he told us the Hodor fate and where the name Hodor came from. And I just remember looking at Dan." Benioff stops as fans cry the kind of anguish that has become Game of Thrones' anthem. "It's George! It's George's fault!" Benioff insists.
read more: Game of Thrones Season 8 Predictions and Theories
"I remember looking at Dan, and we were both so amazed and excited, because it was so freaking cool. And one of the things that's brilliant about it is this name that's become almost a joke, people make jokes about Hodor. And then suddenly, it turned. And that's so George R.R. Martin. Hopefully, we're still living up to the spirit of George's imagination, even though we are beyond the books. I think one thing that is fun is that George's books will be very different in some respects and the same in others. And I think both the series and the books will be surprising to who are reading or watching, or whatever it is. I," he too trails off lost in his words. "Sophie Turner. It's her fault!"
See my point?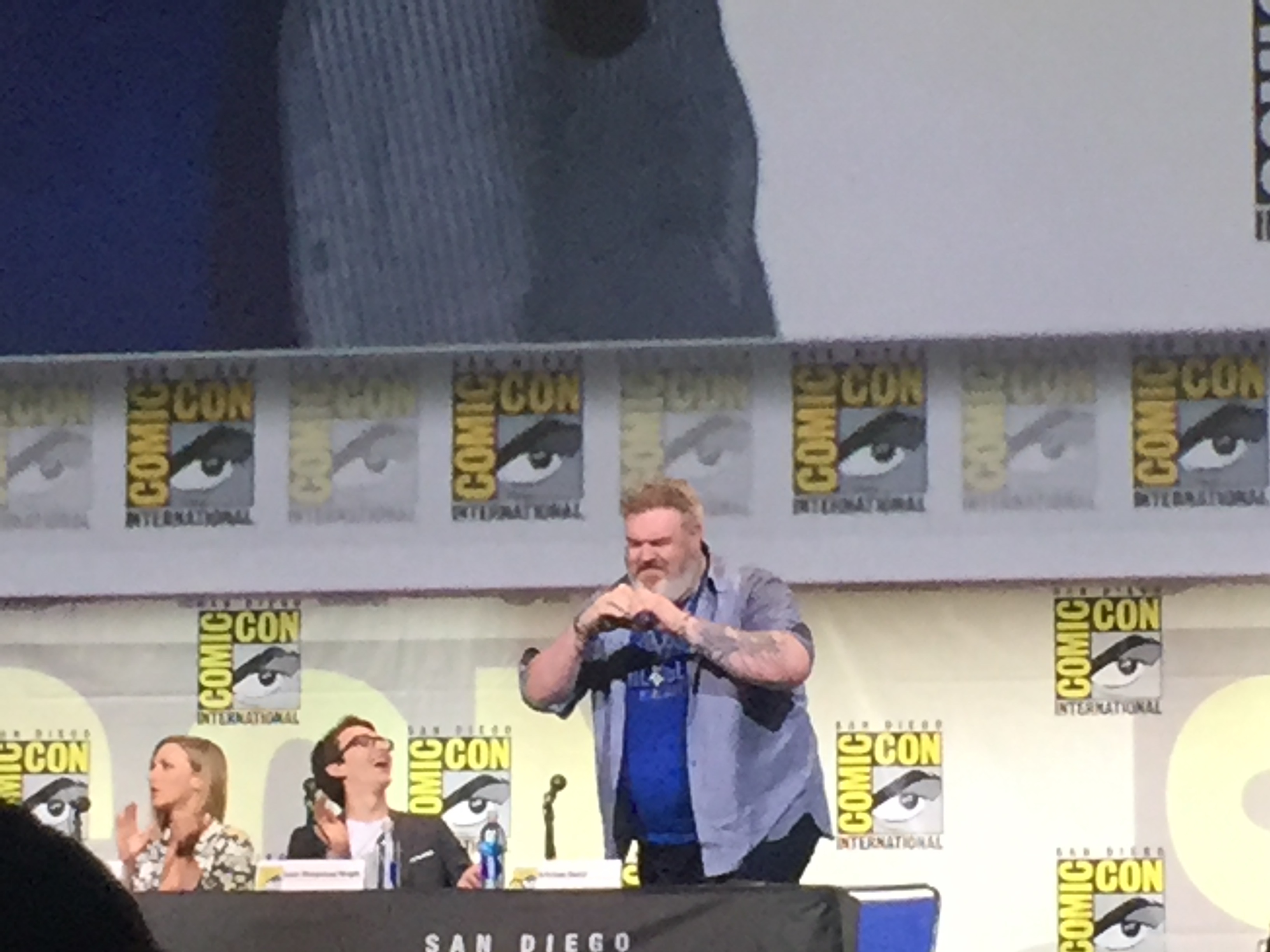 Kristian Nairn Moved by Standing Ovation
Also on the note of Hodor, when Kristian Nairn came out, the actor tasked with the unenviable challenge of finding different ways to say one line for five seasons ("Hodor") seemed genuinely comforted by the reception he received from the 7,000 fans in attendance at Hall H. As Nairn crossed the stage, he earned a standing ovation, which he welcomed with first open arms and then by making a heart-shape with his hands.
As he later explained, he was not surprised that someone so gentle and kind as the simple Hodor didn't survive this cutthroat world. However, he was shocked by the "outpouring of emotion." As were we all.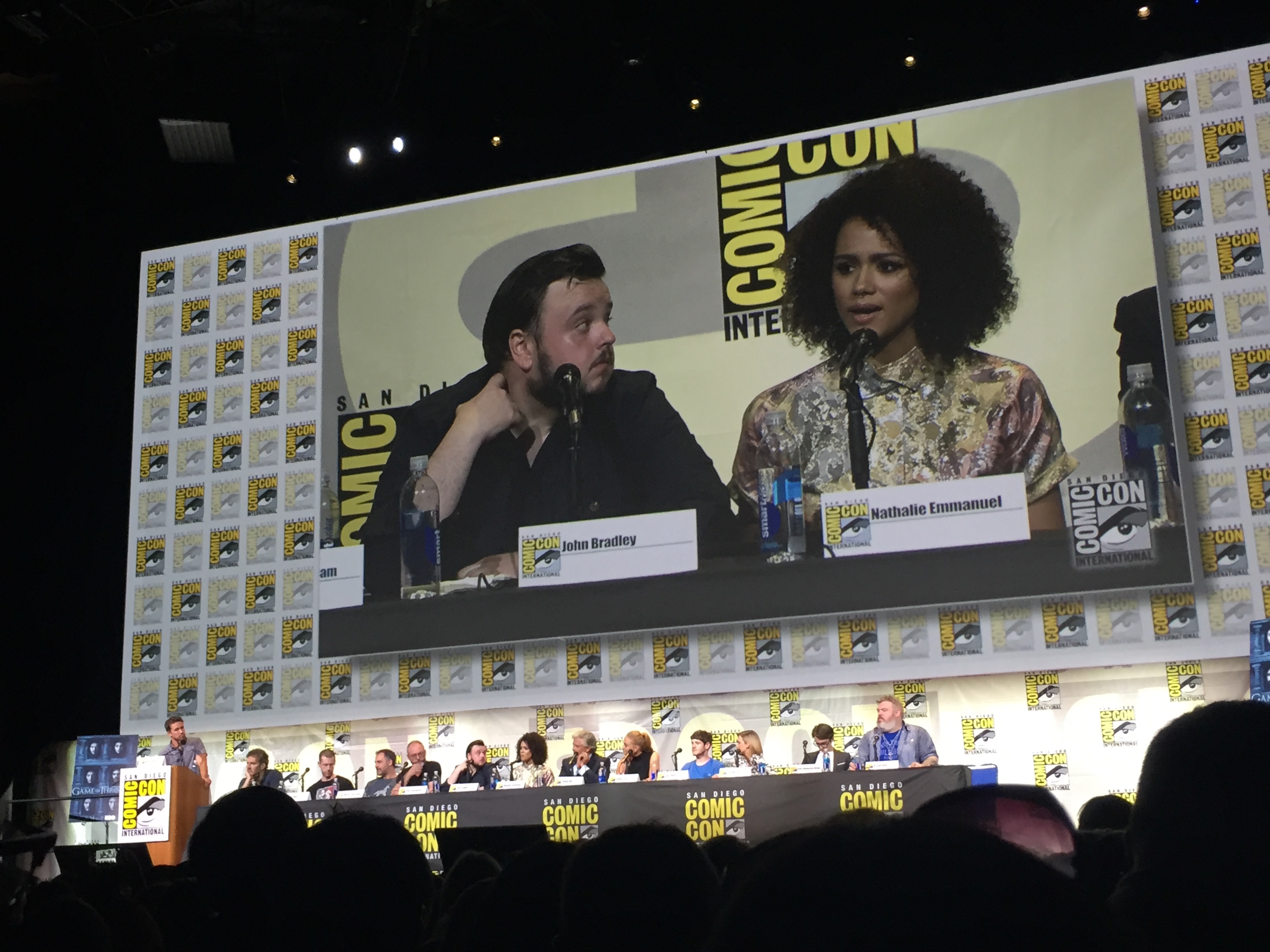 John Bradley Has Written a Brilliant Death for Samwell Tarly
Another character who seems sincerely kind and good-hearted on Game of Thrones is John Bradley's Sam Tarly. So, as McElhenney points out, the character is obviously too sweet to live. As death is all but thus certain, the moderator asked Bradley how would he prefer his character to die.
So, clearly having put some thought into it, Bradley responds, "How wonderful would it be, or kind of the poetic justice—Sam has always been told that books are folly and that nobody with any real common sense ever deals with books. He said, 'No, actually no. People who read books can do good in the world, they can do very good.' So, right he's never been around this many books before. He's climbing up the bookshelf to get a, you know, artistic book from the top shelf. He gets all the way up there, severely underestimates his own weight, tipples backward off the bookshelf, and pulls all of those books down on top of him… Now, if he hadn't done that he'd still be alive. It wasn't battles that killed him, it was the books that killed him."
The amusing anecdote went over well for everyone, including David Benioff.
"I'll write that," he assured the actor.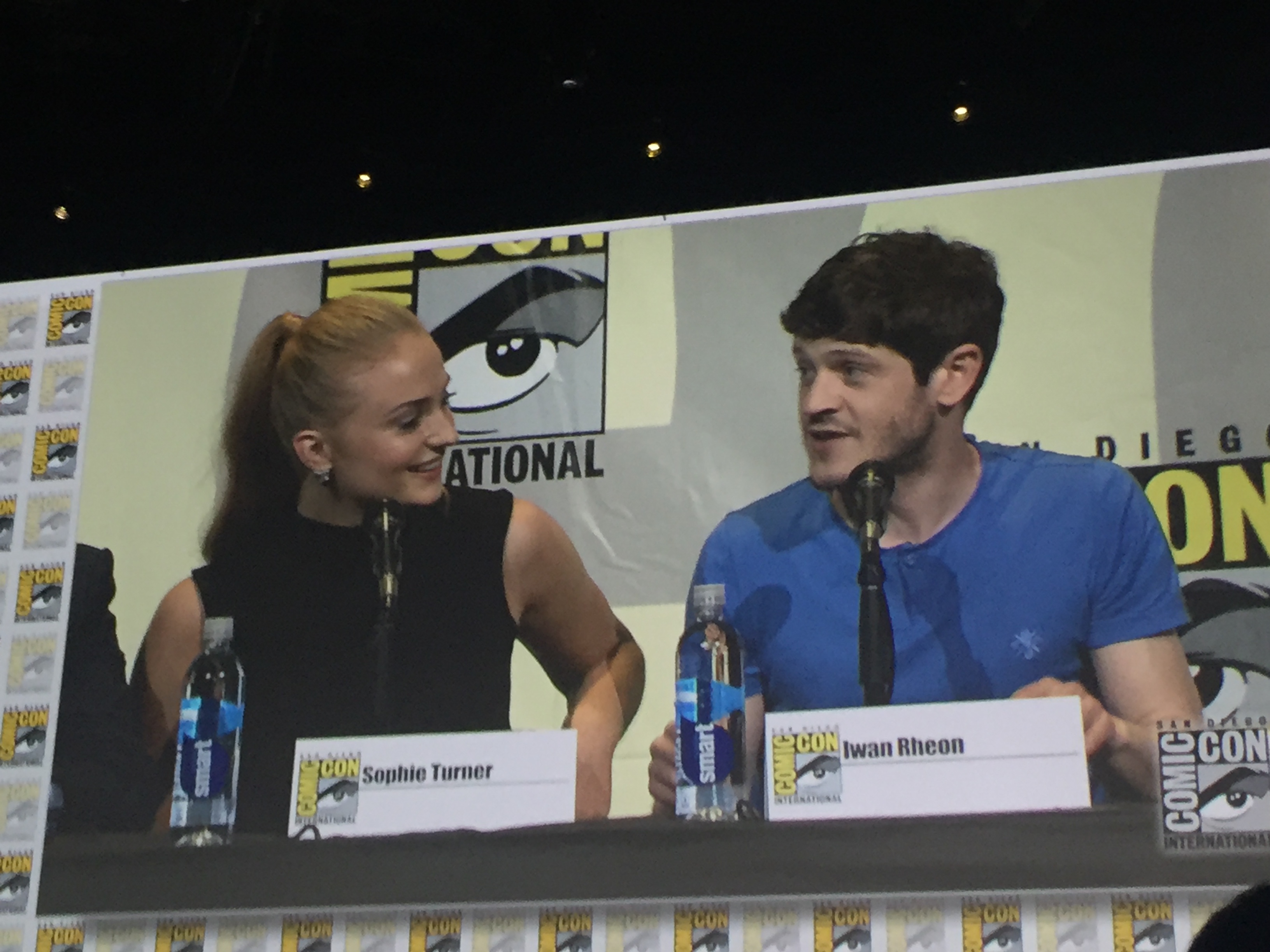 Iwan Rheon Thinks Ramsay Bolton is Misunderstood
It's likely this is Iwan Rheon's last trip to SDCC, at least as part of the Game of Thrones panel. The all-around pleasant seeming chap almost appeared humbled by fan reaction to his character… the most sadistic and unbelievably evil cretin to ever crawl across TV screens. The tormentor of Theon (or is that Reek?) and the abuser of Sansa, there was not a tear shed when his one-time wife then unleashed his own dogs on him. I'd even daresay more than the sounds of his screams, or the teeth scratching bone, most folks heard their own fist-pumping cheers of excitement at the monster's demise.
But Rheon posed a different theory to Hall H, suggesting Ramsay is misunderstood.
"I think, you know, the poor guy's had a tough upbringing," Rheon starts with a hint of real earnestness. "He's a bastard in the North, which is always been cruel. And he's just looking for his father's love and acceptance, and recognition all his life, and obviously everyone can relate to that."
Turner cuts him off, "Oh, boo-hoo." Yeah, pretty much.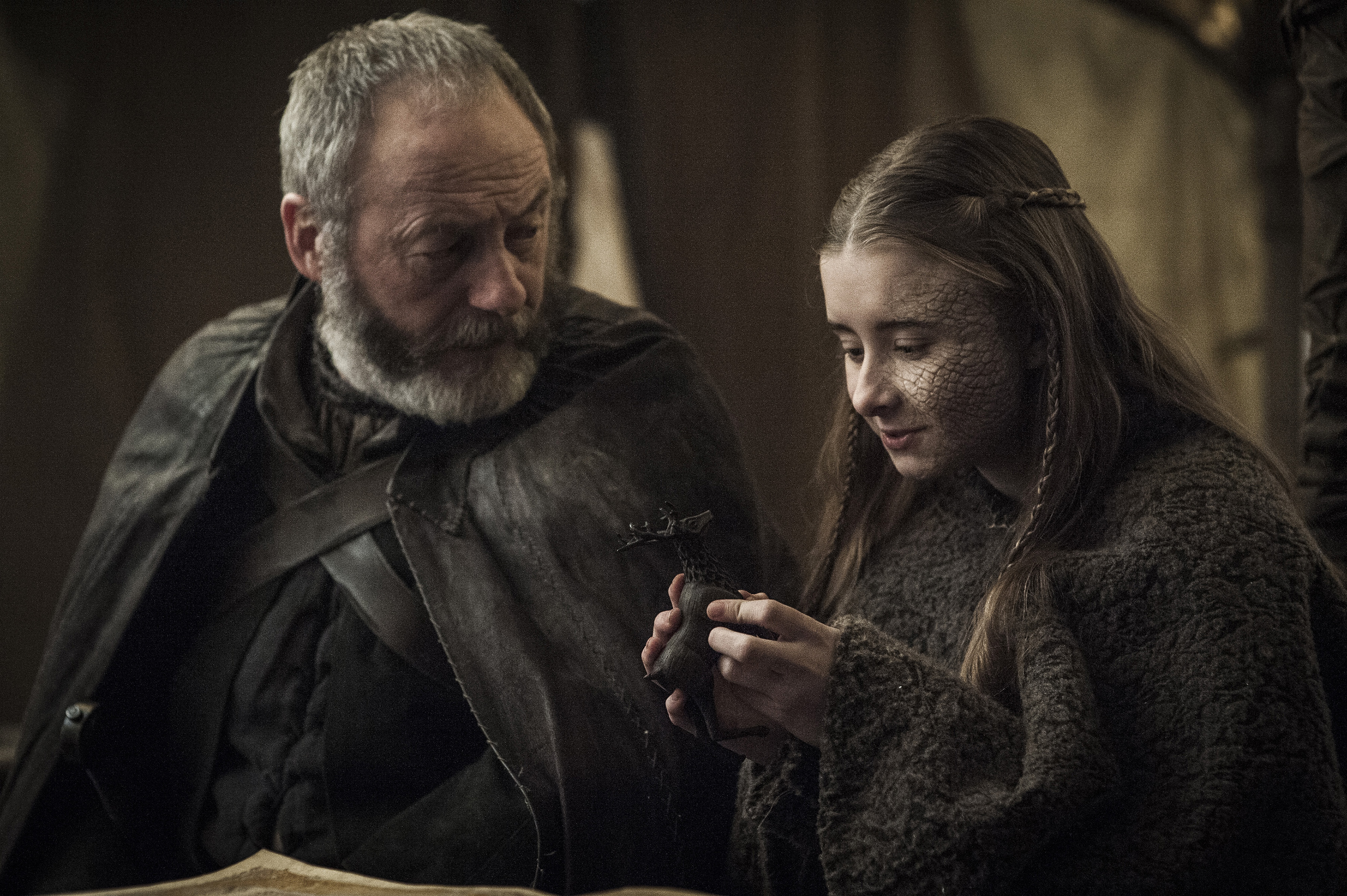 Liam Cunningham's Double Horror at Shireen's Death
Liam Cunningham plays one of other rarely authentic characters on Game of Thrones. As a smuggler turned knight, Ser Davos Seaworth was raised to be too honest and blunt for his own good in this courtier world of smiling betrayers. And the character, like the actor, really connected with Kerry Danielle Ingram's sweet Shireen Baratheon. The two had a by all accounts lovely rapport, which led to him being equally aghast as his character at Shireen's fiery fate.
"When I got the scripts for the first time, you would've heard the clanging of my jaw hitting the ground when I read it," Cunningham laments. "And after I read it, that relationship was already there, because we already filmed it, and to have her kind of removed from me. That relationship with Shireen was very easy. She's an absolutely gorgeous human being and a beautiful actress. And these guys," he stops to cast a side-eye toward Benioff and Weiss. "[They] keep taking the people I like working with away from me."
Perhaps more painful still, Cunningham revealed that he had taken home one of the wooden stag props that his character had given Shireen as a gift. Likewise, he had adorned it on his daughter's "Wall of Awesome" (Cunningham's daughter was also in the SDCC audience). But, oblivious that Shireen's character would be clinging to it as the Red Woman lit her on fire, Cunningham watched that scene with his daughter, having insisted she holds the wooden stag when they watch every episode.
"What I didn't figure on, because I wasn't there for Shireen's demise, when the episode came on, I said, 'You'll need to have that again.' And she had it in her hand, and I hadn't seen it, and we sat down to watch it, and all of a sudden my daughter was in a heap on the sofa as we watched my surrogate daughter Shireen get burned to death while she held the stag that I had stolen [for her]. And I felt like the worst dad in the world! Awful thing to do, and that's their fault by the way!" He points again a shady finger at the Game of Thrones showrunners and bringer of tears.
Some Actors Have Pretty Awesome Endgame Theories
Near the end of the moderated portion of the panel, McElhenney posited a question: how would you like the proverbial Game of Thrones in relation to the Iron Throne to end? Each actor had an answer and some of the best ones are below.
Liam Cunningham: "I have this image of a White Walker on the Iron Throne, the Night King with his leg over the arm, sucking on a Cuban cigar."
Sophie Turner: "I think I want Littlefinger on the Throne," she starts before the crowd boos her. "No! I just think it'd be fun. It'd be quirky, sadistic. C'mon we like that kind of thing; we all watch Game of Thrones!" McElhenney sums up that answer by shouting, "Shame, shame!"
Isaac Hempstead Wright: "I think we should have a four-pronged Stark Dream Team of Jon on the Throne, Sansa advising, Arya beating people up, and Bran in the corner with a tree!"
Conleth Hill (and my favorite answer): "I think they should melt the thing down and have a democracy."
Kristian Nairn (and the audience favorite): "I think the Throne is not going to be important by the end of the show… I think on the Throne, Westeros for once deserves someone with honor and integrity, and I think Brienne [should be queen]."
I'll note that watching Benioff and Weiss' faces during all of the answers, they kept their poker face up for almost all of it. But hearing the suggestion of mighty Brienne of Tarth, the Lady Knight who is better than the whole lot of her peers, got a smile and nod of approval from Benioff. That is a good idea, a just idea, an idea that should make the Westerosi proud.
So, of course it'll never happen.
Game of Thrones Season 6 Blooper Reel
In case you missed it, above is the blooper reel that they premiered at the end of the panel.