News
(Future) Cult Classic: Cast and Everything to Know for Syfy Pilot
Syfy is putting a serial killer spin on teen movie tropes, with television pilot (Future) Cult Classic.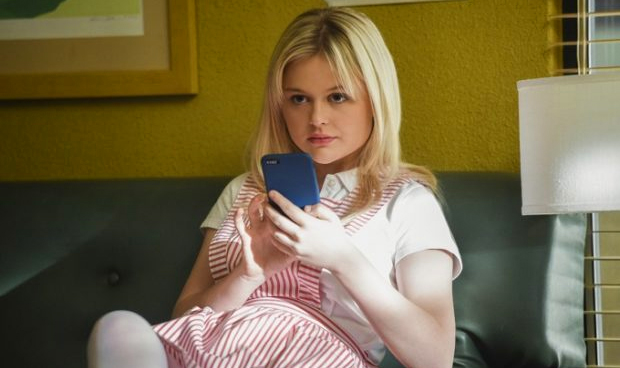 (Future) Cult Classic might be calling its own shot like Babe Ruth with its very title. However, the dark teen comedy pilot does bring some intriguing concepts to the table over at Syfy in an increasingly crowded small screen playing field.
Syfy ordered the pilot back in January along with cyberthriller Cipher. The series –an original concept, not adapted from a novel or comic book – is the brainchild of Shay Hatten, an up-and-coming talent whose first feature, crime thriller movie Ballerina, is still developing. The story is satirical in nature, set to manifest as a levity-laced genre pastiche of old-school slasher films and teen drama tropes, centered on Bree (Emily Alyn Lind), a '90s castaway living in a technology-teeming future.
(Future) Cult Classic Cast
The cast of (Future) Cult Classic just added two more, according to Deadline.
Justin Bartha (The Hangover films, the National Treasure films) will play Jeff, described as "Bree's father who is a formerly successful true-crime novelist whose career has dried up now that murder has been virtually eradicated. What's good for society has been bad for him and his family– and leaves him in a desperate place despite his outwardly spirited demeanor."
Geoffrey Owens (It's Always Sunny in Philadelphia, The Cosby Show) will play Detective Moscovitz, described as "an old-school cop who finds himself out of his element in a tech-based society. He may be a little rusty, but his instincts quickly return when an old-school string of murders begins to rock the community."
In a noteworthy addendum, Owens, a perennial TV guest-spot actor who's long-removed from his Cosby Show heyday, made headlines last fall when photos of him working at a Trader Joe's went viral after surfacing in U.K. tabloid The Daily Mail; a shaming incident that led to an outpouring of support, and, apparently, new opportunities such as this pilot.
They join the following previously-announced main players, also broke by Deadline:
Emily Alyn Lind (Code Black, Revenge) will star on the series as Bree, "a classic 90s horror movie Final Girl trapped in the wrong decade. Growing up in a future dominated by technology and terrible electronic music, her love of pop culture from decades past marks her as an outsider– a status she wears as a badge of honor."
Emily is the younger sister of The Gifted and Gotham actress, Natalie Alyn Lind, and older sister of Alyvia Alyn Lind of Future Man and the upcoming Daybreak. She will also appear in the upcoming film adaptation of Doctor Sleep, Stephen King's sequel to The Shining.
Jacob McCarthy (A.P. Bio, The Dummer and the Keeper) is Andy, who, according to the description, "has been Bree's best friend for nearly a decade, and for nearly all of that time has wanted to be more. He has an enormous love of old horror movies, and, even more than Bree, tremendous disdain for the generation he grew up in."
Cayden Boyd (Heathers, X-Men: The Last Stand) is Henry, "formerly popular, his social standing took a hit when he started dating Bree and hanging out with her friends– but he could care less. As a hot prospect in the emerging field of virtual reality spots, Henry has a promising future ahead of him– if he makes it out alive."
Abraham Juste, a.k.a. Da'Vinchi (Grown-ish, Jessica Jones) will play Peyton. According to the description, "If he was growing up in the 2010s, the world would be his oyster. A handsome guy and star football player, he should be at the top of the food chain– but with football going out of vogue, he's not quite sure what his place is anymore. And he's not happy about that."
Zoe Renee (The Quad, Jinn) is Mila, "another key member of our Scooby Gang, has always seemed a little disaffected from reality– the result of growing up in such an impersonal world. She always has a cheery optimism about her– a trait that starts to feel creepy when people in her town start dying."
(Future) Cult Classic Details
(Future) Cult Classic is set 18 years in the future, centering on a '90s horror movie Final Girl, Bree (Lind), who exists as a living anachronism in a technology-driven time period. However, when a '90s slasher-movie-obsessed serial killer targets her community, Bree bands together with her fellow teen friends, who suddenly find themselves targeted. Consequently, they must take matters into their own hands and track down the killer before it's too late.
Tim Kirkby will direct the pilot, working off a script by creator Hatten. Kirkby brings experience from shows like Veep, Fleabag, Brockmire and several more. Kirkby will also serve as an executive producer, joined in that capacity by Lorne Michaels's Broadway Video and Universal Content Productions.
As Bill McGoldrick, President, Scripted Content, NBCU Cable Entertainment, expressed of the January pilot order:
"Cipher and (Future) Cult Classic are genre-bending stories with gripping scripts and talented creatives attached. Both are very unique projects that we are excited to pilot as we look towards the future of Syfy."
Universal Content Productions President Dawn Olmstead added:
"It has been an inspiring process working with teams behind Cipher and (Future) Cult Classic. Allison Miller and Shay Hatten are rising stars who have created strong and diverse worlds that we are looking forward to bringing to life with our partners at Syfy."
We will keep you updated on (Future) Cult Classic as the news arrives!
Joseph Baxter is a contributor for Den of Geek and Syfy Wire. You can find his work here. Follow him on Twitter @josbaxter.