News
Futurama to Air on Syfy With Network Deal
Futurama, the beloved sci-fi-spoofing Fox animated series from The Simpsons creator, will land on Syfy with a multiyear deal.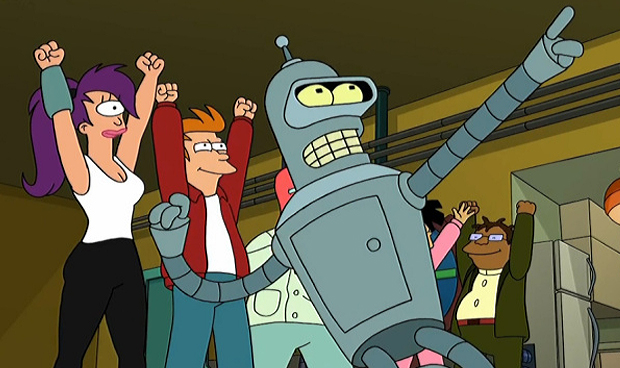 While NBCU cable outlet Syfy has spent the past year refurbishing its image and codifying its array of exclusive content, it also appears to be in the process of boosting its lineup of catalog content. Indeed, the announcement of its acquisition of the entire run of the Fox animated hit series Futurama cements that notion.
Syfy officially announced the Futurama acquisition today, which was the result of a multiyear, nonexclusive deal for the animated series, allowing the cable channel to air all 140 episodes – in HD – from its 1999-2013-spanning breadth. The Syfy run of Futurama will begin with a non-timeslot weekend welcome event on Saturday, November 11. The series will subsequently move on to its allocated block on Mondays and Tuesdays from 8 p.m. to 2 a.m. ET/PT and on Saturday mornings from 8-11 a.m. ET/PT.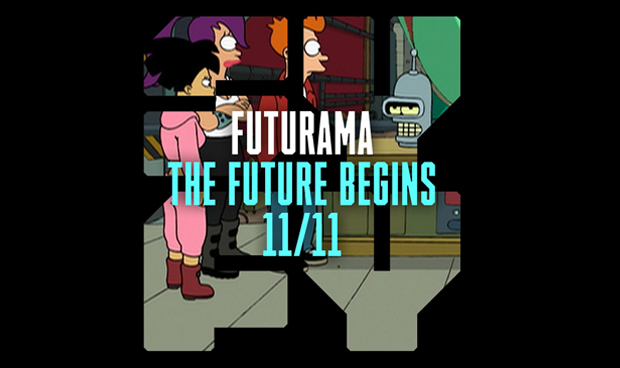 Futurama was created by The Simpsons visionary Matt Groening and David X. Cohen and produced by 20th Century Fox Television and The Curiosity Company. It premiered on Fox on March 28, 1999, standing as the long-awaited second series from Groening that the network had long-demanded. Its mix of Star Trek-inspired quasi-futuristic tropes and an irrepressibly irreverent cast chemistry centering on 31st century-stranded 21st century pizza delivery man Philip J. Fry (Billy West) and his shipmates on delivery vessel Planet Express made it a favorite amongst genre fans.
However, unlike its series cousin The Simpsons, it was not a reliable raker of ratings and was cancelled by Fox in 2003. However, much like with Fox's Family Guy, the series saw its stock raised postmortem, with reruns airing on Cartoon Network's Adult Swim block, eventually facilitating a 2010 rebirth of the series with new episodes airing on Comedy Central (which had also started to air its reruns). The Comedy Central era yielded four straight-to-DVD TV movies and two 26-episode seasons before bringing the series to its conclusion in September 2013.
Thus, it appears that classic episodes of Futurama will serve as genre-appropriate garnish for Syfy's expansion of original content, which, besides its touted current lineup of The Expanse, The Magicians and the currently-running horror anthology series Channel Zero, will soon add the violently-surreal graphic novel adaptation Happy! in December. Additionally, DC Comics-inspired Superman home planet prequel series Krypton, reboot series of the giant Earth-burrowing killer worm movies Tremors (with original star Kevin Bacon) and George R.R. Martin-novella-conceived space series Nightflyers are all set further down the lineup horizon.