News
Fuller House to End After Season 5, Confirms Netflix
Fuller House is set to vacate, with the show's fifth season renewal from Netflix confirmed to be its last.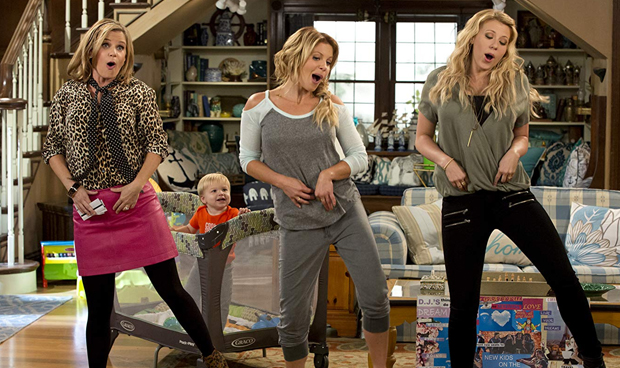 Fuller House will soon vacate its eponymous piece of iconic television real estate. While Netflix has just given the nostalgia-fueled Full House revival sitcom another renewal, taking it into a fifth season (which is way more than it did for Daredevil – Sorry, still bitter), the newly-ordered Fuller House Season 5 is also confirmed to be the show's final outing.
Indeed, Netflix has marked the final stop for Fuller House's proverbial San Franciscan cable car nostalgia tour, confirming as much in an official video featuring the show's cast that promises a proper farewell season, teasing, "We saved the best for last."
The series launched on the streaming giant back in February 2016 to great fanfare and success, leading to one quick season renewal after the other. Moreover, it became an unlikely watershed series, creating waves across the television medium (streaming and broadcast,) for revival series of other popular bygone shows such as Roseanne (which thanks to few fateful tweets dropped its star and became The Conners), Murphy Brown and Will & Grace.
Fuller House follows Full House character D.J. Tanner-Fuller (Candance Cameron Bure), who we knew as a child/teen on the old series, now a recently-widowed mother who returns to the San Francisco townhouse to raise her young children, joined by sister Stephanie Tanner (Jodie Sweetin), best friend Kimmy Gibbler (Andrea Barber) and her daughter. The series also stars Michael Campion, Sonia Bringas, Elias Harger, Juan Pablo Di Pace, Adam Hagenbuch and original show alumnus Scott Weinger. Additionally, original show main cast characters  Danny Tanner (Bob Saget), Joey Gladstone (Dave Coulier), Jesse Katsopolis (John Stamos) and Rebecca Katsopolis (Lori Loughlin) drop by on a semi-regular basis.
Besides the cast, the series also got the creative band of 1987-1995's Full House, back together, notably original series creator Jeff Franklin, whose tenure as executive producer and showrunner on the first three seasons of the current series came to an awkwardly abrupt end when allegations of sexual misconduct came to light. Franklin was subsequently replaced in March 2018 by the duo of Steve Baldikoski and Bryan Behar.
Fuller House Final Season Release Date
Fuller House Season 5 is set to take us back to "everywhere you look" one last time this fall on Netflix. No specific date has been set.
The show's most recent outing, Season 4, arrived back on December 14, 2018.
Joseph Baxter is a contributor for Den of Geek and Syfy Wire. You can find his work here. Follow him on Twitter @josbaxter.