News
Fuller House Season 3 Trailer and Release Date
The post-millennial canned-laughter life lessons of Full House revival Fuller House will continue on Netflix with Season 3.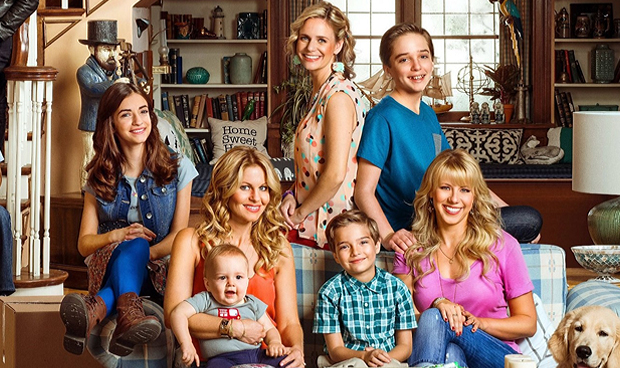 Fuller House is ready to serve up another helping of TGIF nostalgia, courtesy of Netflix. Single mother D.J. Tanner-Fuller (Candace Cameron Bure), sister Stephanie Tanner (Jodie Sweetin) and formerly-intrusive friend-turned roommate Kimmy Gibbler (Andrea Barber), collectively known as the She-Wolf Pack, are back with more family-friendly folly and foibles, focusing on the lives of their respective families within the walls of their iconic San Francisco townhouse.
Fuller House Season 3 Trailer
The Fuller House Season 3B trailer is here. Besides an obligatory array of cuteness, canned laughter and – just to mix things up – an alligator crawling out of a shipping crate, it appears that the highlight of 3B will see the gang take a Tanner-Fuller family vacation in Tokyo, where D.J. apparently plans to witness the wedding of a kimono-clad Steve to C.J.; something that's clearly complicated by the fact that D.J. unwittingly confessed to him her regret over not choosing him in the first place.
The focus of this trailer for the first half of Fuller House Season 3 is the fact that this year marks the 30th (yes, Gen-Xers, the 30th!) anniversary of the classic Full House series, which premiered on ABC on September 22, 1987. Indeed, in a meta-minded manner, D.J. and Stephanie find themselves celebrating the 30th anniversary of the day that their maternal uncle Jesse Katsopolis (John Stamos) and father's best pal Joey Gladstone (Dave Coulier) moved into the house to help carry the parental load of the recent widower dad Danny Tanner (Bob Saget) – all of whom are present for the celebration.
Fuller House Season 3 Release Date
Fuller House will return with the nine-episode second half of Season 3, just in time for the holidays, on December 22. 
Star Candace Cameron Bure made the announcement on show's official Twitter. Netflix's expanded episode order for Fuller House Season 3 – upped from its traditional 13 episodes to 18 – left things at a standstill at the end of Episode 9 with a cliffhanger that had some viewers saying, "How rude." With the announcement of the 3B release date, we now know when to expect the resolution. 
Aligning with the 1987 date on which Full House debuted, Fuller House Season 3 debuted on Netflix on Friday, September 22, 2017.