Features
Friday Night Lights: an essential American football drama
On this Super Bowl Sunday, we revisit the reasons Friday Night Lights is essential viewing whether you're a sports fan or not...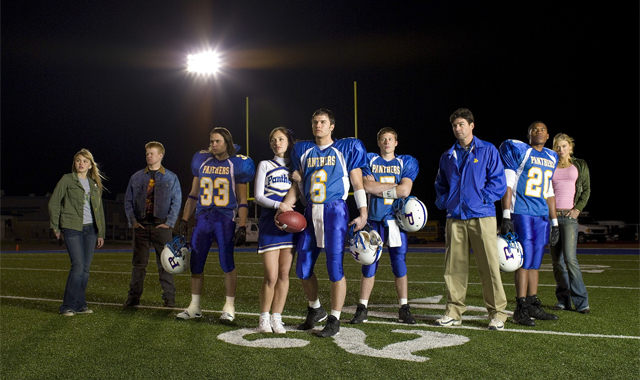 "Clear eyes, full hearts, can't lose." This saying is repeated often throughout Friday Night Lights, NBC's critically lauded 2006-2011 high school football drama. It's not only a mantra of the American football team around which the show revolves, but also provides a nice summation of the drama's themes and the way in which it was made. Sure, the creators and characters faced their fair share of obstacles along the way, but the end result justified the struggles and hard work.
Despite being widely loved by critics, Friday Night Lights suffered with poor ratings and as a result faced cancellation on a number of occasions, notably at the end of the second series (the show's weakest by some distance, no doubt thanks in large part to it falling during the writers' strike). It was largely saved by the fact that fans it had were very vocal in their support and campaigned to save the show.
NBC struck a deal with DirecTV to allow Friday Night Lights to run for a further three seasons, which was fortunate as not only would it have been sad to see the Peter Berg-developed series bow out with season two's non-ending, but the final three seasons are the show's strongest run, with four and five being particularly excellent.
It's kind of fitting that a show focusing on a small community's obsession with a team, which in turn lives and breathes on the support of said community, had a small but fiercely loyal fan base who benefitted from content of the show and in turn spoke out for it and helped it survive in times of adversity. Surely this is one of the most perfect marriages of material and audience in the history of television.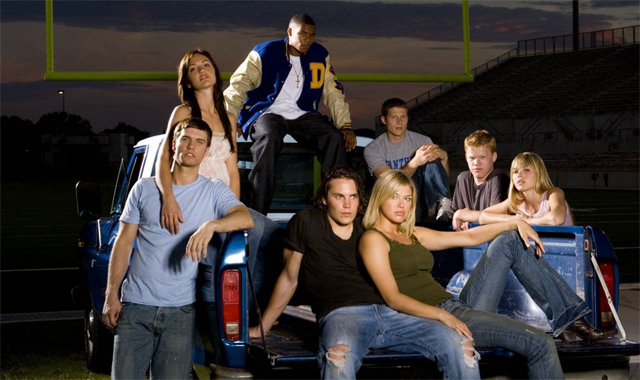 When FNL originally aired in the UK, it was tucked away on ITV4 (not typically the home for quality entertainment) and the pilot received the criminally low viewing figure of 24,000. Fortunately, UK audiences were granted another viewing opportunity recently when it was shown by Sky Atlantic, where it is currently being repeated. For non-Sky subscribers, the complete DVD collection is available on Amazon at a snip, while US and South American readers can enjoy all five seasons on Netflix.
To take any drama at face value can be a mistake and can often lead you to overlook some damn fine television. Appreciating that to many, a show based on small town high school American football may not be the easiest sell, let's look at why Friday Night Lights can be enjoyed by everyone and not just by fans of the sport depicted.
Something particularly great about Friday Night Lights is that it's an American TV show with a strong focus on the working class. It doesn't concern itself with being aspirational. Yes, it shows the benefits of team sports and it's hard not to want to experience the highs as they're depicted in the excellently staged football scenes, but it is always balanced out with the pressures piled on young athletes in different facets of their life.
As a fan of American Football for over twenty years, there was a fair chance that I'd love the Friday Night Lights TV series, especially considering the fact that I was a huge fan of H.G. Bissinger's 1990 book and Peter Berg's 2004 film. Whilst Berg's movie adaptation used the on-field action of the Permian Panthers' 1988 season, it only really touched on the off-field lives of the players and the impact the team had on the community. As such, there was plenty more material to explore. Regretting overlooking the personal aspects of the book in his movie adaptation, Berg turned his attention to the small screen where he would have the time and freedom to explore these key elements further.
Berg and the title aren't the only carry overs from the film, as cast member Connie Britton again plays the coach's wife (but is now Tami Taylor rather than Sharon Gaines) and Brad Leland again plays a team booster (now Buddy Garrity rather than John Aubrey). It's not just Britton and Garrity who find themselves on similar ground but with different identities as the Panthers are no longer based in Permian, instead they're the team of the fictional Texan town of Dillon.
American football obviously has a large presence in the series, given that the fictional team, the Dillon Panthers, are the main contributor to the town's identity and come a close second to religion in the hearts of the town's inhabitants. The fact that in one scene, a key character is seen praying to god for a playoff appearance may suggest that religion is very much secondary to football for some.
A detailed knowledge of American football is by no means essential for viewing. Sure, you'll be treated to all kinds of talk of different offensive and defensive schemes but not knowing the difference between a fourth down and a touchdown really won't hurt your enjoyment. As with the film that came before the series, the football scenes are some of the finest committed to film. Incredibly immersive, they showcase the beauty and brutality of the sport whilst making the stakes feel incredibly real.
After all, being a member of a team that experiences success can make you a legend for decades. Conversely, failure to win a state championship can identify you as a loser for years to come, therefore the pressures faced by the young men who are part of the team's roster are very real indeed. Add to that thematic elements such as disability, teen pregnancy, relationships, infidelity, dysfunctional families, occupational pressures, small town politics, school funding difficulties and the use of performance-enhancing drugs, it creates quite the mix for the cast of characters and a gold mine for drama. Now, I appreciate that many of the aforementioned topics will have been touched on in other series but it's the manner that they're handled here that makes Friday Night Lights such a special show.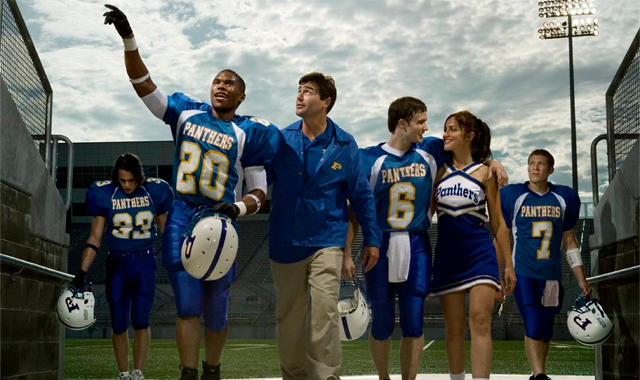 The opening episode deals with the fragility of a budding sports career in a very effective way in a well-handled and shocking scene, that sets up a key element of the plot for the show. Having the teams star paralysed in the opening episode may seem to be a rather extreme way of setting the show up and getting across the dangers involved in the sport but it was based on an incident Berg witnessed whilst attending a high school game in San Antonio where David Edwards was paralysed whilst tackling another player.
Not only did the incident inspire this element of the show but was also part of the reason Berg becoming involved in Heads Up Football, a programme promoting effective tackling techniques in youth football limiting these types of career and life-threatening injuries as well as raising awareness of the dangers of concussions – something that's a major concern in sports at the moment. It's well worth checking out Steve James' excellent documentary Head Games which looks at the concussion crisis to explore the subject further.
The incident took the team from favourites of their area and strong contenders for the state championship to underdogs in an instant, which is good for the show because let's face it: where's the fun in drama seeing a team win with ease week in and week out? It's much more entertaining and indeed rewarding to watch a team fight and claw for every victory and that's certainly the case here, well for the first season at least.
The very nature of high school sports means the players you grow to know and love in early seasons will inevitably graduate and move on with their lives so new players are introduced which certainly changes the dynamic. Coach Eric and Tami Taylor are constants, but in terms of on-field action, the show in seasons four and five has a very different identity and the switch is handled incredibly well. It's testament to what a well-written and performed show this is that the transition is so smooth, and how quickly viewer loyalties change.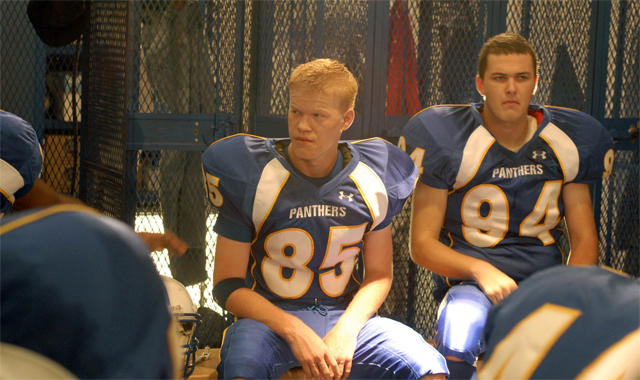 FNL is shot and performed in a slightly unconventional way, certainly in network TV terms, as Berg was keen to have a heightened sense of realism and immerse the audience in the world of his characters. There was no traditional blocking, and camera operators were trained to follow the actors who had the freedom to improvise their movements in a scene as well as their lines if they felt what was written didn't fit with their character. The show was still scripted like any other but with the freedom to improvise and lack of rehearsal it gives the show a very distinct feel in terms of performance.
The above is all well and good in theory but the method relies on having actors who are able to rise to the challenge, which for the most part they are. In terms of principal cast, the ensemble is incredibly strong. All shine, but the one actor for me who takes to this working style the best is Jesse Plemons as Landry. He's a supporting character early on and is identified as Matt Saracen's best friend and link to life before being QB1, but there's no coincidence that every scene he's in is absolute dynamite. The reactions of his co-stars lead you to believe that a fair chunk of what he's saying is thought up on the fly and it's very, very, effective. Plemons is a damn fine actor who has performed well in small roles in movies over the years but it's this and his role in season five of Breaking Bad that show just how good he is.
To highlight just one actor would do the rest of the cast a disservice though, as the key ensemble delivers grounded and believable performances creating lived-in and relatable characters as a result. This, in combination with the way FNL is shot adds to its immersive quality. At the heart of the show are Kyle Chandler and Connie Britton as Coach Eric Taylor and his wife Tami Taylor, both of whom provide one of the finest depictions of an on-screen married couple I've seen. Rather than it simply being a case of 'here are two actors: pretend they're married', it feels like a lived-in relationship and one that has experienced ups and downs over the years.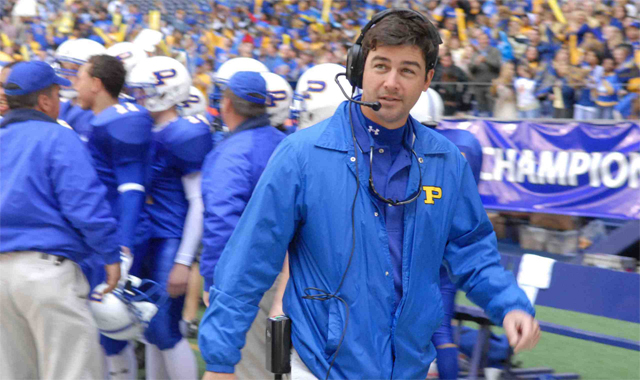 The Taylors certainly experience their fair share of troubles throughout the run of the show; but they're a couple with a strong sense of responsibility towards those close to them and always act in the best interests of those they care about. Inevitably, this lands them in hot water at times which adds to the drama. Such drama is always more effective when you truly care about the characters involved and it would hard not to care about the central couple. Britton and Chandler's performances were rewarded with multiple Primetime Emmy nominations with Chandler winning the award for Outstanding Lead Actor award in 2011. A fitting reward for five years of amazing work.
In seasons four and five, we see the introduction of Michael B. Jordan (The Wire and Chronicle) as the troubled, raw talent, Vince Howard. As is commonplace with Jordan, and this show in general, he delivers an outstanding performance as he disappears into a character who is ultimately likeable but whose antics certainly test the patience of his coach, team mates, and indeed, the audience.
The show ended in a perfect way; it wrapped up key plot points in a satisfying manner that left you wanting more. As heart-breaking as it was not having another episode to watch after the finale, having spent five seasons in Dillon experiencing the highs and lows of these wonderful characters' lives, it's great to see a show bow out on such a strong note and not outstay its welcome.
It's worth noting that a continuation of the FNL story has been planned for some time, but the logistics of it may prove somewhat problematic given that many of the cast have gone on to appear in, and be linked to, some very high profile projects. The plan is for a movie connected to the series rather than the original film, inspired by the experiences of college football coach Mike Leach, who appeared in the fourth season as the man who approached coach Taylor at a gas station and told him to "Swing your sword. Find your inner pirate." Leach, a friend of Berg's, faced controversy when coaching Texas Tech regarding comments he made about officials which lead to fines and threats of suspension. Whether the mooted film will focus on this aspect or the fact that Texas Tech had a ridiculously high-powered offence during his reign there remains to be seen.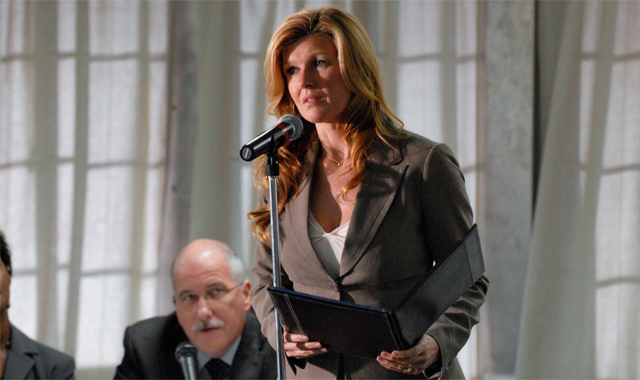 So as strong as the ending is, there is still hope for those who still need a fix. but in the meantime, and if you have yet to see it and you're looking for a rewarding, relatable and engrossing drama then Friday Night Lights is essential viewing whether you're a gridiron fan or not.
Clear eyes, full hearts…