News
Frequency and No Tomorrow Cancelled by The CW
The CW's Frequency and No Tomorrow, which had slim renewal hopes, have both officially been cancelled by the network.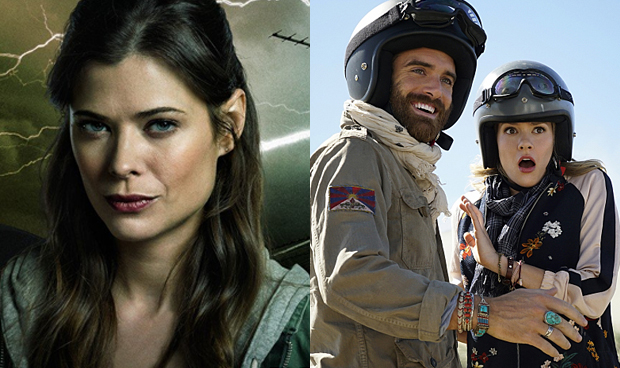 Fans of The CW shows Frequency and No Tomorrow were given some bad, nonetheless inevitable news, namely that the shows have been officially cancelled. The casualties come after The CW hit its stride last year, giving a full slate renewal to its entire (Greg Berlanti-run, DC Comics-dominated) lineup, importing Supergirl from CBS and giving series orders for the two now-axed fall 2016-run, 13-episode series.
Frequency, a television adaptation of the 2000 film of the same name, stars perennial network alum Peyton List as a police detective who finds a ham radio that allows her to communicate two decades back in time with her long-dead father, also a police detective, attempting to right wrongs in the present. No Tomorrow is a romantic comedy about a straight-laced woman (Tori Anderson) stuck in a humdrum office existence who engages in a romance with a free-spirited man (Joshua Sasse); a romance that become accelerated into a frantic, freewheeling checking of bucket list items since he happens to believe in the existence of an impending apocalypse.
After January 2017 when Frequency and No Tomorrow had aired the last of the 13 episodes from their initial series orders, there was an inauspicious inertia from the network. Indeed, Frequency only averaged 0.27 in the 18-49 demographic and No Tomorrow virtually matched that anemic average with 0.26 in the same demo. Moreover, Frequency fans had to be dispirited with the March news that star Peyton List had already boarded a new pilot in CBS NASA drama Mission Control opposite exiting Grimm star David Giuntoli. Thus, even fans of the shows were keenly aware that Season 2 prospects were slim to none, especially after The CW's midseason newcomer Riverdale, a darker, more lascivious reinvention of the classic Archie comic book mythos, became the new apple of the network's eye, nabbing a quick Season 2 renewal.
With the fates of Frequency and No Tomorrow finally set in stone, that leaves The CW with a final bit of business for the upcoming 2017/2018 lineup regarding the fates of two of its struggling veteran series in The Originals, a spinoff of its exiting centerpiece drama The Vampire Diaries, and the levity-infused undead dramedy iZombie. Based on the way things are looking, it's going to be a Thunderdome-like, "two shows enter; one show leaves" contest for a renewal spot between those two.