News
Freema Agyeman in new Survivors in BBC reboot
After being punted out for piece-work in Who series 4 and Torchwood, the talented Freema is to turn up in post-apocalypse Britain...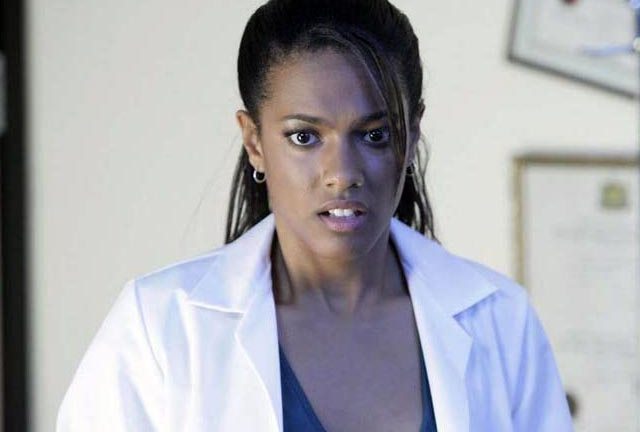 Freema Agyeman, possibly the most wasted Doctor Who assistant ever, is to feature in the BBC's re-take on Terry Nation's 1977 post-apocalypse drama Survivors.
Agyeman will play Jenny Collins, a 'bright and lively' primary school teacher who tries to save the life of her dying flat-mate by getting her to a hospital when a viral apocalypse sweeps the UK.
Nation's original tale of doom ran for 38 episodes over three series from 1975-77 and dealt with the power-struggles of a decimated British society trying to recuperate and reform after an accidentally-released plague kills the majority of the population.
The success of the series led Doctor Who-veteran and Dalek-inventor Nation onto the huge success of four years of cult sci-fi drama Blake's 7 (1978-81). Drawing heavily on the post-disaster politics of John Wyndham (as evidenced in Day Of The Triffids), Survivors was itself arguably imitated in the 1999 ITV series The Last Train.
The 're-imagining' of Nation's vision is currently filming in Manchester and is scheduled for transmission this Autumn, under the helm of Life On Mars directors John Alexander and Andrew Gunn.
Here are the BBC details about the new cast and characters from the press-release:
Abby Grant (Julie Graham) Abby is a mother and home-maker to her son Peter (11) and husband David (Shaun Dingwall). Before the virus struck Peter had successfully defied a near-terminal illness. Peter is now better and Abby has reluctantly agreed to let him go on an adventure holiday. Abby plans to resume her career and re-ignite her faltering relationship with her loving but exhausted husband. But fate has other plans in store for them…
Al Sadiq (Phillip Rhys) A rich, good-looking playboy, Al has lived a life of privilege. In the aftermath of the virus he finds himself responsible for Najid. Al has never seen himself as the paternal type and he initially proves to be a disaster as a father figure; he would rather find a softer life for himself in the post-disaster world. But strangely this frightening new environment ultimately makes him a better man than he would ever have been if he had continued his old life.
Dr Anya Raczynski (Zoë Tapper) Anya is a young doctor who does her best to save as many people as she can when the virus that wipes out most of humanity hits. But there is no cure and no vaccine and all her skill ultimately proves fruitless. While she struggles with the enormity of it, she is forced to stand by helplessly as her former girlfriend Patricia is among those brought to the hospital in the grip of the illness…
David Grant (Shaun Dingwall) David is a self-employed builder, a loving family man who is competent, brave and determined. Although they have been worn down by the illness of their beloved son Peter, Abby and David's marriage is a solid and loving one. But nothing in David's life has prepared him for the crisis which is about to sweep away everything he ever knew and loved…
Greg Preston (Paterson Joseph) A former systems analyst for a big multi-national, Greg felt trapped and dreamed of a new life. But his wife, who had grown used to a wealthy and comfortable lifestyle, was appalled by his utopian vision of a new, hard scrabble future. Nursing bitter personal wounds, Greg is now a man who believes he can live without love, friendship or family…
Jenny Collins (Freema Agyeman) Jenny is a bright and lively young teacher in a primary school. Overwhelmed by the chaos she sees all around her, she is determined to save the life of her dying flatmate Patricia. Nothing will stop her taking her friend to the hospital and saving her life. But fate intervenes to confront Jenny with choices beyond anything she could have imagined.
Najid (Chahak Patel) Eleven-year-old Najid is a lively little boy with all the normal interests of kids of his age – football, his gameboy, school. He is also a devout Muslim. On the night of the crisis he and his family go to the local Mosque but in the morning Najid is forced to grow up very fast when the virus causes a violent change in his circumstances and his life is transformed in ways he could never have anticipated. His relationship with Al is at times funny, at times poignant; but in the end Al and Najid need each other, no matter how much they try to deny it.
Samantha Willis (Nikki Amuka–Bird) Samantha is a junior minister delegated to handle the press in the midst of the crisis. Dealing as best she can with an anxious media and her own stunned colleagues, Samantha at first has no idea how serious the crisis is becoming. Forced to put aside her love and concern for her own family, Samantha becomes the last contact between the government and the people it can no longer protect. Her journey from innocence to a full knowledge of the truth is laced with bravery and horror.
Tom Price (Max Beesley) In prison when the story starts, Tom Price is handsome, charming and capable, but also very dangerous. A man who will stop at nothing to achieve his own ends, Price finds himself locked in his cell while all around him are dying. As the long night of the virus wears on, survival and freedom become the only issues that matter…