News
Frasier Reboot Reportedly Eyed by Kelsey Grammer
Frasier could become the next classic TV series to get rebooted, with star Kelsey Grammer said to be meeting with writers.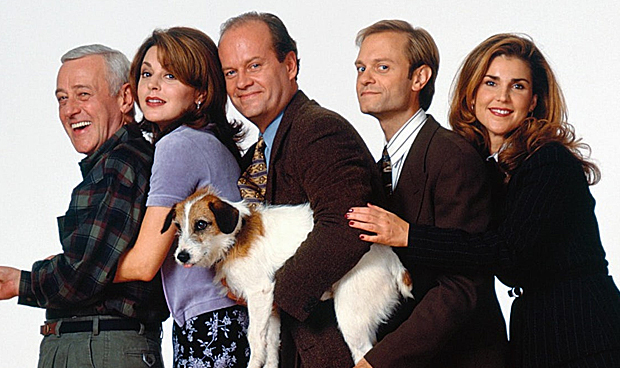 Frasier might become the latest example of the television industry's perpetual paean of the past. That's because a report is indicating that the classic Emmy-dominating sitcom – itself a spinoff of classic Emmy-dominating sitcom Cheers – is being explored as a possible reboot series.
Kelsey Grammer, star and executive producer of Frasier, is reportedly in meetings with writers to hear concept pitches for a follow-up series of some kind, according to Deadline. While the series aired on NBC from 1993-2004, Frasier was produced by Grammer's Grammnet Productions and Paramount Television, which is currently known as CBS Television Distribution. Consequently, the prospective reboot would involve CBS. As the report further claims, should Grammer and the producers settle on a premise, then things could move beyond an exploratory stage.
However, the kicker here is that – unlike current status-quo-continuing sitcom revivals Will & Grace, Murphy Brown and the successful-but-snakebit Roseanne – the Frasier television project would manifest as a reboot, showcasing a new city setting for Grammer's Dr. Frasier Crane. Pertinent note: The 2004 series finale ended with Frasier seemingly rejecting his new job in San Francisco to chase love interest Charlotte (Laura Linney) in Chicago.
Frasier was, of course, one of the most successful sitcoms in the history of the medium; a fine-tuned engine of a comedy that brilliantly walked the line between erudition and lowbrow slapstick. The series, which transplanted regular Cheers bar patron Dr. Frasier Crane from Boston to Seattle to host an advice show on the radio, hinged on a family dynamic with brother Niles (David Hyde Piece), father Martin (John Mahoney), live-in healthcare worker Daphne Moon (Jane Leeves) and radio producer Roz Doyle (Peri Gilpin). The series astoundingly banked 37 Emmy wins, notably collecting wins for Outstanding Comedy series for five consecutive years; a true television juggernaut. The series – certainly one of television's greatest spinoffs – was created by Peter Casey, David Lee and late David Angell.
There's a lot to digest about this purported Frasier reboot. One of the greatest aspects of the success of the spinoff was its ability to tonally reset from the blue-collar bar atmosphere of Cheers, on which the titular doctor served an intellectual outlier. Indeed, the idea that the flawed nature of the Frasier Crane character had already been established before the spinoff helped make him instantly identifiable beneath his pretentious exterior. Will viewers want to see the further exploits of Frasier Crane? After all, he's already banked 20 years of material, going back to his introduction back in 1984 on the third season of Cheers.
We will keep you updated on the Frasier reboot plans as things develop.
Read the Den of Geek SDCC 2018 Special Edition Magazine Here!